The challenges Scott M. Haskins, Head of Art Conservation, faced when he was asked to restore the graffiti-covered "Blue Moon Trilogy" mural across from the Hollywood Bowl in Los Angeles seemed overwhelming to outsiders. But that didn't stop him from taking on the project in his role as director and painting conservator of Fine Art Conservation Laboratories in Goleta, Santa Barbara.
The company, founded by Mr. Haskins in 1986, specializes in conservation of easel paintings, murals, works of art on paper and period frames. Clients in the Santa Barbara area, throughout the country and the world seek his services. When asked why he set up his company in a small town like Santa Barbara he said, "Almost all of our work comes from the cement jungles of big cities, but we like living in Santa Barbara."


The line up for work at the moment in the lab.
The renown painting conservation lab receives their routine lab work from Los Angeles, Orange County, the Inland Empire, Las Vegas, Salt Lake City, Carmel/Monterey. We routinely work on murals all over the country and we even have two mural consulting jobs in Italy at the moment.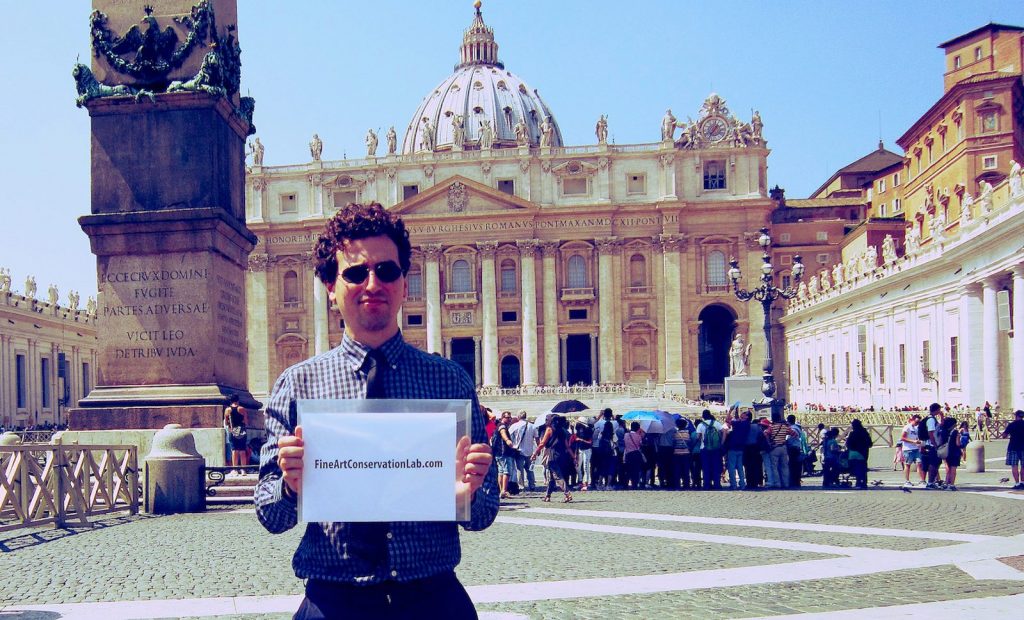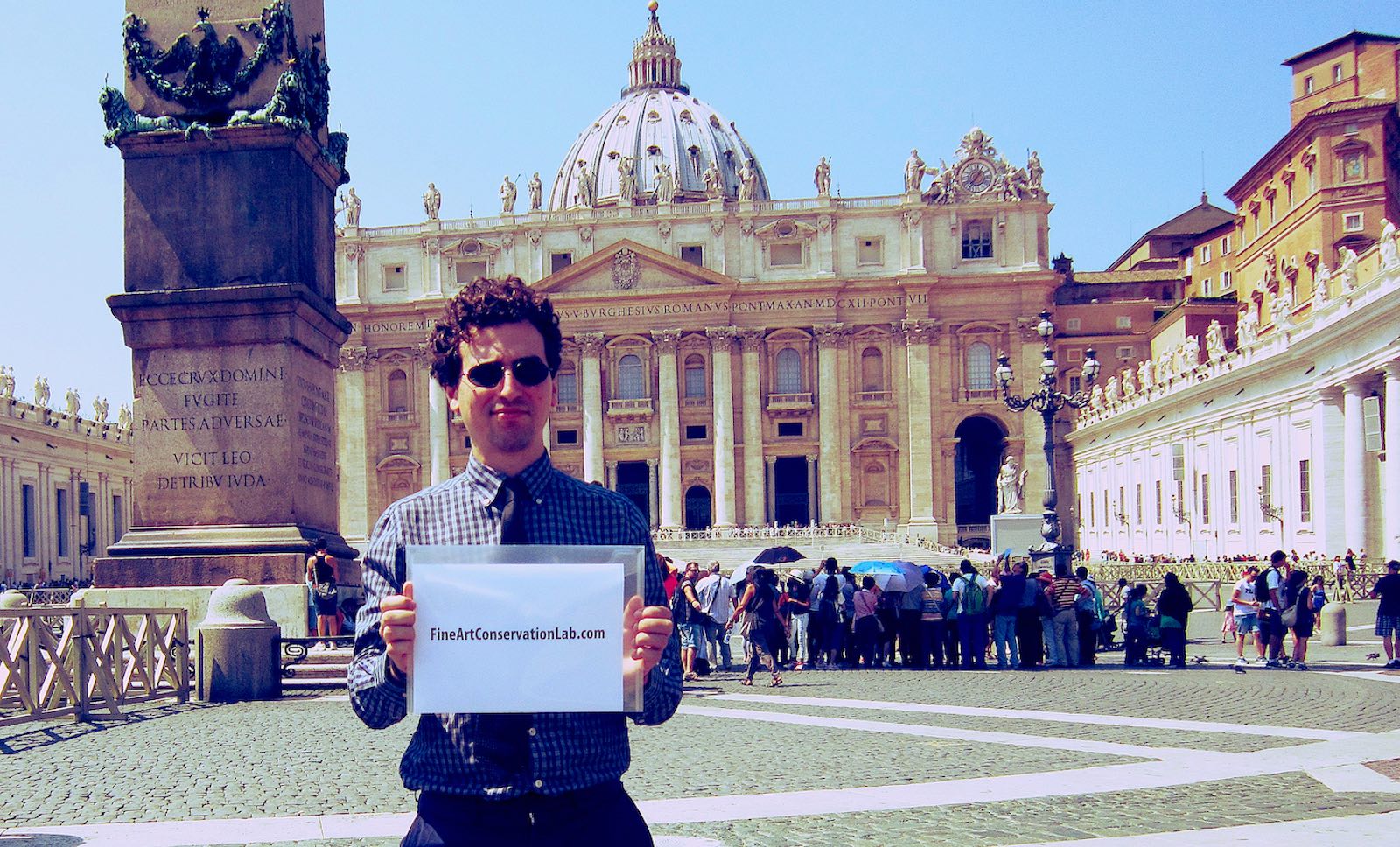 For the mammoth mural in Hollywood, "Dimension and location were the two biggest problems. The 186-foot mural is located in the underpass used by semi trucks as the on-ramp for the 101 freeway," he said. "The mural is from 15 feet to 30 feet high because the road slopes down, and since it's right on the way for trucks entering the 101, we had to keep dodging semis as we worked from 9 to 5 Monday through Saturday for three weeks to finish the job."
Mr. Haskins became involved with the "Blue Moon Trilogy" mural because FACL has a three-year contract with the Department of Cultural Affairs in Los Angeles for restoration of murals in the city."There are about 100, and whenever they have a question or need advice, they call me," he said during a phone interview while driving back from San Juan Capistrano.
Although many of his projects have fascinating back stories, Mr. Haskins was particularly interested in the "Blue Moon Trilogy," which was painted by the late artist Russell Carlton for the AIDS Project of Los Angelesand dedicated on April 30, 1988."The artist had hundreds of volunteers attend his 'Love for Life' fundraiser in 1987. This community interest and participation gives historical significance alone and merits recognition," Mr. Haskins said.
"The three panels of the mural represent a journey of self-empowerment and health, which was a vital message to the community fighting a deadly disease. The first panel is called 'Eve of Conception,' the second, 'Dawning of a New Age,' and the third, 'A Glorious Revelation. Russell conceived the 'Blue Moon Trilogy' design after struggling with the life-threatening illness as well as seeing so many of his friends suffer and die from AIDS. He passed away in 1988."
Over the years, the mural became covered with graffiti and was extremely dirty because of the heavy truck traffic.But those weren't the only problems. There were legal and bureaucratic issues, too, according to Mr. Haskins."Since the mural is on a California highway, Caltrans is required by law to remove the graffiti within 10 days and if there is objectionable language, within two days, so some of the mural was covered with gray paint. We also found that the original paint was softer than the graffiti paint. Any solvent or technique we used to lift the graffiti would destroy the mural," he said. "We needed to reconstruct the entire mural."Before that could happen, he had to comply with a United States law granting certain rights to artists."It's called the Visual Artists Rights Act of 1990, VARA for short.
Under VARA, works of art that meet certain requirements afford their authors additional rights in the works, regardless of any subsequent physical ownership of the work itself, or regardless of who holds the copyright to the work. For instance, a painter may insist on proper attribution of his painting, and in some instances may sue the owner of the physical painting for destroying the painting even if the owner of the painting lawfully owned it," explained Mr. Haskins. "Since the 'Blue Moon' artist had died, we had to get permission from his family."
Mr. Carlton's parents signed an artist's rights agreement in 2017 and enthusiastically supported a restoration that rigorously respected the artist's original composition, design and colors.
"The paint we used is much more stable and harder than the original paint, which was badly faded, and the city of Los Angeles required us to apply a heavy-duty protective coating to facilitate future maintenance," Mr. Haskins said.
Working with him to restore the 3,600-square-foot painting were Luisa Pari, Anna Frassine and Denver Dillon."I've been working with Luisa for 40 years," said Mr. Haskins, whose passion for art conservation began in 1975 while studying for a master's degree at the Ente Nationale A.C.L.I. Istruzione Professionale in Botticino, Italy.
"The first week of my Master Degree Art Conservation training, I was on a scaffolding working on a mural dated 1365. It was located in a monastery that was built in 900. I was 23 years old and thought I was the luckiest guy in the world," said Mr. Haskins in a News-Press profile written about him in 2012.
He was finishing up his bachelor of arts degree at Brigham Young University in Provo, Utah, when an art history professor suggested he consider art conservation as a career."I had no idea what it was, but it turned out to be the application of two interests I had as a child — art and science. I have to use my knowledge of science to preserve and restore art," said Mr. Haskins, who did eight months of post-graduate work in northern Italy after earning his master's degree in 1978.
The same year, he was offered a faculty position at BYU to start a laboratory that would provide conservation services for the university's art collection and the historical collection of the Church of Jesus Christ of Latter-day Saints, according to the profile."Although it was an exciting job, I left BYU in 1984 to come to Santa Barbara when a group of private investors asked me to set up a conservation lab that would attract business nationwide," said Mr. Haskins.
When one of the investors went bankrupt in 1986, that lab closed down. He established his private practice, FACL, Inc., that for 34 years was located by the McConnell's ice cream factory. Recently moved to Old Town Goleta when the old factory was bulldozed the 6,000 sq ft lab is worth a visit! "Moveable artwork" is sent from all over the world when they are not working on regional and international projects.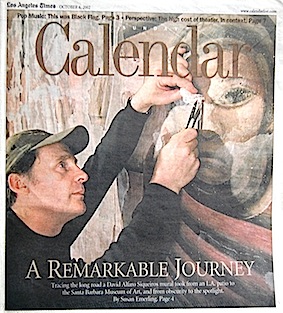 Mr. Haskins worked as the team leader for conservators, technicians and specialists who moved " Portrait of Mexico Today " by David Alfaro Siqueiros from Los Angeles to the Santa Barbara Museum of Art in 2002. He also helped perform the conservation work once it was installed at its new site to the right of the museum entrance on State Street. For other high end media reports click here.
With the help of his staff and professional associates, FACL works on 400 to 500 projects — here and away — in a year."If it's a large project, I bring in professionals from other parts of the country, or even the world — Italy, Germany, France, etc.," said Mr. Haskins, who, at the age of 66, has no intention of retiring."Retirement? I don't know the meaning of the word," he said with a laugh.
For more information about Fine Art Conservation Laboratories, call 564-3438 or visit www.fineartconservationlab.com
Email Marilyn McMahon:   mmcmahon@newspress.com
Email Scott M. Haskins: faclartdoc@gmail.com