What People Are Saying About FACL's Expertise and Services
(Note variety of geographical locations)
What Don Francis Framing in Venice Beach Has To Say…
Here Is George Stern Fine Arts in West Hollywood, CA
Expert Witness Testimonial – Charles Bonner, Attorney in San Francisco, CA
From Anthony Christensen Fine Art and Antiques
An amazing art gallery in Salt Lake City
Quotes From Highly Regarded Professionals And Experts In Related Fields
(more video testimonials follow)
"Scott, you may be the best conservator I know in the country. I have enjoyed working with you more than I can express." Perry Huston, Past President American Institute From Conservation, Dallas, Texas
"This was a very politically charged project in the City of San Francisco for over 10 years. We needed someone beyond reproach that we could count on to "knock the ball out of the park." That's why we chose Scott Haskins and FACL. Mr. Al Albano, Consultant, Piazzoni Mural Project, Asian Art Museum, San Francisco.
Scott and his staff performed perfectly and did superb quality conservation work on this very delicate painting conservation project. His skills as Conservation Team Leader were superb and much appreciated. Dr. Carl Grim, Chief Conservator, De Young Museum

"I feel confident that Scott Haskins is the right expert to continue your efforts to authenticate the work." In a letter to art collectors by Molly Ott Ambler, Senior Vice President, International Director, Head of Americas: Impressionist & Modern Art for Bonhams Fine Art Auctioneers & Valuers
"Scott , The delivery and work was superb and we are very thankful for your excellent skills and for the return of a piece we love. " Sincerely Michael and David, Art Scholars and Collectors, West Hollywood, CA
"Dear Scott & FACL, Inc. Staff, YOU ARE ALL THE BEST!!!! The painting looked GREAT and I'm happy. I look forward to working more with you! My very best," Dennis Marchesi, Marchesi & Co., Art Dealer, Desert Springs, CA
Mark Garrido, Project Manager for the General Contractor on the project posted the following on Linkedin.com for Fine Art Conservation Laboratories (FACL, Inc.). "Scott and his FACL staff of highly competent professional art conservators performed the critical salvage and restoration of a very valuable, irreplaceable historic mural in the main lobby of the Burbank, CA Police/Fire headquarters (as a sub to the general contractor for the City of Burbank). This restoration was a major component of a large water damage correction project that included replacement of the curtain wall system, stone flooring, planters and memorial monument in the middle of and surrounding the mural. Project scheduling was very tight and coordination critical and complex. Under Scott's hands-on leadership, FACL's restoration of the mural was flawless, their performance timely and seamless and their cooperation and team work exemplary. Without reservation, I give Scott and FACL my highest recommendation."   Service Category: Art conservation. Year hired: 2009  Top Qualities: Great Results, Expert, High Integrity
The conservation services, expertise and availability of FACL's consultations have been of the highest quality and very important to our department (curatorial). In addition, we have greatly appreciated Scott's willingness to speak at functions, put on workshops for our docents and be an active part of our professional services. We have also greatly appreciated FACL's flexibility with our budget restraints!" Theresa Manalo, Curator, The Japanese American National Museum, Los Angeles, CA
"The Santa Barbara Museum of Art is so lucky to have a professional conservator of such quality and professionalism right in our own town. FACL is a great resource for us." Dr. Robert Henning, Chief Curator
"Scott, you provided the exact services we needed and did a wonderful job (consulting on mold damage on art in a historic structure). Thank you so much for your help. We look forward to a good working relationship with FACL into the future." Brent G. Thompson, Director Historical Department, Church of Jesus Christ of Latter-day Saints.
"Thank you for the excellent service and over the top quality workmanship for the conservation of our damaged items. I appreciate your timely response and I am 100% pleased with the results and services provided by FACL." Insurance claim by Lucinda Bliss, Insured with Chartis Insurance Co.(aka AIG)
"We would have been in big trouble and you made our navigation through the City (Dallas) and with the project's architects streamlined and professional. Your quality services and reputation were cemented in our minds when we heard the inspector say they didn't need to inspect your work for final quality – un heard of in our industry!" Tim Storms , Roberts-Obrien Construction, General Contractor
"Scott enabled our settlement to be acceptable to both the Dept. of Labor and the artist. His expertise and professionalism proved invaluable." Steven Schwartz, attorney for Dept. of Labor, Public art suit. https://usip.com/pdf/Recent_Articles/Intellectual-Property-Today.pdf
"Thank you for spending some time with me last Friday afternoon. I very much appreciate your tour of the Fine Art Conservation Lab. I feel like I've discovered a new treasure! Thank you too, for the copy of your book. I am still shaking my head in wonder at having crossed paths with you (the author) in the aftermath of losing our home and contents in the Tea fire." Jennifer Taylor, Director of Internships, Westmont College, Santa Barbara, CA
"Scott, you (FACL) met my expectations, which was a perfect job. My absolute confidence in your work was absolutely confirmed. Thanks so much." Jay Friedman, Art Dealer, Santa Barbara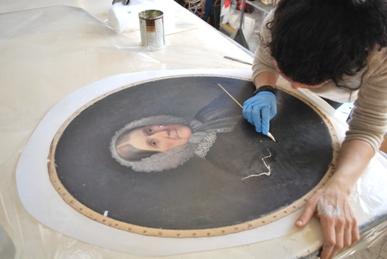 After having worked with Scott Haskins on a collection conservation assessment survey, Wendy Adair, VP at Texas Southern University in Houston, TX stated, "That was the best money we ever spent. I can't tell you how much we have enjoyed working with you!" https://www.tsumurals.org
We were reminded the other evening of the amazing restoration work FACL did in 2016 (wow, 4 years ago already) on the above referenced painting. It was painted in 1790 and looked quite like it. Now it looks new and amazing and we receive many favorable comments about it. Thank you again for your terrific, highest quality work. We will not hesitate to recommend FACL for any of your services. Kind regards, Robert and Marlene, Restorers of Time Pieces, Solvang, CA
"We are singing your praises around Caltrans. What took 6 months to do during the previous restoration attempt, you have done in two weeks and the artwork looks better. Thank you for working so well with us (Caltrans) and Public Works." Edward, Caltrans https://www.savefreewaymurals.com
Other Video Testimonials
Greg Colley, Collector, Dealer in Glendale, CA:
https://www.youtube.com/watch?v=BEjiO_EIhwk
Jerry Solomon, Framer in Los Angeles, CA:
https://www.youtube.com/watch?v=L37YUcskJk4
Property Owners, Mural Project, Los Angeles, CA:
https://www.youtube.com/watch?v=W7S1lF1zRoU
Tom Suriya, Mural Artist, Santa Fe, NM:
https://www.youtube.com/watch?v=5QWeoowOk9A
Kent Twitchell, Mural Artist, Los Angeles, CA:
https://www.youtube.com/watch?v=WWtPDRg24Z0
Paul Daniels, Celebrity Art and Murals, Los Angeles
Another Artist
Scott, I want to thank you so very much for your recent advice on how to handle two significant problems that arose when I varnished two valuable oil paintings. The depth of your knowledge and generosity of your time was much appreciated, and after following your instructions one could never tell there was any problem.
Thank you, thank you! Linda Crank
Disaster Response Company, PuroClean
"We have trusted FACL in Santa Barbara since 2002 with all our work, especially with our most difficult restoration projects, knowing that the art conservation treatments will be done right the first time. They are expedient in turnaround, do excellent work and I always get great results. Besides the actual work on our gallery's paintings, I depend on Scott Haskins for his unparalleled expertise in connoissuership and his high integrity and business ethics"
Wynne Benti, Coons Gallery, Bishop, CA
I just bought a Redmond that you worked on and it was so gorgeous and your work so wonderful that I bought it as soon as I saw it. Would you please email me a "condition report" for the repaired Redmond?  My insurance comp needs it to arrive at a value for my new policy. Thank you and I will be contacting you again soon! Bernard, Private Collector in Orange County, CA
"Scott and FACL, Inc. team: We, at MCLA are extremely grateful about the restoration of Jim Morphesis Monument! We know that the thousands who drive by this iconic mural everyday will be delighted to see Kent Twitchell's mural returned to its original glory thanks to FACL's great restoration job. We are also aware that this restoration is also a labor of love – MCLA's, Kent Twitchell's, FACL's team, and Caltrans, as we all share a great love for the City of Los Angeles and its amazing murals! I am happy beyond words. You have done an amazing job!" Isabel Rojas-Williams, Executive Director, The Mural Conservancy of Los Angeles (MCLA) http://www.savefreewaymurals.com
Hey there!
I can't tell you how happy I am with your work on the portrait. It is just killer! ( I'm a guy, so I hate using words like fabulous or breathtaking) I find myself walking into the living room at least a couple of times a day and just staring at it. I can't thank you all enough for a job well done. Please let everyone at FACL all know.

All our best from here at the Reagan Library.

Bob
Meet several of our art dealer clients with whom we have worked since 1987. The venue for this video is the LA Art Show – a fun place to meet art!
Thumbtrack is a professional referral service and recommends FACL for art conservation and painting restoration services.
After being selected in a competitive selection process, a four year project in Cedar Rapids Iowa City Hall involved working with departments in City Hall and other interested parties during the phases of working on each of the four murals to remove overpaint, clean, inpaint, consolidate detachments, and varnish. Production of media materials for public outreach and fundraising was also part of the project.

Painting Restoration Returned Lost Details to 19th Century Maritime Painting
A Testimonial From A US Military Base
"Mr. Haskins, B. Gen Chuck Yeager was here (Edwards Air Force Base) last week and we told him about your wonderful help with the signature wall in P-1. Talk to you soon!" From Major Hutchison.
Over my professional career I've had many opportunities to work on military bases on historical murals, mostly. But my visit to Edwards Air Force Base was a bit different… they had a Flyer's Wall in the Officer's Club on base with signatures of many great and notable pilots. Major Hutchison was very interested in preserving the historical signatures on the wall and as we chatted I expressed a dream of mine to fly the speed of sound (or break the sound barrier). Shortly thereafter, this wonderful gesture on her part arrived in the mail, which I was thrilled to receive! I consider Brigadier General Chuck Yeager's breaking of the sound barrier a major technological and heroic event in my lifetime.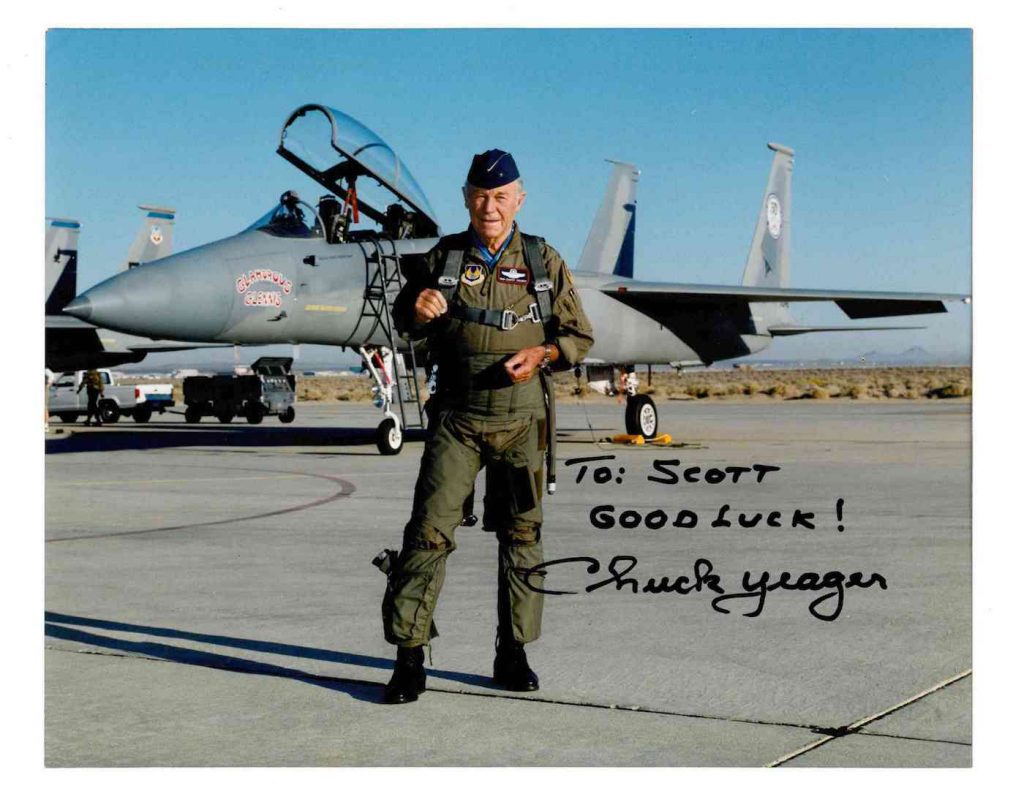 Hollywood star Balky from Perfect Strangers
collects art and gives a testimonial for art conservation services.
Also, a surprising discovery of a hidden inscription
is found on the back of his painting:
Painting Restoration Hollywood Celebrity Testimonial Analysis of Art Los Angeles from Scott M. Haskins on Vimeo.
From Texas State University
Endless thanks to you for the countless hours you've spent with The History of Ranching—the mural is so much better for it.  And we definitely couldn't have done the installation without you. Boundless thanks, boundless praise, and safe travels to you! We'll be in touch soon—I'll keep you posted on trim, lighting, etc. Best, David Coleman, Director of The Wittliff Collection, Alkek Library, Texas State University
Video Testimonials
General Contractor: https://youtu.be/gm0bw-OAviw
Project Director: https://youtu.be/84eQMVkAYoc
Webinars
You'll probably remember in 2020 Covid 19/China Virus/Pandemic?
(yeah, how could we forget!)
We upped our already tried and true assistance with organization's outreach efforts by putting on webinars that are entertaining, educational and customized to meet the needs of the public they serve. Here are a few examples and testimonials:
Scott,
Thank you for being the centerpiece for our very first Webinar. You and your team made the process easier and have set a high bar for the rest of our forays into online presentations. We have our first donation on the books and with 51 attendees, it has created a great level of interest for us and our projects. I really like the additional information you added to your presentation about the Madonna painting. Pomonans are proud of what we have in our museums and that was the right touch to involve our members.
We deeply appreciate your help and time, especially volunteering to come to peoples' homes for larger donations. Your willingness to help is great. I look forward to working with you in the future. Stay safe and well.
Deborah Clifford, President, Historical Society of Pomona Valley
Hi Scott, Great webinar presentation last night for the Historical Museum of Pomona Valley! I am so glad I attended!! I am inspired to loop back with you about our organization in Pasadena, who you helped many years ago to look at our paintings, consulting and making recommendations for our Conservancy Committee.  We are going to be entering into a restoration project to do some retrofitting and enhancements to our 100 year old house and during this work, it would be the ideal time to restore the very large painting in the front hall (that we fondly call "The Nat King Cole" painting as it was donated to the school by Nat.) and some of the other plein air paintings.  Plus, we will need to ensure storage for paintings as well… which I see you now offer this valuable service.
I'll need to gather the Head of School, Director of Development, Facilities Director and a Board member or two for you to visit with and discuss our projects? Let's plan it for next week! Warmest regards,
Angela
Thank you Angela for all your positive responses about the webinar. I certainly enjoyed your attendance and participation. Thank you!
I'm excited about helping you with your collection and, if I may perhaps, help you with fundraising?! I am in your area often, even next week… And so, as soon as you can organize it, we could do it. Give me a call and we'll have a nice chat. Best to call me on my mobile, and feel free to call me even after hours or on weekends if that is more convenient for you. Looking forward to working with you and your organization!
Scott  805 570 4140 Mobile
For A WPA Post Office Mural in Richmond, CA (Oakland)
Executive Director Melinda McCrary, Richmond Museum of History (Oakland, CA), saving, preserving, restoring, installing 1941 WPA mural by Victor Arnautoff, past-artistic director of Coit Tower murals and protege of Diego Rivera.
Seismic considerations, toxic lead material,
produced 2 educational webinars for members/fundraising/membership drive.
In the Salt Lake City Area
Another video from people entrusting their treasured heirloom painting to us for preservation and restoration