LIFE Section
By Marilyn McM­­ahon News–Press Staff Writer
Local Art Conservator Restores Paintings in Santa Barbara
and Around the World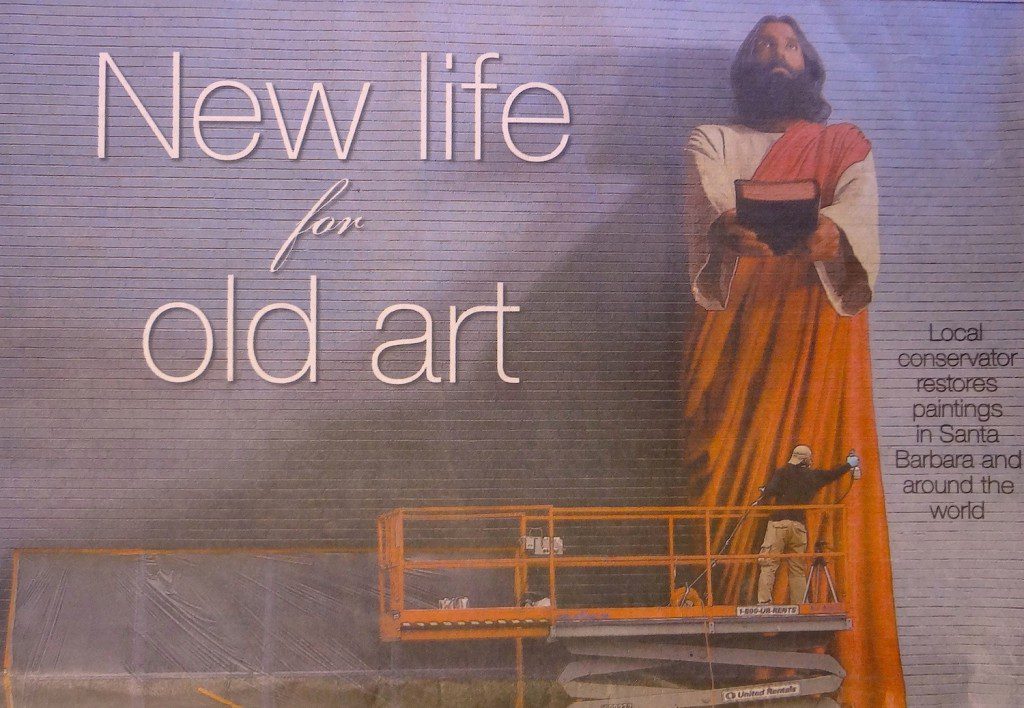 The call came on a Tuesday.  Could Scott M. Haskins fly to London to offer his expert opinion on whether a mural should be saved in a building that was about to be demolished?
"I left Santa Barbara the next day, met with the construction people in London on Thursday, had the mural removed by Saturday, and demolition in the building began on Monday," said Mr. Haskins.  The mural, which is 6 feet tall and 20 feet wide on canvas, is now rolled up in a vertical column at the Fine Art Conservation Laboratories, where Mr. Haskins is director and chief conservator.  FACL specializes in conservation of easel paintings, murals, works of art on paper and period frames.
"The mural was originally done for the 1964 Worlds Fair in New York City, and afterward it ended up in London.  There is some flaking, and after I stabilize it, clean the front and back, and varnish it, I'll prepare it for mounting in a new building in Rexburg, Idaho," said Mr. Haskins during an interview at the unassuming facility on a one-block street near Santa Barbara High School.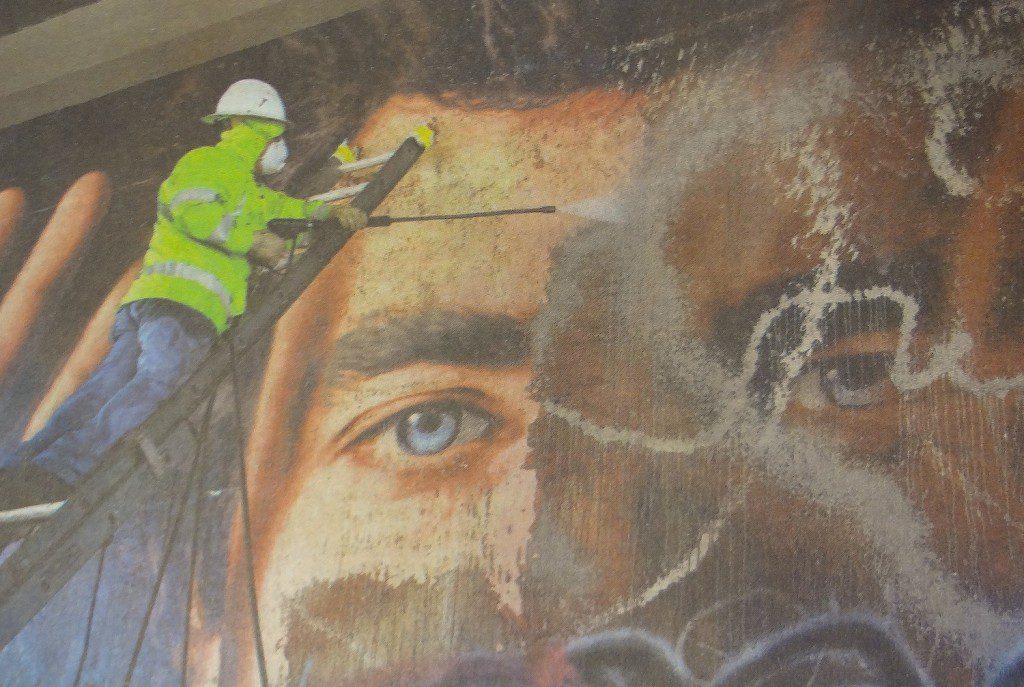 Scott Haskins is an art conservator who works on projects in his Santa Barbara laboratory and around the world.  Above, a mural on Los Angeles freeway gets a scrubbing from Mr. Haskins.  At top, Mr. Haskins varnishes a painting at Biola University in La Mirada. At right, at his headquarters in Santa Barbara.
Projects such as these are all in a day's work for the sandy- haired expert who performs services for clients throughout the country and world. He has just returned from a two-week project in Italy, where his passion for art conservation began in 1975 while studying for a master's degree at a three-year painting conservation program at the Italian government run center, ENAIP in Botticino (Brescia).
"The first week I was there, I was on scaffolding working on a mural dated 1365. It was in a monastery that was built in the year 900.  I was 23 years old and thought I was the luckiest guy in the world," said the 59 year old native of Whittier.
A year or so earlier, he was a student at Brigham Young University in Provo, Utah, when an art history professor suggested he consider art conservation as a career. "I had no idea what it was, but it turned out to be the application of two interests I had since I was a child – art and science – to preserve and restore art," said Mr. Haskins, who did eight months of post-graduate work in northern Italy after earning his master's degree in 1978.
That same year, he was offered a faculty position at BYU to start a laboratory that would provide conservation services for the university's art collection and the historical collection of the Church of Jesus Christ and Latter-day Saints.
"Although it was an exciting job, I left BYU in 1984 to come to Santa Barbara when a group of private investors asked me to set up a conservation lab that would attract business nationwide.  It was on West Gutierrez Street until 1986 when it shut down because one of the invertors went bankrupt and everything (business') associated with him was shut down," Mr. Haskins said.
Rather than accept offers from the Los Angeles Museum of Art and National Galleries of Art in Australia and New Zealand, he established Fine Art Conservation Laboratories (aka FACL, Inc.) in 1986 in the same location where it is today.  "I opted to stay in Santa Barbara because I was married and had four children.  They were in school, and we all liked Santa Barbara," said Mr. Haskins, whose two daughters work with him at the laboratory.  Virginia Panizzon, 35 is the head conservator and Francesca Ruggeri, 31, is the office manager. He also has two sons and three stepsons, whose mother is his wife, Diana Saavedra Haskins.  The blended family includes eight grand children.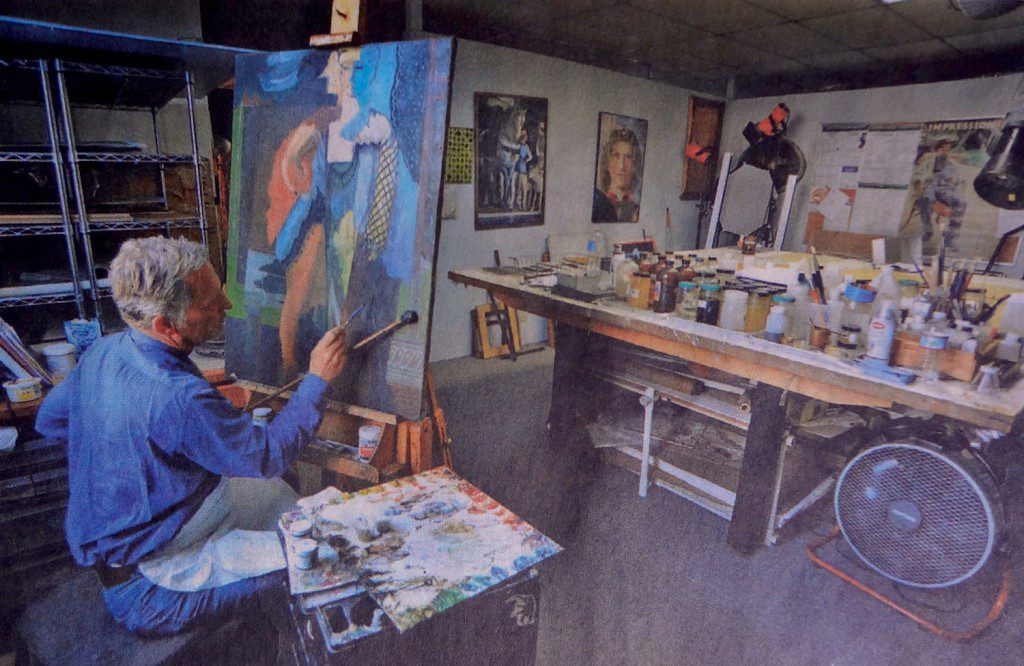 Mr. Scott Haskins works on a painting at his Fine Art Conservation Laboratories near Santa Barbara High School.
When Mr. Haskins, who lives in Goleta, is not working on international projects, he spends his time at the local lab, working on "movable artwork" that is sent from all over the world.  The mention of old masters reminded Mr. Haskins of a funny experience that he thinks about every time he looks at a small icon that hangs just outside his office door.  The 12-by-14 inch oil on wood panel is a picture of Christ with two cherubs. "I got a call from a man in Las Vegas who said he had a priceless Russian Renaissance icon that he wanted me to evaluate.  I told him I would charge him $200 to look at it.  Several weeks later, a white Roll-Royce pulled up to the front door, and a uniformed chauffeur stepped out, and came into the lab, presented me with a package and left, not saying a word.
"When I opened the package, it was the icon, which I saw immediately was not Russian.  It was Italian.  It was not from the Renaissance.  The date was about 1850 and it was not priceless.  It was worth about $200."  After confirming his opinion with another art dealer, Mr. Haskins called the man with his findings. He was furious and refused to pay me my fee.  Finally after my repeated calls, he told me to keep the painting but warned me, "  If I find you have sold it at auction for $1 million, you're a dead man."   " He was serious, but I wasn't worried" said Mr. Haskins.
However, the story didn't end there.  Three weeks later, he got a call from the man's ex-wife.  "She wanted to hear the whole story and then began laughing hysterically.  She told me that during their bitter divorce case, they had spent over $100,000 fighting over their painting, and she had lost the fight.  Hearing that it had little value was sweet vindication for her. Between peals of laughter, she kept telling me, " I love you,  I love you," said Mr. Haskins, chuckling. If you want to hear Mr. Haskins tell the story himself, go on YouTube and search for "Fight Over Art Assets – A Priceless Renaissance Russian Icon."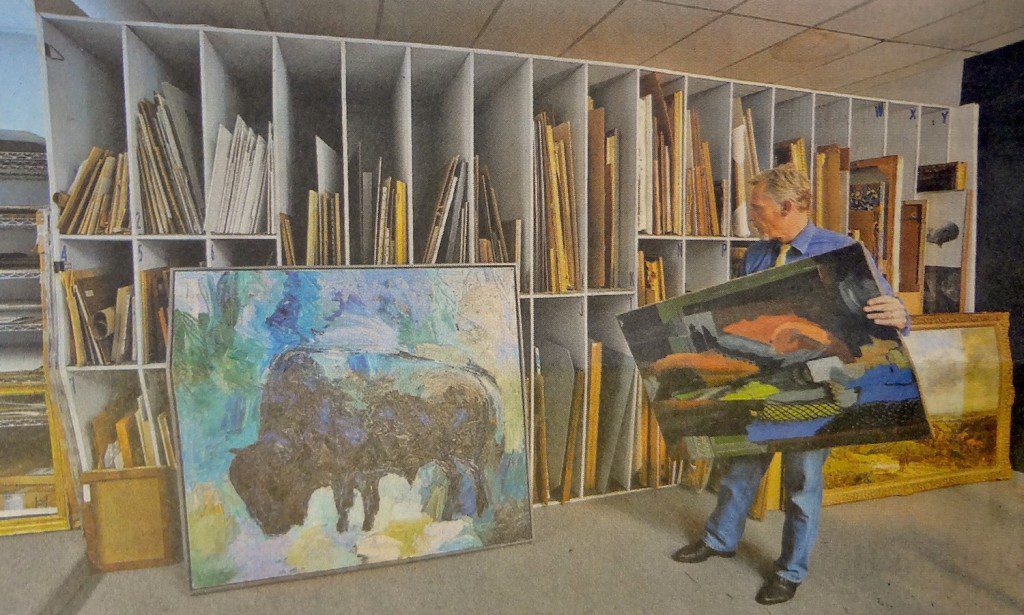 Most of the artwork FACL works on comes from California and most of those are early CA paintings that were painted between 1875 and 1940
Before accepting a piece to restore, Mr. Haskins determines the needs of the client and the needs of the painting… sometimes, they are not the same.  "A client may just want a quick surface clean and varnish but the painting may be flaking and need other important preservation treatments," he explained. "For instance, we don't patch rips in paintings." To see his short video on why, go to YouTube and search for "How To Fix A Ripped Canvas" by bestartdoc. "After this initial evaluation, I discuss options and estimates with the client," said Mr. Haskins, whose minimum fee is $250.
His laboratory, which covers 2,400 square feet, is equipped with an 8 x 12 foot vacuum hot table, a low-pressure suction tabletop, polarizing microscope and a booth to spray varnish.  "We use the microscope to identify fake signatures, pigments and painting structure," explained Mr. Haskins during a tour of the facility.  "The hot table is used to relax cracking in a painting, and the suction table pulls stains from artwork." A large spray booth is set up to varnish oils and acrylics, the final step in the process and one that has been done for thousands of years according to Mr. Haskins, who also serves as an expert witness when there is litigation involving art-related issues.
The most expensive assignment on which he has worked so far was the Fair Park Mural Conservation Project in Dallas." It cost $3 million and took two years to complete,' said Mr. Haskins, who was the chief conservator for the team of 24 professionals and technicians.  The murals in Dallas, which were painted in 1936 by Italian-American artist Carlo Ciampaglia, were painted out or covered, in 1942. The rediscovery and conservation of these important works of art were undertaken by the city of Dallas as part of the historical preservation effort at Fair Park.
In Santa Barbara Mr. Haskins worked with a team of conservators, technicians and specialist to prepare the mural "Portrait of Mexico Today" by David Alfaro Siqueiros for the move from Los Angeles to Santa Barbara Museum of Art in 2002.  He also helped perform the conservation work once it was installed at its new site to the right of the museum entrance.  Mr. Haskins and his two- full –time art conservators, which include his daughter and Oriana Montemurro, work on 400 to 500 projects-here and away- in a year with help of interns from UCSB, Westmont College, Santa Barbra City Collage and student from abroad.  "If it's a large project, I bring in professionals from other parts of the US and the world – Italy, Germany, France, etcetera," he said.
The 1994 earthquake in Northridge, which caused major damage, inspired Mr. Haskins to add another dimension to his career-using his expertise to educate people about what they can do to save their valuable possessions when there is a disaster or an emergency.
"After an earthquake, I got a call from a contact in the area.  He said, "Quick, I need you to write a pamphlet on how to respond after an earthquake to save your collectibles," recalled Mr. Haskins.  "It took me an afternoon to write, and over 500,000 copies of the the booklet were distributed by the human resources departments at Bank of America Corp.
The next year, he took more time to write  "How to Save Your Stuff From a Disaster." The soft cover, self-published book  and the e-book version cost $19.95 and are available at the website, www.saveyourstuff.com.  Chapters include "Photographs and Negatives," Ceramics, Glass an Other Objects," "Rugs, Tapestries and Old Clothes" and "Sculpture and Furniture" and "Paintings," of course. In the Appendix is information about "Suppliers of Preservation Materials," "Insurance Claims, Be prepared" and "Emergency Phone Numbers, Quick!"
"The book is particularly relevant in Santa Barbara with its propensity for earthquakes and brush fires. I'm trying to reach out to all of the community with an important message that touches every family or person who has precious possessions or keepsakes, not only those who collect or inherit expensive art," said Mr. Haskins, smiling as he added , "I guess I'm an author now, too."
Did you like this article? Please give it a THUMBS UP and leave a comment
Email:
mmcmahon@newspress.com Marilyn McMahon
faclartdoc@gmail.com Scott M. Haskins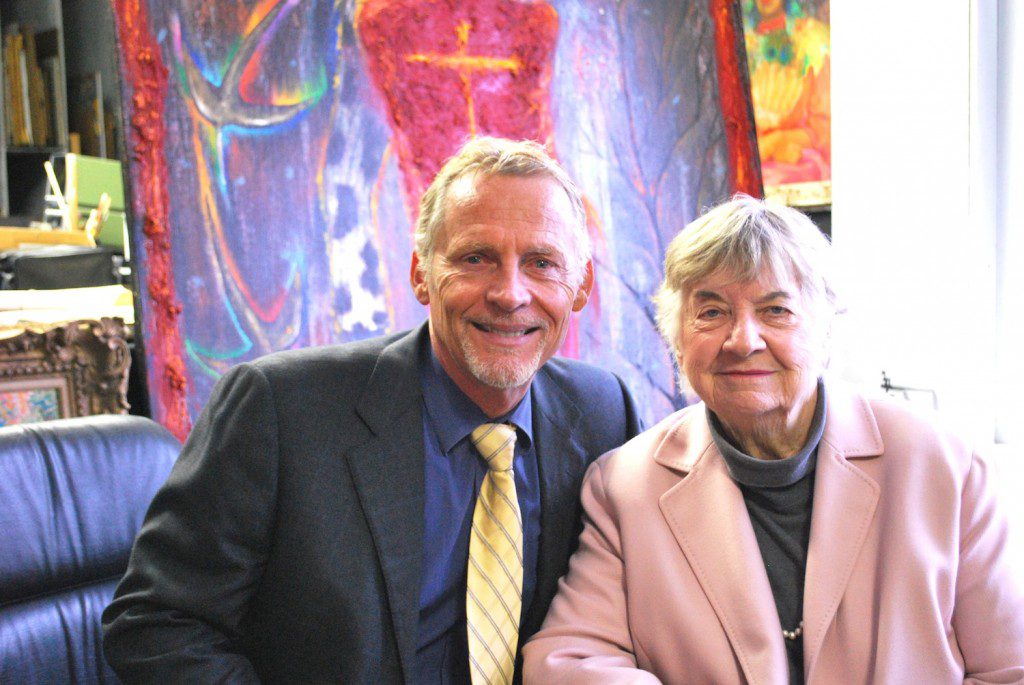 Scott Haskins and News-Press Staff writer – reporter Marilyn McMahon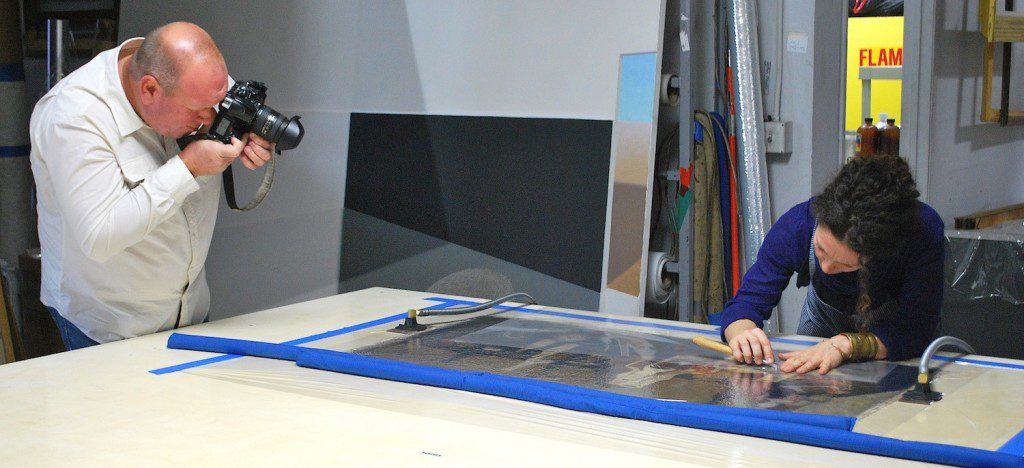 Mike Eliason, News-Press photograher shooting Virginia Panizzon working on a painting on the hot table.