By Adrian DiUberto, Painting Conservation Intern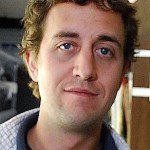 Vintage oil paintings have always been collected financial assets. But value, and therefore the importance, is not only determined by how much it sells for. Many works of art worth little money contain our histories, myths, memoirs, and definitely our emotions.
A simple but largely ignored collector care tip for your paintings begins with knowing the safety guidelines for hanging artwork.  By "safety" we are talking about the safety of the painting. Well, but not entirely… if your painting comes flying off the wall in a hurricane or earthquake it could be the safety of your family that is at risk. Your paintings, and more, are in jeopardy when they are not hung properly.
The two pictures (top hole is three inches in diameter and the rip in the second photo is 12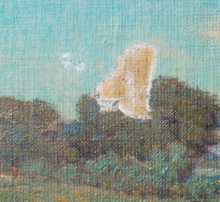 inches long) belonged to a painting that was originally valued at $475,000 in a private collection.    For no known reason, rumors say maybe a nail giving way; the painting fell off of the wall onto some wood furnishing.
Due to the painting being insured, they were able to settle a claim for full value.  The insurance company claimed the painting then sold the painting for salvage for $100,000 to another buyer.
The new buyer hired the art conservation experts at Fine Art Conservation Laboratories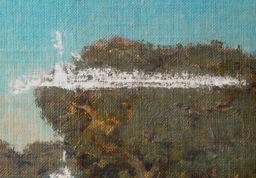 (FACL, Inc.) who were able to masterfully reconstruct the painting's damage, and seamlessly fix the hole and the rip in the painting.  Then the new buyer took the restored painting and sold it for $275,000.
Some paintings can have a premium because they are in top virgin condition but there are very rare few artists who command this respect. Yet, you would expect there to be an impact on the value between a once big-ripped-painting and a never-ripped-painting. In fact, most often a small rip will not even change the value. But in this case there is quite literally one important piece missing that had an affect on the value changes:
When the painting fell off of the wall, the 3 ½" diameter piece of paint and canvas was knocked out of the canvas and detached. This piece, which contained part of the composition of the tree, was thrown away by the original owners!!
What can you learn from this story?  There is a list of things:
First and foremost, hang your paintings securely. Click on this link for collection care tips on how to safely hang a framed item.
Insure your most valuable pieces.  A line item replacement or blanket policy are two options of coverage.
When something is damaged, don't touch the damaged area, and definitely don't throw any thing away.  If there are detached pieces, put them in a zip lock baggie and staple it to the back of the frame so the art conservator can replace the original pieces later.
Also, it is important to get your art appraised as part of your insurance protection strategy.  Contact Richard Holgate for a certified appraisal 1-805-895-5121 jrholgate@yahoo.com
To learn more about what you can do to take care of your collectibles, download FOR FREE now a copy of Scott Haskins' new multimedia $27 e-book, Save Your Stuff – Collection Care Tips and get a huge bonus from our launch partners!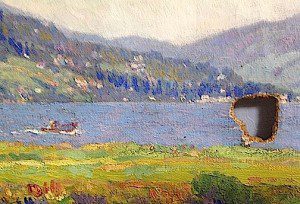 For a news article featuring Scott M. Haskins', Click here: https://www.fineartconservationlab.com/media-room/art-restorerconservator-scott-m-haskins-featured-in-life-section-of-newspaper/
For art conservation and painting restoration questions call Scott M. Haskins 805 564 3438 or faclartdoc@gmail.com
For art appraisal questions call Richard Holgate at 805 895 5121 or jrholgate@yahoo.com
See short YouTube videos by Scott M. Haskins on art conservation related subjects at YouTube channel "Bestartdoc" Click Here.
See short do-it-yourself videos on collection care and emergency preparedness for art collectors, family history items, heirlooms, memorabilia at YouTube Channel "preservationcoach"
Follow us on Facebook
Fine Art Conservation
Save Your Stuff
Scott M. Haskins
Sign up in the side column with your e-mail address so you can be updated whenever I post a new article or video!