I've just had the pleasure of going to Barcelona, Spain to exchange a visit with our (FACL's) recent visiting painting conservator, Mrs. Nuria Pique. At the end of last year we were fortunate to have Nuria work with us in our Santa Barbara lab to help us with our work load and to exchange art restoration techniques.
The professional exchange with her was much enjoyed by everyone in the lab. Nuria is a well accomplished, well experienced and very well known art conservator employed in the Barcelona museum system who, like all institutional painting restorers, also does work on the side privately. In fact, many very high quality projects come through her private sources.
I had the opportunity to go to a few of her museum and exhibition locations and see some of her projects and "to talk shop." It was so enjoyable that though she had planned a very nice lunch in the out-door side walk restaurant in the main square of town, we barely had time to grab a sandwich in a side-street shop usually overrun by local university students (too bad for us!!)
Having discussions with colleagues about international professional standards in painting restoration treatments and methodology is always an interesting chat, for me. Comparing notes about how certain paintings react to certain treatments, discussions about how materials age and what kinds of standards we hold ourselves to are always of interest. Here is a short video testimonial she made about working at FACL: .
I remember that while working in Italy, I was constantly exposed to the two centuries of Italian Baroque art (1600's and 1700's) which made up about 85% of my work. About 5% was older than 1600 and 10% was from the 1800's. At that long ago time I had very little exposure to working on 20th century art. Boy has that changed over the last decades!!
Nuria's work load "type" is about the same as I when I was working in Italy although she works on older works of art more often than I did. Her time with us in Santa Barbara was a chance for her to gain experience working on more "modern art." As you may be aware, our work load is mostly 80% works of art from 1875 – 1940. About 10% is Post World War II Abstract Expressionism (which we really enjoy because of the diversity of materials and problems to solve) and about 10% "Old Master" works older than 1850 (although the Europeans wouldn't call paintings from the 1800's "Old Master").
As we look forward to our future of working together, I'm hoping to add Nuria to our valuable team of traveling painting restorers who are my "hired guns:" people I can call on like Luisa Pari and Anna Frassine who fly in to a historical job site to help me with a mural project so we are able to complete the project in a timely way for the client. The last project I needed help with was the mural in the City Hall Council Chambers of Cedar Rapids where we removed 6 layers of overpaint from off of controversial WPA murals painted out in the 1960's. Here's a page that tells about the project: http://www. Our A1 results on this project were only possible because of our well choreographed team, well experienced in working together. I'm looking forward to seeing if Nuria can be part of this team.
Scott M. Haskins, Painting Conservator, 805 564 3438 faclartdoc@gmail.com Look us up on Facebook (and "Friend" or follow us) at Scott M. Haskins, Fine Art Conservation, Painting Restoration, Mural Conservation
Click here for a valuable Painting Collection Care Tip: http://www.HangAFramedItemSafely.com
For a FREE 210 page preservation manual by Art Conservator Scott M. Haskins, full of collection care tips and 35 embedded how-to videos (a $27 value) go to http://www.CollectionCareTips.com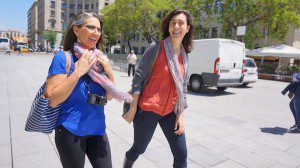 Painting conservator, Art restorer, Painting restorer, Art conservator, Art conservation, Painting restoration, Mural conservation, Mural restoration, Nuria Pique, Luisa Pari, Anna Frassine, Scott M. Haskins, FACL, Fine Art Conservation Laboratories, Remove overpaint from a mural, Paint removal from a mural, Old Master painting restoration, Post War Abstract Expressionism, Murals in City Hall Council Chambers of Cedar Rapids, Restoration of Baroque art, Art restoration techniques, Collection Care Tips, Hang a Framed Item Safely, Museu Frederic Mares