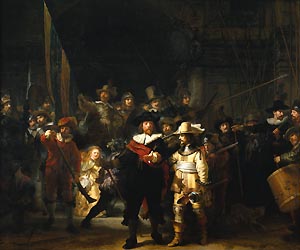 Some of you may remember that Rembrandt's Night Watch was damaged by a vandal with a knife a number of years ago. The art conservation of the damaged masterpiece made for a very interesting documentary (if you understand Dutch!) in which it was surprising to see that with the cleaning/removal of the very discolored varnish, the painting transformed from the "Night Watch" into the changing of the guards at noon day!!! And did you know that the painting is HUGE?!
For an interesting review of how it changed during the painting restoration click here.
Here's an interesting twist on the famous painting: http://www.huffingtonpost.co.uk/2013/04/03/rembrandt-the-night-watch-flashmob-video_n_3005034.html?utm_hp_ref=uk-culture
I hope you found this as interesting as I did.  Hey! "Like" our website, would you please?
Scott M. Haskins
805 564 3438