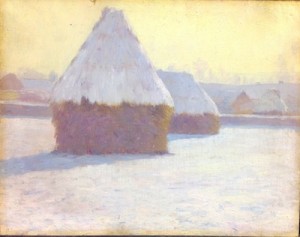 A serene painting by the California Impressionist master painter Guy Rose of French Haystacks done about 1910 walked into my lab today for an examination. The painting was in a private collection that, a couple of months ago, has passed to heirs… who admit they don't know anything about art and are not collectors. Their parents had bought the painting in about 1935. As part of their due diligence in settling the estate they called me to give the painting a thorough look over. I pulled it out of its frame for the first time since its been framed (presumably in the 1930s) to make sure that a signature wasn't hid by the rabbet… but no signature.
The painting has a bit of grime but is otherwise in very good original condition. UV inspection showed no previous restorations. This technique for inspecting a painting is required due diligence art analysis that anyone can learn to do. It is a basic investigative examination performed in art conservation laboratories. For more about utilizing a UV black light click on this link.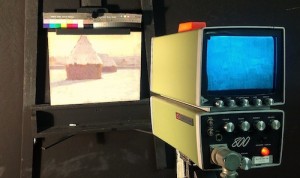 For the sake of not leaving any stone unturned, we decided to look at it with the infrared reflectometer. For more on this technique click on this link. I believe that this is the only infrared reflectometer available to the public (not in institutional labs) this side of Chicago? We were surprised and pleased to find that there WAS a signature in the lower right corner! Evidently, Rose had painted the picture and signed it… then later reworked the painting canceling out the signature. I've seen it happen many times. The last painting in my lab that had this situation was an Edgar Payne. Its hard to see but here are the two photos of the IR screen.
The photo on the right has the signature reinforced so you can see it. The "G" and the top of the "R" are missing because of the thickness of the paint. The "s" is also not very well defined but, of course, you can see that it says "Guy Rose." Sometimes a signature shows up very clearly under IR, but usually the style of the signature is often distorted with IR viewing.
The painting you see with your natural eyes is unsigned but on the back is a label written by Orrin White outlining a bio of Guy Rose and there is the estate stamp with Earl Stendahl and the written authentication by Ethel that this painting was by her husband. Because of the extensive documentation on the back of the painting, I don't think there is any doubt that Guy Rose painted this picture so the revealed hidden signature may not add any value but it certainly adds a detail of interest and of confirmation of the art authentication.
So, that's about it.
Reporting to you from Fine Art Conservation Laboratories (FACL)… its all in a day's work
Scott M. Haskins

805 564 3438