Our lab just finished cleaning up the graffiti vandalism defacing a heartfelt public work of art mural painted in 1987 by Russell Carlton, The #BlueMoonTrilogy. The mural was dedicated to the life saving and disease battling efforts of the AIDS Project Los Angeles in 1988 with a bronze plaque embedded into the mural… and still, though the mural was an emotional icon to saving lives, it was defaced with no respect.
Upon returning to our art conservation laboratory, we were honored by the visit of an international celebrity…
It seems funny to me, that the same spray paint applied illegally can be considered and esteemed so differently.
Graffiti art, a spray-painted image is, at least briefly, free for everyone to behold… until somebody defaces it, or a property owner paints over it. Banksy's public art reputation endures, first because its become valued by the public (not just in financial terms), partly because of a crazy variety of efforts to salvage the art.
When the artist visited San Francisco in 2010, his work popped up in various neighborhoods. One artist-collector, Brian Greif, had part of a wall, with Banksy's rendering of the iconic rat, spray painted on the side of a redwood slat Victorian building on Haight Street. It would seem that he would be looking for personal gain… but oddly enough, for this piece of art that was theoretically free to be seen by the public, he seeks a museum that will share it with the public in perpetuity.
His intentions were motivated actually, due to the San Francisco law that graffiti must be removed within 24-48 hours and this image was going to be painted out… so, basically it would not-so-visible by the public.
When Banksy's movie Exit Through the Gift Shop opened in San Francisco in 2010, he skipped the traditional interviews with local press and instead gifted the city with a handful of attention-getting illegal murals, painted in secret as is his wont. (Reportedly, he got permission for one of them from shop owners.) As usual, many were quickly defaced by less creative vandals, but one hard-to-reach painting, a couple of stories up in the Haight district, survived long enough for Greif to cut it off the wall.
And Greif did one better making a feature film entitled Saving Banksy about the drama of saving and authenticating the mural and then battling the media and the art establishment
Mr. Greif's effort contrasts with that of Stephan Keszler, an art dealer with a gallery in Southampton, N.Y., who excavates Banksy's works from public sites and sells them for his own gain. Banksy (who has never revealed his identity) condemns such sales, as does Ben Eine, one of many street artists interviewed here. Mr. Eine says Mr. Keszler is regarded by such painters as "a shyster"; Mr. Keszler, who displayed a few Banksys at Art Miami in 2012, says he enhances Banksy's reputation.
According to Brian Greif, the iconic rat that he saved, restored and mounted onto a moveable wall aluminum honeycomb panel has been to 35 cities in the last 3 years on display… its time for a check up at Fine Art Conservation Laboratories.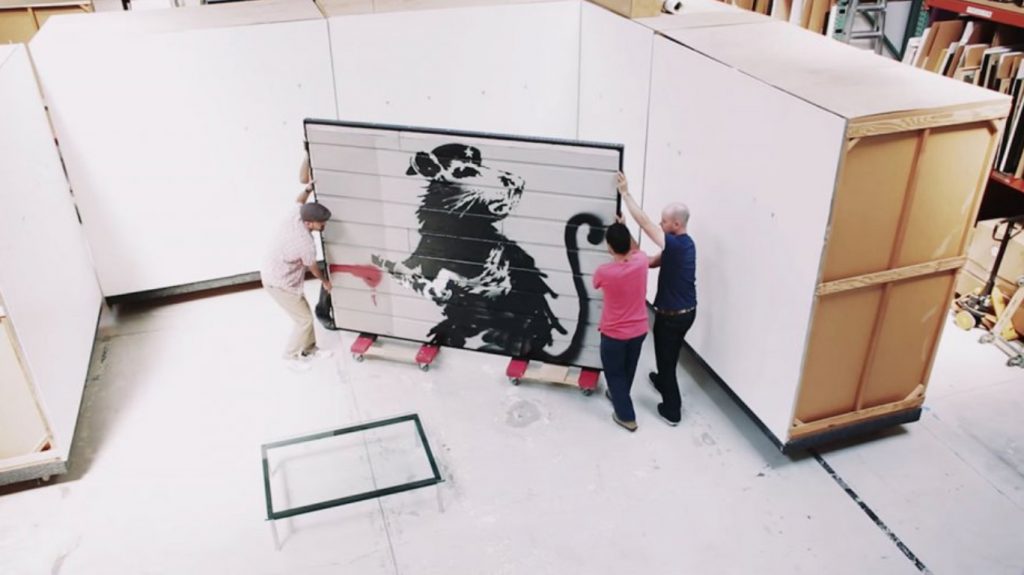 Scott M. Haskins, Virginia Panizzon, Oriana Montemurro
Art Conservators
805 564 3438 office
faclartdoc@gmail.com
Andrew Jacobs, Disaster Response Services Coordinator
812 639 3681 mobile
ajacobsfacl@gmail.com
Follow us on Facebook at Scott M. Haskins