If you've followed me even a little time you'll know that I travel a lot to personally consult with people about art restoration projects on location and that our company picks up and delivers. All of this traveling around often results in meeting interesting people.
I think I've got a short story for you that will make you smile and maybe even raise your eyebrows and say wow! Yesterday, I was in Los Angeles consulting about matters connected to art conservation and painting restoration and I had the great pleasure of reconnecting with client and friend, world renown harpsichord restorer Curtis Berak (https://bit.ly/3z3gRrq). Even though many of the gorgeous instruments that he works on have exquisite painting on them, we've never worked together on the restoration of what looks like a type of piano. But the reason we connect is because he is passionate about an odd instrument loved by French aristocracy known in English as a hurdy-gurdy.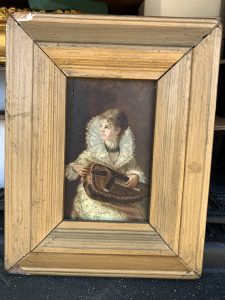 Curtis collects vintage paintings of French Blue Bloods with hurdy-gurdies. Here's a quick video I made years ago during a visit to his amazing old-world-workshop and I had him talk about some research and discovery work he was doing: https://www.youtube.com/watch?v=7ltm5sJTChc (please give this interesting video a thumbs up and leave a comment!)
Yesterday I had the great pleasure of connecting with Timna, who I thought was a referred friend of Curtis with a pastel portrait painting with a hurdy-gurdy but was not only a friend but also an ex-partner. Everything about this visit to Timna's house was fun.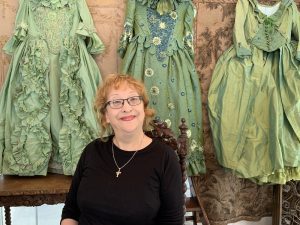 Timna, along with Curtis, is passionate about Baroque art and music and French aristocracy. But not only that, she spices it up with a lifetime of time travel. First of all, she is insuppressibly positive, even joyful. Her parents were world traveling, world class, working archaeologists who dragged her around to experience ancient cultures. Among her youthful years of travel, she spent a significant time in Egypt as they dug and discovered the ancients and included her. It sounded like this happened about 50 years ago. Of course, all this international travel, submersion in ancient cultures, living in foreign lands with all their foods, music and arts, customs, smells, and cultural interactions mixed with her insuppressible personality was an elixir for… well, not your normal girl next door.
On the outside, her small, restored cottage reflects on the Depression era homes of San Pedro. Admitted enthusiastically into her house by the cute French bulldog, though, you time travel and are submerged into a warm, welcoming cottage of the 1700s packed with blue and white Delft ceramics, artwork, stone lined walls and open beamed ceilings, period antiques and yes, an exquisite harpsichord… that she painted herself! In fact she has been painting harpsichords for over 30 years.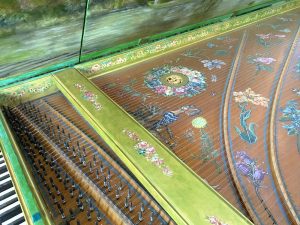 Every tabletop has beautiful figurines and other period collectibles. Everything looks like the Dutch or French 1700s. But the items that blew me away, were the French aristocracy costumes, including the shoes! Timna bedazzled me with her amazing talents as a seamstress. These clothing items that she made, every stitch, are completely authentic and of a quality that Louis XIV King of France would have been happy to wear.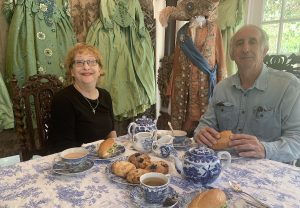 As Timna poured her hospitality and enthusiasm on us over tea and scones, listening to hers and Curtis' adventures and stories made our short time fly by. But the fun thing I learned was that in years past, they would throw a Baroque dress up party where select friends would come over for dinner and live music, dress up in full costume and make up, all tailored and provided by Timna, and time travel for an evening, leaving our day's concept of civilization behind.
With the promise that they will soon throw another Baroque evening party to which my wife and I will be invited, I reluctantly had to go in order to stay on my schedule with other clients later in the day. I am enriched by my fun visit and the hospitality and wonderful cultural warmth of these smart, positive minded, spiritually enthusiastic, unique, talented people.
My office manager says, every once in a while, that I should write down my adventures and put a book together. This is definitely the beginning of a story board for a page turning chapter.

Would you like us to come to see you at your location in Orange County and Beach Cities, the Inland Empire, Pasadena Area, Greater Los Angeles Area, Beverly Hills Area, San Fernando Valley, Las Vegas, Salt Lake City, Thousand Oaks Area to Ventura and Santa Barbara. Questions about something (not someone) you love? Call Scott M. Haskins and Virginia Panizzon Art Conservators, 805 564 3438 faclofficemanager@gmail.com
#artrestoration #PaintingRestoration #artconservation #HurdyGurdy #CurtisBerak @CurtisBerak @ScottMHaskins @FineArtConservationLaboratories #ScottMHaskins #BaroqueMusic