This article is by guest blogger Charles out of Orange, CA who is an "Expert Broker" or "Independant Adjuster" for insurance companies who need to find the right people for the right job. I asked Charles to write about this subject given the "journey" he just sent me on to look in on a widow out in St. George, Utah who had a fire and lots of smoke damage. You will benefit greatly by following his advice. His tips are "gold."
Scott M. Haskins
Smoke Damage on Collectibles, Heirlooms and Antiques – Tips For Making An Insurance Claim
This article will help you discover a few valuable tips for making a successful insurance claim for damaged artwork, antiques, memorabilia, heirlooms and collectibles etc. which are exposed to smoke. I am a professional fine art insurance claims expert and I broker the expert services needed by the insurance companies to settle their claims. I'm going to share with you some insights from working on a couple of cases that will give you the inside info.
I work with art conservators all the time who work on smoke damaged items in their art conservation labs (Click Here for a quick video tour). I am often hired by insurance companies which deal with fine art claims. My job is to assess smoke damage to heirlooms, collectibles, antiques, keepsakes and memorabilia etc. when the owners of these articles file a claim. I've traveled as far as 1000 miles to loom over damage and help settle the claim on smoke damage.
Below are two smoke damage fine arts policy cases I handled. I hope this throws some light on ways to protect your collectibles and to look ahead at how you can be prepared in order to make appropriate claims if needs be. Those who collect and love their antiques, delicate furnishing, collectibles, family history and heirlooms etc. will for sure benefit from this article.
Chartis Asks: Is Smoke Damage Possible From 40 miles Away?
A short time ago I was asked to evaluate the fine finishes (gilding) and the artwork in an important estate in Los Angeles which claimed over $1/2 million damage. The prestigious property had a policy with Chartis (previously known as Chubb Insurance Company) and filed a claim for smoke damage to their frames, sculptures, fine arts, murals and gilt surfaces etc. due to the smoke from a fire that took place 40 miles away and 2 years previously! Chartis assigned me to assess whether the articles were actually damaged by smoke or not.
In this case it was obvious that over the past two years lots of dust particles had settled on these articles as compared to possible smoke deposits from 2 years back thereby contaminating the possible evidence. (one important tip, don't wait but file the claim while the event is recent for the best considerations and handling of your claim, Another tip: document the irrefutable damage as soon as it happens.. it will be your proof!). With the help of expensive scientific analysis, the amount of dust deposits and smoke could have been estimated separately. But, they asked me to drop the test as it would have cost them more than a $1000. And if many multiples of test sampled had been required the analysis could have been many $1,000s. In any case, I had an art conservator to come in an give me back up for a thorough inspection.
In the entry, there were 5 vaulted ceilings similar to this one, except the crown moldings were in gold leaf.
I read the fine art insurance claim documentation very carefully which included 10 pages of detailed descriptions about the different items and finishes which were claimed to have been subjected to smoke deposits and corrosion. As I walked through the house inspecting the items, the claimant gave me the red carpet tour of the entire estate and explained to me the damages which he had noticed. According to him the gilt finishes had suffered a change in color due to smoke but, I didn't agree with his argument. Besides the gilt items being coated with a protected lacquer, the finish's surfaces appeared to simply vary in their types of finishes and I did not consider them as alterations.
Perhaps the owner had forgotten the appearances of the various finishes in the house and now was noticing details for the first time with the closer inspections? This kind of confusion is pretty common in claims for damage. This becomes a topic for debate between the claimant and the insurance company.
In the end, I was not in favor of the claimant's point of view. After careful inspection of all articles and their finishes I completed my report stating clearly that there were no alterations in the colors and finishes. Therefore Chubb Insurance Company didn't pay out on this fine arts damage claim.
In another case, however, Chubb faced another claim worth $500K for a painting damaged in storage. After checking the painting thoroughly I recommended Chubb not allow the claim. But still, the company immediately paid the claim to the claimant. Later I realized that the claimant was a major customer to the company and had plenty of collections, properties, toys and boats etc. insured with them. This incident showed that as per their business interests and not merely on their principles, the insurance companies may disallow or settle the claims. (Tip: Having all your insurance needs handled by the same company may give you leverage when it comes to a settlement)
However, such business decisions are not really my problem. My duty is to report back on the actual conditions of the claims accurately and I do this as an advocate of the artwork. I do not alter my opinion based on who is paying me (the insurance company, or the claimant). This gives me credibility as an expert witness on art related matters and when I have to appear as a legal testimony in court.
Next Example: Allstate Insurance Company
In this incident of smoke damage, the insurance company did everything possible, voluntarily to help their customer with this claim.
As you may be aware, huge fast moving fires can be very fickle and sometimes consume one house while leaving the house next to it. Such was the case with this family's house. While the fire burned everything all around the house, it "only" filled the house with heavy smoke.

In this case, the Allstate Insurance set an example for all the other insurance companies as to how they should act with the intention of protecting the client's interests. As the victims were under mental stress and trauma, these policy holders were unable to file the smoke damage claim for their collectibles, family history items and keepsakes, heirlooms, etc. Even after a whole year passed they had not yet filed a claim. Still, the insurance company kept all options open and was waiting for them to address the issues of family keepsakes.
As an expert in the preservation and saving of treasured family items from smoke damage I brought in Scott M. Haskins, author of "How To Save Your Stuff From A Disaster" and owner of  Fine Art Conservation Laboratories (FACL, Inc.).  His company acted as the coordinator between the claimants and the insurance company. They gave all the possible help to the affected people in preparing their claims. They helped the client prepare a complete list of keepsakes and collectibles together with photographs and helped them to complete the claim making procedure. They also recommended special treatments for articles such as drawings, sculpture, photo albums, rare books and artworks etc. which must never be cleaned with industrial products. They made a list of around 550 various items including photos, paintings, antiques, books, furniture and statues etc. All these objects were damaged by smoke.
FACL Inc. performed the evaluation and gave the report and assessment to help file the claim. Once the formalities were completed between the insured and the insurance company, they helped the claimants in the conservation of articles by getting rid of the smoke smell & deposits.
FACL Appraisals also provided the contents valuations & fine art appraisals of the items when these were required by the insurance company (http://www.personalpropertyappraisal.com)
To conclude, here are 5 important tips to file a fine art policy claim of smoke damages:
1. All the important documentation of the collectible's records must be copied and kept in another location away from the collection. Online storage is a good option but remember to inquire about personal information security. To make this point, here is the short video of an interview with a woman that suffered a house fire: http://www.youtube.com/watch?v=7lCx-xg4BMY
2. Since items made of metal corrodes very quickly by ash and smoke, immediate action must be taken.
3. Insurance agents should be informed right away and with the proper documentation.
4. Always hire a true professional when it comes to cleaning the artworks and antiques etc. Don't allow general house cleaners and disaster response clean up companies to clean them.
5. To avoid errors while filing the claim, ask the experts for help in order to determine the degree of damages.
For other examples of insurance claims, go to: http://www.insurancepersonalpropertyassessments.com/
Do you have any questions?
Give Scott Haskins a call for a free chat: 805 564 3438 office, 805 570 4140 mobile
Andrew Jacobs, Disaster Response Coordinator 812 629 3681 mobile
For art appraisal questions? Call Richard Holgate 805 895 5121 mobile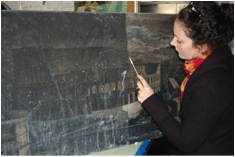 Even though the heirloom painting was a throw away because of the extensive smoke damage, according to the owner, he was elated that the cleaning brought it back to its original condition.
If you liked this article, please click on the "LIKE" – THUMBS UP at the top of the page. Also, please leave a comment!