Scott M. Haskins, Fine Art Conservator and his widely known and esteemed company, FACL, Inc. has been providing art conservation and painting restoration services in Orange County, CA since 1984. Some of our clients include the Laguna Beach Art Festival, the Laguna Art Museum, the 5 Crowns Restaurant (actually the corporation owns 9 similar places and we do work for them all), the Bowers Museum, art dealers, art appraisers, decorators and numerous private clients . Services are provided on a continual basis, even making appearances as a consultant for art related insurance claims, as legal testimony and to give collection care and disaster planning workshops to members and docents as their art conservation expert and author of How To Save Your Stuff From A Disaster.
Routinely, a call comes into our office (805 564 3438) or by email (faclartdoc@gmail.com) and we chat over the phone. When we get a call to restore a painting, clean a painting, fix artwork, repair a rip in a canvas painting, analyze a painting we schedule a personal visit to look over/evaluate the artwork at your location, offering a estimate of the work up front at no charge. Then, if the work is to be done, we offer PU/Delivery to your home or office. The work's schedule, however, needs to coordinate with our other project pick ups and deliveries in the area.  We work on small family heirloom pieces, on California Impressionist pictures, on Post War Expressionism Art and on Old Master paintings. One of our specializations is the restoration of murals.   See this quick 2 min. video testimonial about our background:
We also do art conservation and painting restoration work in the Palm Springs area, Los Angeles and as far north as San Francisco. We do a lot of work in the Carmel/Monterey area. We have many important clients in Las Vegas and the Provo/ Salt lake City, Utah areas. We have work shipped to us from clients all over the Western US and we work on murals nationally. Here is a quick tour of our lab
This nice comment was sent to us last Fri: "Hi Scott, Virginia and team. Our painting by Don Waters of the "Smoke Tree" is happily hanging on the wall. It is a POW! The restoration is splendid. Thank you for the outstanding work! Cheerfully The Wrights, in Orange County" (used by permission) #fineartconservation #virginiapanizzon #cleanart #scottmhaskins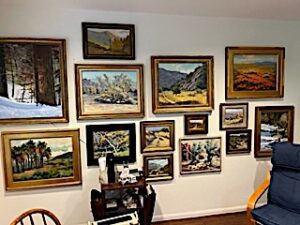 We look forward to speaking with you about your art conservation questions and project. The following links will give you more interesting information:
Additional testimonials for art restoration services: https://www.fineartconservationlab.com/testimonials/
Using a black light when inspecting artwork: http://www.tipsforfineartcollectors.org/blacklight-package
How To Repair a Rip In A Canvas Painting: http://www.youtube.com/watch?v=Xhhu0AZ_WVI
Why we do not (and nobody else should either) patch a rip in a painting: http://www.youtube.com/watch?v=xOk0vk3w5zs
Questions about your art?
Give Scott M. Haskins and Virginia Panizzon a call at
805 564 3438 faclartdoc@gmail.com
Please give these videos your THUMBS UP! Subscribe to our YouTube Channel