This article was syndicated at the renown ExpertClick.com. To see why syndication is such a big deal, see the end of this article.
 Santa Barbara's most enduring art gallery – The Waterhouse Gallery – has opened an additional new gallery to bless Montecito with a place to gather for high quality, traditional contemporary art. Its definitely stimulating to see the quality and genius of masters who lift your spirits, tantalize your senses, and stimulate your wanderlust nature. Located at Coast Village Plaza, this cozy center is a treat to visit again and again.
The owners, Diane and Ralph Waterhouse, have been residing in Santa Barbara for decades and opened their first gallery in La Arcada Plaza (1114 State Street, Suite 9) in 1984. Today, the couple is excited to expand their cultural outreach in a different location.
Featuring a host of national and local professional artists, this space is divided up into different genres, including figurative paintings and landscape-based art depicting Santa Barbara as well as other regions. Diane explains, "Traditional contemporary work is something we are passionate about. We showcase art that we enjoy owning and displaying at our own home."

Each one of the Waterhouse power-couple complements the other in this artistic endeavor, with Ralph Waterhouse being a renowned painter and Diane Waterhouse possessing a talent and an eye for finding captivating art. Their dynamic partnership extends beyond business to philanthropic outreach work. "We certainly work seamlessly together and are a great team," Diane acknowledges.
As art lovers who have been a part of the business for almost four decades, their knowledge is second to none. They enjoy discussing their experiences, which will certainly enrapture any art lover. If you are kind-of shy, do not worry about venturing to a new location! Diane has a knack for making friends within minutes. Their galleries are totally non-threatening and a very easy place to feel comfortable.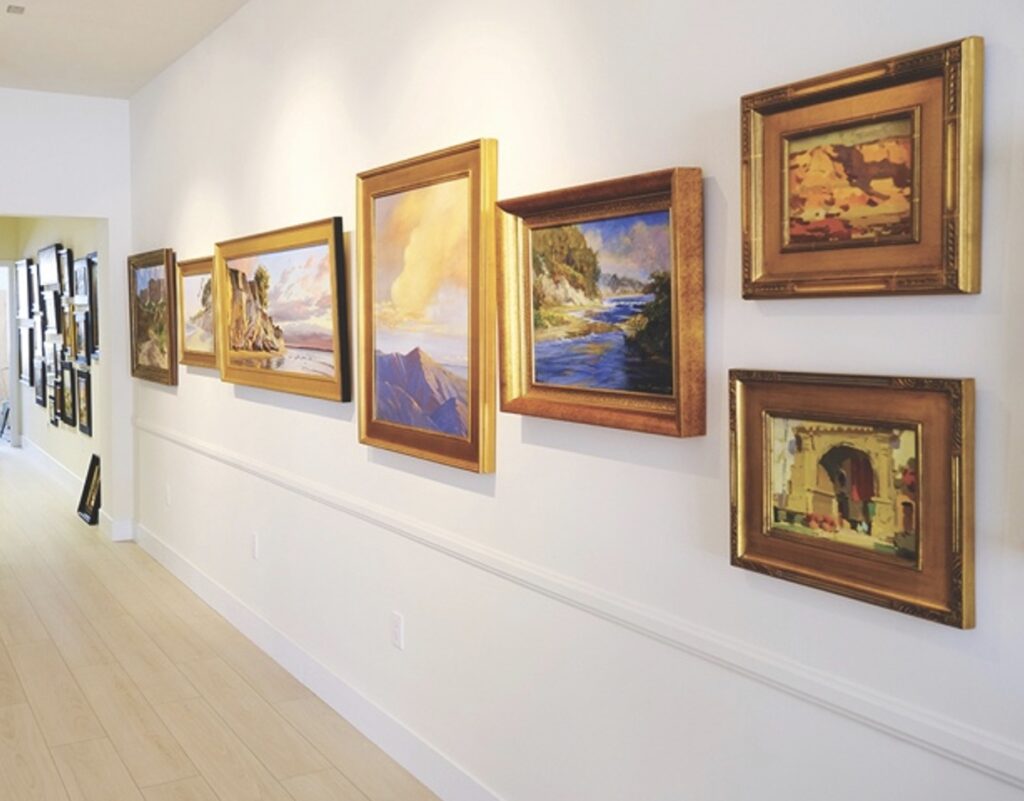 Ralph and Diane Waterhouse celebrating their Santa Barbara's gallery with Wyllis Heaton at the anniversary
The Waterhouses are renowned for their experience and expertise in the art community and have gradually built close relationships with various world-class artists, such as Scott M. Haskins, Conservator of Fine Art in Santa Barbara. The latter is a magician when it comes to resuscitating or maintaining paintings that require restoration. Fine Art Conservation Laboratories is a highly reputed institution, since invaluable paintings that sustain damage from smoke, flood, or fire are brought back to life here. Mr. Haskins revealed that during various house visits, he is stunned to find paintings procured from the Waterhouse Gallery. "The quality of artists they choose to showcase is top-notch," he added.
When you decide to visit this gallery, be prepared to fall in love with the art pieces displayed here. Diane believes in choosing art that touches her heart and brings her joy. Each piece of art displayed here will stir your emotions and prompt you to recall stories from your past. From figurative paintings to depictions of local landscapes such as Butterfly Beach, the Historical Santa Barbara County Courthouse and Arroyo Burro Beach, you will find masterpieces that will force you to embark on an unforgettable journey.  "Interestingly enough, both the tourists and the locals enjoy art that showcases local scenes," Diane exclaimed.
The art gallery in Montecito was opened on April 1, 2023, and the Waterhouses  are consistently excited about the prospect of interacting with other art-lovers through their gallery. In particular, Diane enjoys watching people buy their first-ever painting. "I always tell them that you should buy any piece of art that touches your heart; otherwise, you will live with regret," she said. Simply put, something that looks great in the gallery may look even better in your home. You can even try it out in your home before you decide!

Questions? Call Diane Waterhouse 805 886 2988
Art Conservation questions?
Call Scott M. Haskins, Art Conservator 805 564 3438
See more in the featured Plein-Aire Magazine article
See more about the featured artists – https://www.waterhousegallery.com/index.html

Article By Meghana Venkata, Guest Blogger,  @venkatameghana
Meghana Venkata is a freelance writer and copy editor, currently pursuing a Master's Degree.
This blog post has been syndicated at ExpertClick.com. What does it mean that this article is " syndicated"? Its a bit of a coup to get an article syndicated…
… and its certainly prestigious, as additional "proof" that the info and the author are considered far and wide authoritative and an expert in the field. So, enjoy and trust our content!! This article was syndicated for USA national redistribution.
When something is published, usually by a news source, and is made available through different venues for redistribution then it is said to be syndicated. Publications that are syndicated are usually considered of value as being from an expert, educational, new worthy or valuable for wide popular interest. See syndication page at the renowned publicity site: https://www.expertclick.com/NRWire/Releasedetails.aspx?id=296848
This website's syndication included:
1) Included in the ExpertClick Press Room as a 'press release.' (different than a 'news release')
2) Included in the 'Speaker Bureau Platform Page.'
3) Shown on the front page of ExpertClick, in rotation with other most recent posts.
4) Shown in the 'News Release Results page.'
5) Included on optimized for searches on all my topics of expertise.
6) Shown via RSS linked from the Press Room. (A specific way news is actively distributed within the industry)
7) Shown in the full RSS feed from ExpertClick. (Another, different specific way news is actively distributed within the industry)
8) Syndicated to LexisNexis.com As of 2006, the company had the world's largest electronic database for legal and public-records related information, distributor of academic content and expert opinion.