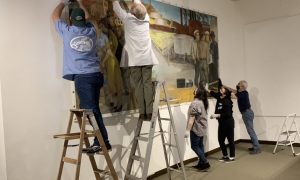 Just published in the prestigious newsletter for the International Institute for Conservation in London, "Lost WPA Mural: Found, Conserved, and Installed in San Francisco Bay Museum."

Richmond Industrial City, 1941 is a WPA mural by Russian immigrant Victor Arnautoff, who was also the past project director for the 1934 Coit Tower mural project and protégé of international superstar artist, Diego Rivera.
Richmond Museum of History and Culture Saves Lost Historic Mural
The mural  hung in a post office from 1941 to 1976. After it was taken off the wall while the building was renovated, it was put in a crate and left in a basement. It took four years to raise $45,000 dollars to restore the canvas. KQED Reporter, Raquel Maria Dillon,
KQED Reporter, Raquel Maria Dillon, is quoted on the station's website as promoting that the Richmond Museum let languish for 4 years, and was considered lost in a basement, a valuable and historic WPA mural by the renowned Art Director for the installation of the Ribera murals in Coit Tower Victor Arnautoff.
That was not the story at all. And its puzzling too. Because KQED says it is a proud member of NPR and PBS. But how could they be a proud member of these news sources and also be so sloppy about covering the preservation and restoration work done for the mural by a conservation team which is a noted and awarded PBS featured quality company?
Fine Art Conservation Laboratories is honored to have been a part of this worthwhile community effort to save their heritage and retell the stories important to their history.
Call to discuss any questions about your art you may have: Scott M. Haskins and Virginia Panizzon Art Conservators 805 564 3438 FACLOfficeManager@gmail.com