This video link of the art conservation/restoration of monumental realistic beautiful outdoor mural by Kent Twitchell at Biola University will take you to the dedicated page for this project. Kent teamed up with Scott Haskins to resolve difficult conservation questions and FACL's Virginia Panizzon helped with the color matching and color development processes. It was a super interesting project. Kent's work ethic, professionalism and quality of work is a mind blower!  http://bit.ly/iF59qd
Its the 3rd video on the page (largest). If you like the video, please leave a comment and click on the THUMBS UP!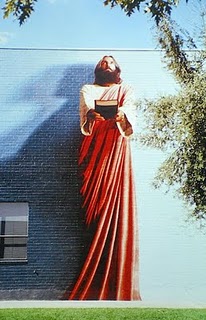 Kent Twitchell is the leading muralist in Los Angeles, known world wide. Put his name into Google and pack a lunch cause there's a lot of interesting stuff to read. His murals are always huge, gorgeous, realistic and interesting.
He is also the co-founder of the Mural Conservancy of Los Angeles and is a driving force to get outdoor murals protected from graffiti. He's been doing murals for decades.