This is one of the "monikers" that we got tagged with last weekend, the day after we finished the removal of the huge tag of the bottom half of the mural. This graffiti covered about a 4′ x  10′ area. Interesting thing is that this vandal got picked up by police the same weekend he tagged us while he was tagging someplace else! So, the Sheriff is "on it." They know who the other guy is too, I think. And we caught them on video!
We would have gotten to the wall for the removal last Tues. but there were logistic issues from Caltrans. Today was a quickie: we took off both decent sized tags in about an hour. Here are a couple of interesting newsy technical items:
1. Caltran wanted to try an "approved" varnish that remains water soluble. That means we should be able to wash it and the graffiti off in water. I'm doubtful but we put some on the mural today to test it. In this photo we're rollin' it on…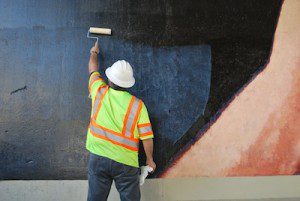 We should be able to report back on how it works in a week or so (we're almost hoping to get tagged again to see how it works).
2. We got the graffiti paint off nice and slick. We're getting into the groove.
OK, so stay in touch. Consider a nice fat donation to MCLA to help keep graffiti off (maintenance) or sponsor an entire mural – make it yours! Go to www.muralconservancy.org and speak with Isabel Rojas-Williams at 213 291 6900
Mural conservation questions? Ask Scott at 213 620 9125
At appraisal questions? Call Richard at 805 895 5121
Follow us on Facebook at Save Freeway Murals
XOX.. over and out… for now.