They've been painting out murals for centuries… in fact, one of my first mural conservation projects was uncovering Renaissance murals in a church in Northern Italy that were drop dead gorgeous, but over the centuries were painted out!! Here's a photo of the church after the overpaint was removed.
And… it still happens. Every once in awhile a historic WPA mural is thoughtlessly painted out. I've been quoted as a national expert on mural conservation in both CNN's and The New Jersey Herald's articles reporting on the debacle of a recent covering over of murals in a school: https://edition.cnn.com/…/new-deal-mural-painted…/index.html
As professional art conservators, over the years, FACL has removed 10,000s of sq ft of overpaint to recover these valuable historical and artistic murals all over the country.
Recognized as a national expert in mural conservation, CNN and the New Jersey Herald call Scott M. Haskins to review details (fact check) of the article and quote him…National News   http://www.njherald.com/article/20180616/AP/306169936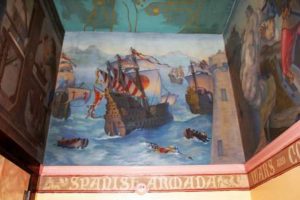 "One art restorer said it would be possible, though expensive, to remove the blue paint from "Constellations."
"I would think that it could be done not only safely, it could look perfect," said Scott Haskins of Santa Barbara, California-based Fine Art Conservation Laboratories. Haskins said "Constellations" is not the first historic school mural to be painted over. "Every once in a while you get a dingbat principal that gets a roller out and tells maintenance to give it a fresh coat of paint," he said. "I've seen it happen all over the country."
"There have been several cases of WPA murals that were painted over and later restored. Seven murals at New Mexico Highlands University depicting different fields of knowledge were covered with white paint sometime in the 1960s. They were restored in 2011 after the New Mexico New Deal Preservation Association hired an art conservator to uncover them."
"Cedar Rapids murals were painted over in the 1950s amid controversy over images depicting justice in what was then a federal courthouse. The murals were restored, then covered up again in the 1960s, then restored again between 2011 and 2013."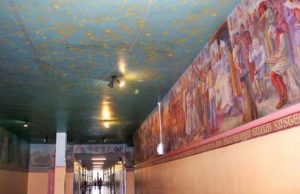 One of our Facebook fans asked me with despiration…
"Who would do that?????"Someone who is not thinking… and not interested. But you would think that school administration would be more in tune and aware!
Another follow up comment: "And they are not the only ones. Murals in theaters, post offices, government buildings have been covered or destroyed."   Yes, that's true… and that's why I have a job.
A question from a nationally known artist: "Do you think there is a renewed interest in uncovering and restoring murals these days, Scott?"I think there is heightened interest in historic preservation as the population gets older. Also, 50 years ago, the WPA art was just old styled art. Now books have been written, high prices have resulted in auctions… so now they are stylish and there's context for saving them. Also, the buildings they are in have become historic, so… but its always an effort to get together a budget. Its never a slam dunk to get all the community support you need to get the project approved. No one is going to GIVE the principle the money next week to clean off the murals, restore them and make them look great. Maybe with public outcry there will be some extra pressure…. who knows.
We consult and answer questions enthusiastically. Give us a call: Scott M. Haskins 805 564 3438 faclartdoc@gmail.com