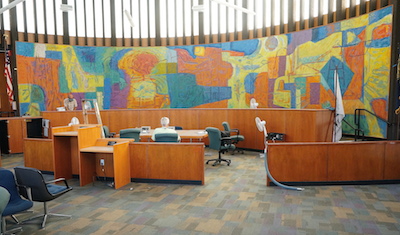 Old City Hall in Eugene, Oregon was only built in 1964 but is now being demolished. Not long after it was built, important systems like heating began to fail and it quickly became the bain of existence for those working in those public offices: no one could ever get warm and there was no way to jury-rig the heating system in the poured concrete walls.
Through out the City Hall complex was quality public art from renown local artists like Andrew Vincent, 80 something year old, past WPA muralist and chairman of the art dept at local University of Oregon.
The process of saving Mr. Vincent's mural from demolition along with the Old City Hall was accomplished by Scott M. Haskins and Fine Art Conservation Laboratories (FACL, Inc.) under the direction of McKenzie Commercial, General Contractor.
A serious complication made this mural removal a little different from the many other similar projects we have accomplished over the last 40 years to wide fan fair: the discovery of asbestos in the plaster in the wall behind the mural. So, here are a couple of videos to give you the inside information. First, a quick video of the general mural removal process and Second, a testimonial about the asbestos abatement process and the specialized training that was required.
The General Removal Process
Asbestos abatement / mitigation and other toxic materials experience
http://www.FineArtConservationLab.com Click here for video tour of lab.
Contact info: Scott M. Haskins 805 564 3438 faclartdoc@gmail.com
Scott M. Haskins, McKenzie Commercial, Eugene City Hall, art conservation, art restoration, painting restoration, painting conservation, public art, mural restoration, save a mural from demolition, Andrew Vincent, mural conservation, asbestos abatement, toxic materials mitigation with public art, Fine Art Conservation Laboratories, FACL, Inc., PBS Environmental