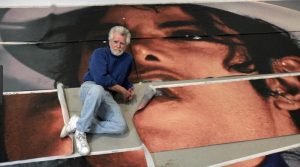 Monumental Mural Pulled from Storage and Restored
Kent Twitchell, internationally famous artist for painting monumental sized murals of "American Cultural Heros" feels his greatest masterpiece is a collaborative creative effort he had with The King of Pop, The Most Famous Man in the World, Michael Jackson when they made together a painted monument mural to legitimize the pop star's legacy in 1992.
This passionate project of creating the exciting 100 ft. tall project of MJ by KT was painted in acrylic on a polyester fabric, to be adhered to the side of a 12 story building. At one point, Michael Jackson's entertainer genius creative mind wanted to make it an interactive mural on the side of a building with lighting affects and lasers. But that idea was quashed by the city of Hollywood in 1992.
Here is an intimate personal interview with the artist to tell the story of what it was like to work with Michael Jackson:
Instead of becoming a famous destination of public art of perhaps the most beloved music genius of a generation… or perhaps several generations, worthy of making any building noteworthy on an international level, it has languished forgotten in storage rolled up on small tubes for the last 24 years. After Michael's death in 2009, the project was abandoned by the family, estate, corporations and legal representation of the defunct musician.
This original artwork/painting/mural of the most famous man in the world by one of the most famous contemporary portrait painters in the world is making it's breakout performance in 2018. With the added visibility and promotion of Michael Jackson – On The Wall at the National Portrait Gallery in London, you should be hearing more about The Michael Jackson Monument in the media this year.
FACL is honored to be part of this collaborative effort for the preservation, restoration and installation of this monumental historic public art… no matter where it may be installed in the world! Where will the home for this famous mural be? Tokyo, Hong Kong, London, Rome… Dubai or Hollywood? Stay tuned for more information!!!
For more information: Scott M. Haskins, 805 564 3438 office, 805 570 4140 mobile, faclartdoc@gmail.com
Like this page! Leave a comment!
#KentTwitchell  #ScottMHaskins  #KingOfPop  #MuralConservation  #MuralRestoration #MichaelJackson #MichaelJacksonOnTheWall