Do you like this effort to Save Los Angeles Freeway Murals?
CLICK NOW on the THUMBS UP!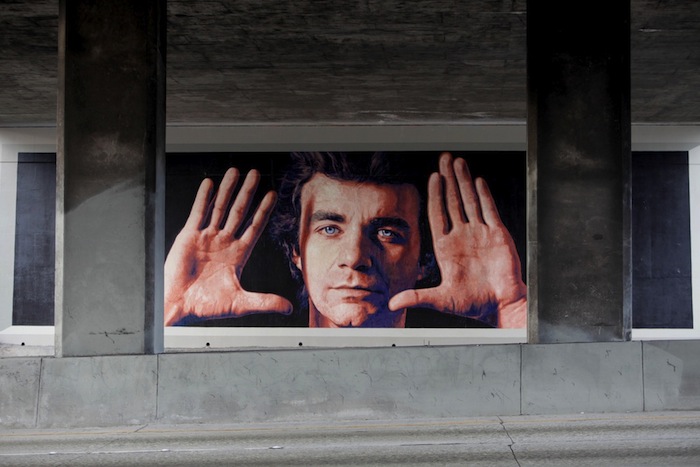 Jim Morphesis Monument After Graffiti Removal and Art Conservation – Photo by Gil Ortiz
In 1984, Kent Twitchell, Los Angeles' most famous and most visible mural artist, was part of an elite group of artists to paint for the City of Los Angeles a series of murals along the downtown freeways to celebrate the Olympics. His "7th Street Altarpiece" composition uniquely consisted of two murals, one on each side of the 101 freeway under the Grand Ave. overpass. It was genius.
Over the years, these two murals, The "Jim Morphesis Monument" and "Lita Albuquerque", have unmercifully been tagged by graffiti vandals, disrespecting the artwork and the community that celebrated. Several attempts have been made to restore them but a lack of commitment to their maintenance relegated them back to a visual expression of anarchy.
Recently, The Mural Conservancy of Los Angeles  committed to maintain these murals and Fine Art Conservation Laboratories (FACL, Inc.) was chosen. So the mural restoration was undertaken and this page shows you all the interesting details of reclaiming Los Angeles public art from the graffiti; the Jim Morphesis Monument by Kent Twitchell has been fully restored (see photo above).
Three short videos have been made for you information and entertainment:
Video 1 – The testing of Kent's original artwork to see IF it could be cleaned safely.
Video 2- Graffiti removal and the unveiling of the original mural once again to be enjoyed by the millions who drive by.
Video 3- Fine tuning the cleaning, retouching to help the mural looks it best and the process of protecting the mural from future graffiti.
Before starting to remove the graffiti from the murals, we had to do tests to see if the process would hurt/damage the paint. Here's a quick video of our testing process.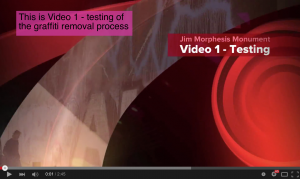 Here is the short video showing the graffiti removal and the long awaited return to daylight of the fantastic mural by Kent Twitchell.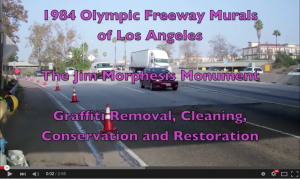 So, now the mural is cleaned of the graffiti "mask." But you may have noticed that the mural wasn't quite up to gorgeous. This was mostly because the graffiti paint remover works best in warmer weather and the day we worked it was 60 degs. So, we were left with a follow up fine tuning cleaning, we decided to repaint the background as per the artist's wishes, we needed to do some touch up and we wanted to put another thick layer of varnish to protect against graffiti in the future. All this work began the week after Thanksgiving.  By the way, thanks for all the honking and waving as you drive by. Its great to see the community support.
The final fine tuning, touch up and varnish really made the mural look fantastic. Here's the quick video made by us just so you would be entertained!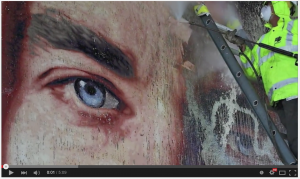 So, is it useless to try and protect murals from graffiti vandals?
So, is it useless to try and protect murals from graffiti vandals? Will they be tagged incessantly? Is there no hope to reclaim or city neighborhoods and have pride about where we live? Is public art at the mercy of Anarchy? Here's a dialog I had a short time ago that posed some good questions… with answers that can and will be put into action:
Laura: I love that piece, and it breaks my heart when it gets tagged.
Mario: great piece when its not tagged, question is, when isn't it?
Scott M. Haskins Answer to future tagging: We've been hired to maintain the mural and keep it clean. Making good progress on Jim Morphesis Monument. New photo posted http://www.facebook.com/pages/Save-Freeway-Murals-Los-Angeles/306554516039121?sk=wall
Mario: as a long time resident of LA I would guess that in the last 15 years or so this and other murals have spent more tagged up than not, I remember when this wasn't the case, sadly the tagging quickly turns some of these beautiful murals into huge eyesores that some of us are subjected to on a daily basis.. good luck with maintaining the mural, unless your planning to occupy the site, you'll need it.. btw, how many more strategically placed murals could be painted with all of the money spent on restoring those that are poorly located? A close friend expressed his frustration that more is spent every time his mural is restored than he was paid to paint it… really?
Kent Twitchell Some people have given up (with the idea of having murals in our community and keeping them nice). Some others haven't.
Scott M. Haskins: Mario, maintenance is the key. If a mural gets tagged Caltrans requires that the graffiti get removed (or painted out with their gray paint) within 10 days or even 48 hours if the tagging is obscene. We are planning to remove any tagging within 48 hours of the tag occurring… but that depends also on if we are notified right away. Small graffiti initials/name can be removed for a couple of hundred dollars. A tag that is more thickly applied and bigger, maybe a few hundred. An enormous repainting type of graffiti can still be /removed for, lets say, maybe about $1,500- $2,000… hardly the cost or payment for painting a mural. The key to a maintenance program working is to be organized, follow through, the coordination of, Caltrans, Public Works and about 4 other entities… and of course, there has to be funding… which there is.
Finally, consider other nice things you appreciate. They often require maintenance/upkeep over a continued basis.
UPDATE! One of Kent Twitchell's murals (not on a freeway) got tagged last night. Here's a perfect example of the foregoing discussion. See the short video of what happened:
[rTjhemVZ25I]
Leave a THUMBS UP… a comment?
4 days after we finished the major conservation/restoration of the mural, vandals attacked with a massive tag covering the bottom half of the mural. Here is the info about what happened: https://www.fineartconservationlab.com/murals/morphesis-mural-that-we-just-finished-tagged-big-time/
It was decided to set up surveillance video cameras and here is the blog post which explains: https://www.fineartconservationlab.com/murals/video-surveillance-of-public-art-mural-catching-graffiti-vandals/
24 hours after the new tagging was removed and the video cameras were put into place, the vandals hit again! But, we're kind of happy they did. Here's why… https://www.fineartconservationlab.com/murals/morphesis-re-tagged-the-day-after-re-cleaning-war-but-were-kind-of-smiling-because/
I'm asked every once in awhile, "Who is Jim Morphesis?
ABOUT JIM MORPHESIS
Jim Morphesis is an artist and a teacher. His paintings have been shown in nearly two hundred national and international exhibitions since the early 1970s, and are in the permanent collections of more than 25 museums, including the Los Angeles County Museum of Art, the Metropolitan Museum of Art, New York, and the San Francisco Museum of Modern Art. Morphesis has been recognized with awards that include: the Los Angeles County Museum of Art, Modern and Contemporary Art Council, New Talent Purchase Award, the Louis Comfort Tiffany Foundation Grant for Painting and Sculpture and a First Prize at the Fourth Florence International Biennial of Contemporary Art. Born in Philadelphia, Morphesis received his Bachelor of Fine Arts degree from Tyler School of Art of Temple University in 1970, and earned his Master of Fine Arts degree from the California Institute of the Arts in 1972. He lives and works in Los Angeles. Fellow artist, Kent Twitchell, is quoted as saying,
"Jim Morphesis is the most famous unknown artist in LA."
Call Isabel Rojas-Williams at The Mural Conservancy of Los Angeles 213 291 6900. MCLA, a non-profit organization, is dedicated to the protection and preservation of public murals in Los Angeles, http://www.muralconservancy.org
Follow us on Facebook: http://facebook.com/muralconservancy and
http://www.facebook.com/pages/Save-Los-Angeles-Freeway-Murals/306554516039121?sk=wall
Media or art conservation questions?
Call Scott M. Haskins, Conservator at 805 564 3438 office, 805 570 4140 mobile
Media questions for artist? Call Kent Twitchell at 310 709 2037
More art conservation/restoration videos on YouTube at channel "bestartdoc"https://www.youtube.com/user/bestartdoc?feature=mhee
Do you think saving the Los Angeles freeway murals is a good idea?
Click on THUMBS UP!… and leave a comment!