Cleaning a painting is the most common question we get. But interestingly, it seems that 80% of the projects that enter our doors are paintings that have been worked on before and have been damaged or have fallen short of the right kind of job. Such is the case with this wonderful, engaging 19th century realistic painting of a pretty girl all tangled up with a couple of attitudinal parrots. It had been worked on twice! Though the painting is in good condition, the previous cleaning just did not get the job done and woefully left behind a layer of gray that has muted the potentially gorgeous glow of this wonderful Salon Painting.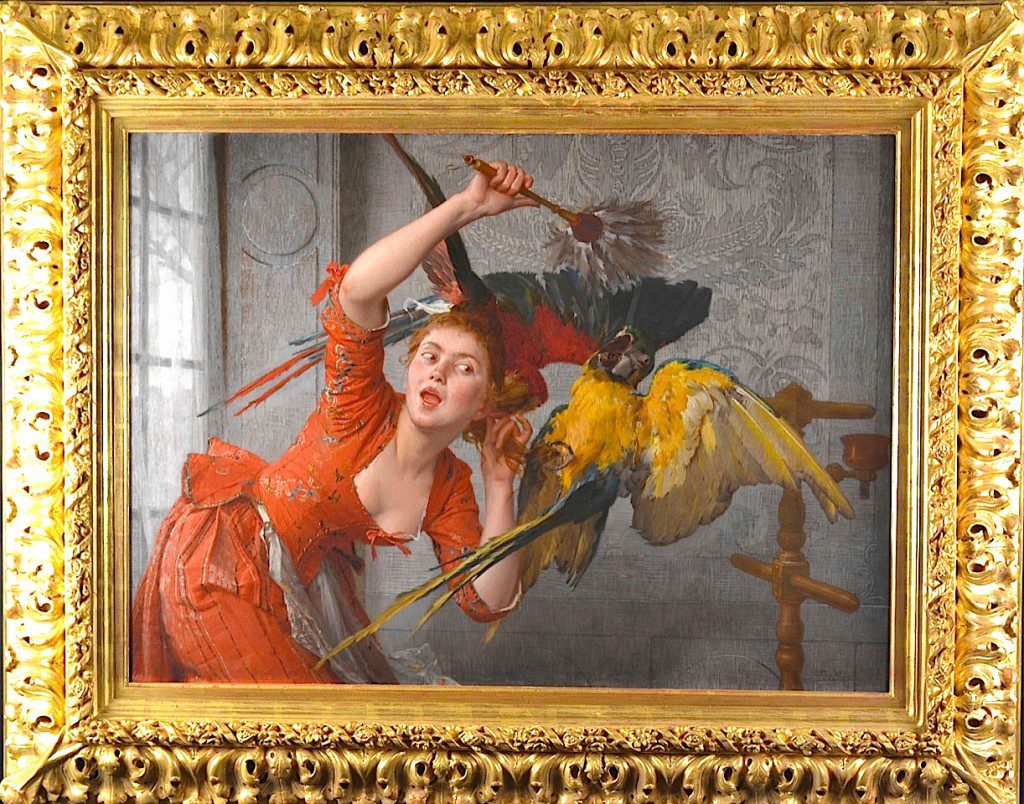 The artist is Emil Villa (French, 1836-1900), Une Querelle (or The Quarrel), oil on canvas, 32 x 44 in., 48 x 59 in. including frame (not original but gorgeous!).
The cleaning of a deep seated grime or gray layer was mostly concentrated on the skin areas of the girl which resulted in a gorgeous glow. The red dress popped more and the background came a into focus a little better. But the unexpected benefit was the increase of light from the window; highlights were more natural and sparkly and the effect was magical. I have to stop, stand and look at the painting everytime I walk by it.
Villa was, in his day, considered a master painter, whose works regularly appeared in the Paris Salon. Villa shared a studio with Claude Monet (1840—1926) and Frédéric Bazille (1841—1870) and worked in the studio of Gustave Courbet (1819—1874) after graduating from the prestigious Paris Ecole des Beaux-Arts. This work by Villa was awarded an "honorable mention" in the Paris Salon of 1893. Titled both "The Argument" and "The Endangered Hairdo" it depicts an attractive young woman who inadvertently draws the anger of two exotic parrots. Like so many artists whose work is both comical and serious commentary (e.g. Honoré Daumier), Villa's painting captures in a pleasing way the simple idea that some of lives most serious arguments are, fundamentally, meaningless. The figure of the woman and remarkable verité of the birds is a testament to Villa's training both in the Academy and Courbet's studio. (Several of Courbet's works feature similar birds.)
Here's a short time lapse video of cleaning a painting you might enjoy (be sure to give the video a Thumbs Up if you like it): https://www.youtube.com/watch?v=IyjI3rgCcF0
And click here for a testimonial of a cleaning of another very nice 19th century picture (we'll actually, it was 1906 but…): https://www.youtube.com/watch?v=Qx_pt3P3_yw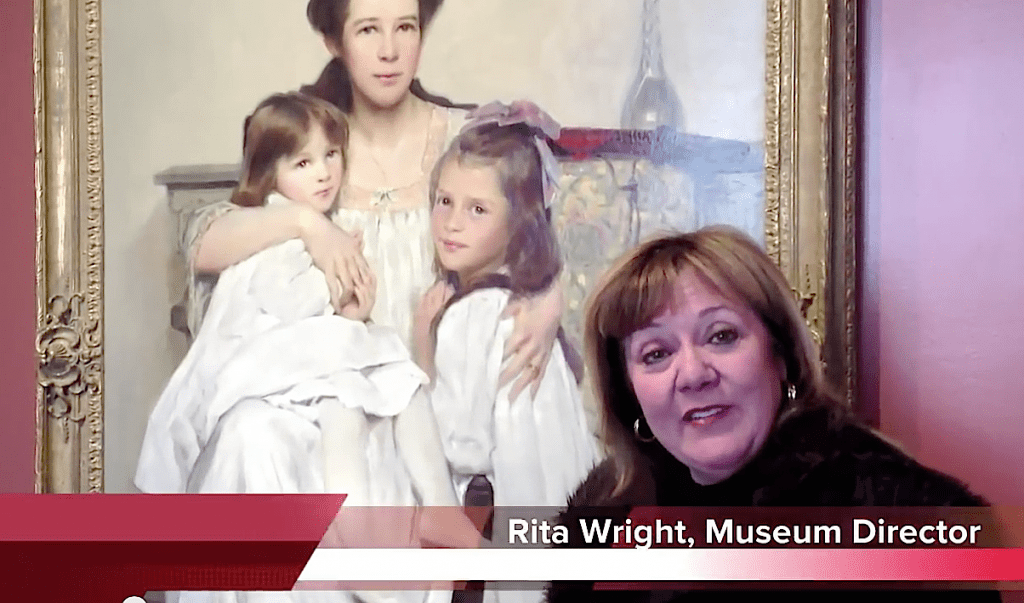 Anthony Christiansen Fine Art and Antiques in Salt Lake City has The Quarrel by Emile Villa for sale at $145K. His galleries are really quite amazing! You will love to pay them a visit and wander. Its like no place you've ever seen.
Questions about this art… or other? Call Scott M. Haskins 805 564 3438 faclartdoc@gmail.com
Appraisal Questions? Call Richard Holgate 805 895 5121 jrholgate@yahoo.com
"Thumbs up" (a LIKE)  for this fun painting?