This article and video entertains you with a Los Angeles story about surprising impact damage on 19th century paintings of high society fashion with some tips on condition from an art conservator. See several paintings of gorgeous women in The Gilded Age Society, paintings by the French-Italian Master Artist Frederic Soulacroix.
This short video about a painting of a pretty lady in a gorgeous pink dress during the Gilded Age Society and the reason she was in our lab will surprise you! But it was the freak accident that occurred… which happened to TWO paintings, unrelated, of gorgeous ladies in pink dresses… that surprised US!
The freak accident is a good story with an educational slant for you art collectors out there. Art collecting is all about due diligence to make sure the quality of what you are buying is what you think it is. The video includes several tips on identifying condition issues, which might influence the value.
Let me tell you quickly the story of the celebration with popping corks that put a hole in our young lady in a pink dress. How often does THAT happen?!?!… but to the surprise of the art collector, when he came to our lab to discuss the repair, we already had another painting of a lady in a pink dress with the same damage!
Take note when you are inspecting closely paintings that have some age, you will often see a cracking pattern that looks like a spider web or bulls eye. In the middle is where the painting took a hit, a point of impact… like a speeding cork! But the damage can be done in a myriad of different ways.
Click on this link to see a short video on the methods for properly, professionally repairing a rip in an oil painting: https://www.youtube.com/watch?v=Xhhu0AZ_WVI&t=198s
Did you know that the inpainting (retouching) to repair lost paint appears as a purple blotch when seen with a UV light?
Soulacroix was born to well-known fresco painters and sculptors, Charles Soulacroix and Giacinta Diofebo. By the age of 15 years, in 1873, Frédéric entered the Accademia di Belle Arti of Florence, and, in October 1876, he was admitted to its School of Painting. He remained in Florence for many years painting often romantic genre pieces in costume of the 18th or early 19th centuries.
He hit his stride, so to speak, during The Gilded Age in high society of the early 20thcentury.
His works can be seen at the Museum of Arts of Philadelphia and at the Lord Mayor collection Mansion House in London.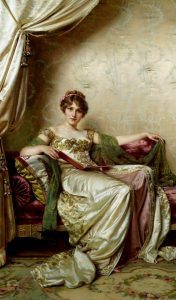 Call us for a pleasant chat about your art restoration questions: 805 564 3438 Scott M. Haskins, Oriana Montemurro, Virginia Panizzon Art Conservators.
Click here for our blog/website: http://www.FineArtConservationLab.com
Click here for our YouTube channel: http://www.YouTube.com/bestartdoc