The New York Time's Visit to Santa Barbara and Their Interest In The Story of Saving and Preserving Collectibles and Heirlooms from Montecito's Mudslides
by Phillip Justice, Guest Blogger
The New York Times recently toured and interviewed Fine Art Conservation Laboratories as part of their interest of developing a story and articles focused on the recovery of family heirlooms and memorabilia by The Bucket Brigade digging out of the Montecito debris flows and their subsequent preservation and restoration.
After the horrific Thomas Fire and Montecito mudslides, this group of angel volunteers – The Bucket Brigade – sifted through the ash, rubble and residue in an attempt to locate family history items and other valuable collectibles (among other important things… like even clearing out mud to save trees). The Time's reporter was enthralled with this process.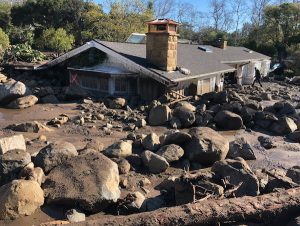 Very often, it does not matter how extensive or brutal the destruction seems to be, there are always treasured things which can be recovered. However, the recovery and restoration process will be a lot more successful when professionals are used. After an item has been removed from 3-4 feet of mud out of a family home, its not only possible to recover a valuable painting but also often restore that painting to its original condition. The Times investigated several volunteer clean up operations and their methods for restoring heirlooms and had high praise for this grass roots effort. The professional approach to the sensitive work of preserving collectibles was also of great interest.
There is always hope
Items to be worked on professionally are much safer and suffer much less collateral damage. Where possible, such items can be partially or fully restored depending on the type of object involved and also the level of damage which was suffered. Helping families to recover objects of sentimental value, things which would have been permanently lost, has been a story that pulls at the heart. Professionally trained technicians know exactly how to handle valuable items where destructive fires have raged and where tons of mud has been deposited in residential homes. The reporter was surprised what can be accomplished when you have professional preservation experts on the job. It is quite possible that many of the things which were thought to have been lost may be recovered. An important issue, also, for fine arts insurance policy claims agents!!
Getting closure
In the middle 1990's, Santa Barbara lost over 600 homes in the Painted Cave fire. A friend was the third house to be lost in the San Antonio Creek area. I was standing next to her on Goleta Beach at the time watching the fire come down the mountain. The evacuation was so sudden that people barely escaped with their lives. All my friend had left in the world was her beach basket, a towel, bathing suit, a cover-up and her wallet. That's it.
But she was insured for a complete rebuild and refurnishing and they did exactly that: an exact rebuild and the same decorating scheme. It seemed weird to me, you'd think they would have made some changes. But anyway…
After 20 years, she still cries and anguishes over the family photos, the art from her kids, the keepsakes. She has no evidence or items of remembrance of her kids growing up, family history, anything to document the family's heritage.
One of the best remedies for severe trauma is simply to get closure. Having your home damaged in a natural disaster is traumatic and the process of searching for things of sentimental value and recovering those things, if possible, can speed up the recovery process and help the family to resolve that chapter of their lives.This is just another reason why the saving and preservation efforts of collectibles and keepsakes (including old photos, genealogy etc) are so valuable and why the professional art conservation services have to be seriously considered in the aftermath of a natural disaster.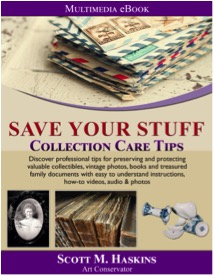 The NY Times and the accompanying local scholars were particularly interested in Scott M. Haskins' work as an author to help people save their stuff after a disaster. He has now written several books in his Save Your Stuff series. Click on this link to download his latest online multi-media digital book, Save Your Stuff – Collection Care Tipsfor free.
Scott M. Haskins, Virginia Panizzon, Oriana Montemurro,
Art Conservators
805 564 3438    faclartdoc@gmail.com