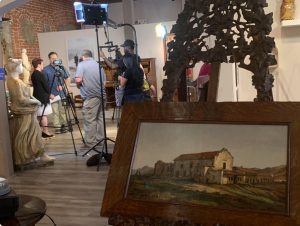 The PBS program "Uncovered in the Archives" Producer called me a month or so ago all excited about something he considered to be super-interesting and important to report on: he heard there was a collection of 19thcentury paintings of the 21 missions of California by the early California artist Henry Chapman Ford that had almost been destroyed several times and were of National Treasure type of importance. He asked me if I knew anything about them.
(The 27 minute TV program video is at the end of this article.)
Well, as a matter of fact, I do! The very pleasant fellow and Host, Brad Pomerance invited me, unrushed and in every detail, to tell the story as I knew it of their saving, preservation and restoration… and he took copious notes. While the 36 paintings that make up Henry Chapman Ford's series of all the 21 Franciscan missions of California are valued at several $10,000's each one, their value in our society and even our country go far beyond their monetary considerations. They not only represent a major part of our State and Country's heritage but were a major turning point and inspiration in architectural design and cultural identity. In their day, they pioneered the spread of the romantic Spanish Colonial and Mission Revival styles that became so popular.
He was enthralled with my explanation and stories of how they were damaged by leaks and floods, bugs, bird poop, high temperatures, bad storage and horribly rough handling, rips, holes, filth. They looked so bad they were thrown away TWICE (and dug out of the trash)!! At another time of risk to their preservation, they were snuck off and hid away to save them from being sold off by unscrupulous building contractors, how we dug them out of Pigeon Row in the vacant Historic Mission Inn, retrieved them secretly from storage facilities during a bankruptcy and, even though several were brought back all the way from extinction, all were brought back to stable, glorious "museum quality" condition.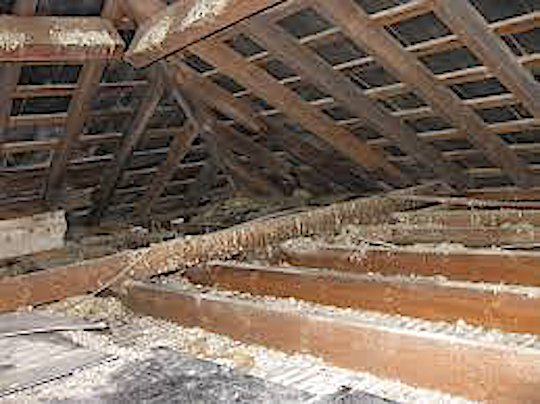 Fast forward to the KVCR TV "filming" crew sequestering the location of the Mission Inn Museum in Riverside, CA with the total enthusiastic cooperation of the Mission Inn Foundation, Gina Cavallo Collins, the Mission Inn Foundation's Executive Director, Karen Raines Collections Manager and Historian, Danielle Trynoski, Director of Marketing, Media and PR. See the entire PBS episode at the end of this article.
Of course, The Friends of the Mission Inn were all too happy to enjoy the well deserved recognition for their history and art saving efforts decades ago with the story telling powers of several "old timers" who were there when it happened.
And Scott M. Haskins, Head of Conservation from Fine Art Conservation Laboratories, dedicated the entire day of shooting to consult and be interviewed for FACL's role in doing the fine art conservation treatments.
Brad Pomerance Host and CJ Eastman, Co-Executive Producers at KVCR TV choreographed the production circus as a very professional and able team of 7 managed lights, cameras and action to make the 30 minute program. In addition to these professionals, Kimberley Garcia Make up Artist from All Around Glam kept everyone looking their best for the camera.
Here is a short video clip of the program shooting process (full video of entire program is at end of this blog post).

PBS program "Uncovered in the Archives" tells the incredible story of extremely important historic oil paintings of old Spanish missions of California that survived against horrific odds and their preservation and painting restoration, featuring Scott M. Haskins Fine Art Conservator. This educational PBS program by Affiliate KVCR TV was shot on site at the historic Mission Inn in Riverside, California. The program aired on PBS affiliate KVCR TV.
This is the 27 minute PBS TV program…
For more on the great historical importance of the early paintings of the missions of CA, CLICK HERE https://www.fineartconservationlab.com/19th-century-paintings-of-the-santa-barbara-mission-changed-our-history-and-our-communities/
Brad Pomerance Host/Co-Executive Producer
CJ Eastman
310-266-4437
brad@bigmistproductions.com
Sharla Wright
6579 Lassen Ct.
Riverside, CA 92506
760-576-8619
sharlawright@att.net
Danielle Trynoski, Director of Marketing, Media and PR
3696 Main St.
Riverside, CA 92501
951-781-8242
Scott M. Haskins, Fine Art Conservation Laboratories, Head of Conservation
Fine Art Conservation Laboratories
805 564 3438
faclartdoc@gmail.com
Kimberley Garcia Make up Artist
323 365 5196