An experienced art conservation technical relationship with art seems to be an important expertise and knowledge sought after by auction houses, art dealers, curators and investors in art. Why is that? What should this tell you?
The fact that I inspect and discuss on a professional basis with people perhaps 50-500 works of art a week also "ups my game" when looking at hard-to-determine conditions and situations that may have an affect on an acquisition or value of a painting.
When buying art, due diligence is no less an important concept than in other areas of investing. An expert in your pocket is the key to avoiding many mistakes.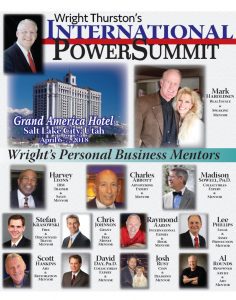 Wright Thurston's International Power Summit in Salt Lake City, Utah this week highlighted my expertise and offered my availability to its patrons and investors to help them with this part of their portfolio… and I don't think anyone fell asleep on me!
Some of the things we discussed were fake paintings, discovering a hidden treasure and hitting the lottery, condition of the artwork and how it affects the value… and stories, stories, stories. I opened myself and our lab's expertise to those in attendance to aid them in their art related interests.
Of course, you can see in the flier, there were many extremely experienced experts who shared their specialized knowledge in other fields of investment and personal development. It was fun!
Scott M. Haskins, Art Conservator
805 564 3438
faclartdoc@gmail.com