Isn't there a movie or skit of Mr. Bean cleaning and then retouching a painting?! I never thought we'd see the real deal. Last week as this story leaked out onto the international news networks, I began having people mention this "news item" to me. When the number inquiring what I thought grew to 9, I began keeping a tally. The number of people that have now contacted me regarding my thoughts on this story is 31!
This seems like a funny news item to "go international." I mean, the image of the "art restoration" is an attention getter but… you should know that this type of thing happens ALL THE TIME!
Actually there are two parts of the discussion I've been privy to: the international layman's discussion in the news and a private discussion among other professional art conservators on the net. My point of view is that I can't believe this merits anyone's time or attention.
In case you've missed what we're talking about, here's the before and after photo of a painting restoration job in Spain of an Old Master painting of Christ where an old woman "restored" the flaking picture belonging to a church.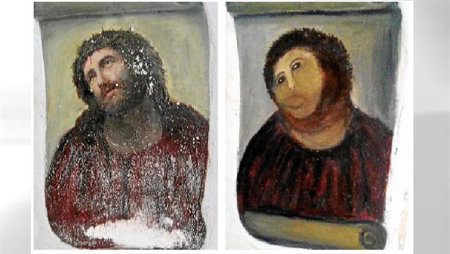 Some people have re-titled the restored painting
"Behold, the Monkey!"
As I said before, this isn't such an uncommon thing and something horrific usually happens when do-it-your-selfers start restoring historical items (there are standards, guidelines, ethics to follow). For example, I was conducting a tour of my lab and was demonstrating how I use the stereobinocular microscope to get a very close/accurate look when I test the dissolving power of solvents for cleaning a painting. One of the attendees looked at the bottle of solvent I was utilizing, and asked if that was what I would use to clean the picture. I said no because it would damage the original paint I was testing. A couple of days later, this man comes back to the lab with a gorgeous $35,000 picture he had tried to clean with the solvent I was testing in the lab. He had ruined the painting by dissolving off the original paint. I irritatingly told him what he had done to this wonderful work of art and its monetary value. He got mad at me and said it was MY FAULT cause I had not taught him how to properly do it! He never lets anybody fix his stuff cause he does everything himself. I kicked him out of my lab… the only person in my life that has ever been "escorted out" of my lab.
Here's another example of an inept "restoration" that is in my lab right now.  The face on the right is original and the face on the left has been previously repainted for the purpose of "restoration." While its better than a monkey face, it still is a laugh: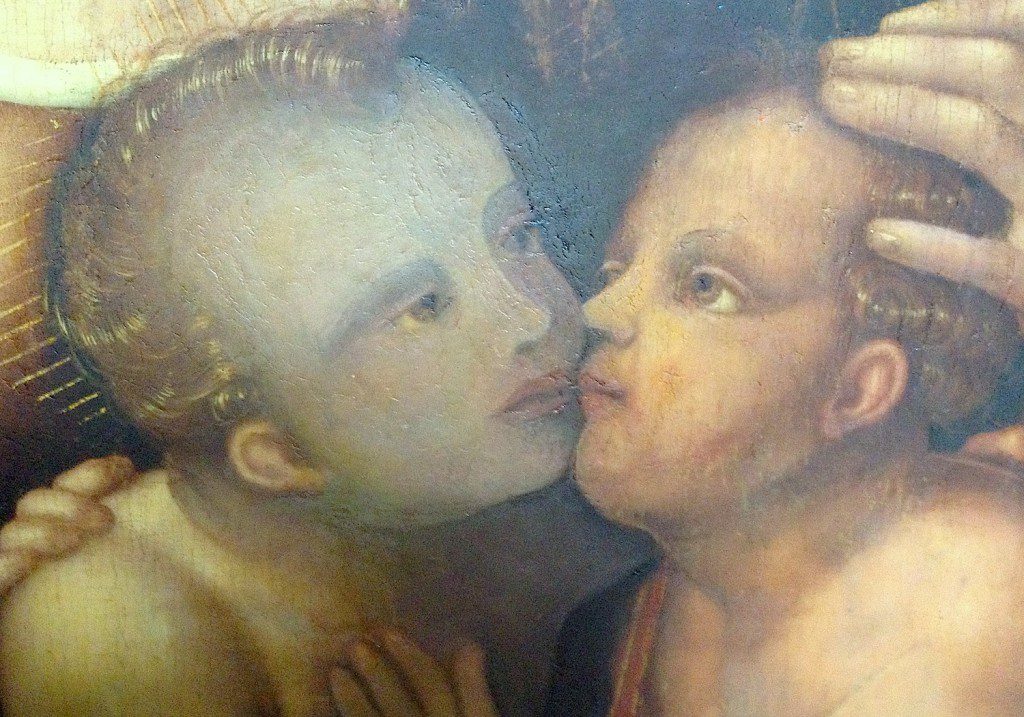 There is a funny side to the story of "Behold the Monkey": the church is getting more visitors than ever and they may consider it has more value in its present repainted "look."  Here's the video link. I've never seen so much attention given to conservation before in such an amusing way…
http://video.msnbc.msn.com/nbcnews.com/48803079
So, this item is becoming valuable as what??  A sideshow attraction??  The professional art conservation field has gone hyper-sensitive at this thought!  If the public starts looking at bad restoration as an art form, it could begin a shock wave of reckless vandalism… the end of civilization as we know it!!!!!!
"Can this ruined work of art be recouped?" Fair question. Well, yes but the price for proper, safe art conservation treatments has just sky rocketed; The sad fact we see often is that about 80% of the items that come into our lab have been goofed with in the not too distant past… and some of them come directly from the "restorer" to be fixed by our lab... on the same day! In this case we charge, of course, for the time and effort to take off any previous bungled restorations. You pay for other's sins (in keeping with the message of this bugled restoration of the painting of Christ).
Leave a comment?!!!!!
Art conservation – restoration questions?
Call Scott M. Haskins 805 564 3438
Art appraisal questions?
Call Richard Holgate 805 895 5121
What can you do at home?
See videos on YouTube Channel PreservationCoach: http://www.youtube.com/user/PreservationCoach?feature=mhee
http://www.youtube.com/watch?v=7lCx-xg4BMY Short video of how all photos, scrapbooks, documents, family history AND THE BACKUP COPIES were lost in a house fire. Leave a coment!
See a tour of Fine Art Conservation Laboratories (CLICK HERE)
Leave a comment.
Follow us on Facebook. Click on one of these links and be our friend:
http://www.facebook.com/SaveYourStuff
http://www.facebook.com/FineArtConservation