This article was syndicated for USA national redistribution. What does it mean that this article is " syndicated"? See explanation at end of article.
The Friends of the Mission Inn, established in 1969, funds restoration of the historic art collection and Fine Art Conservation Laboratories has been working with the Friends since our first job was there was in 1985, restoring Henry Chapman Ford's historically significant paintings of all of California's missions from 1874-1886 (of which efforts PBS made a highly awarded special), which document the missions' crumbling, pre-restored state. At the time, the the hotel wasn't faring much better a century later.
"There was a chain-link fence and barbed wire around the Mission Inn," Haskins recalls of those ignominious days. "It was the white elephant of the Inland Empire and was the source of bankruptcies for four or five contractors." Scott M. Haskins told news columnist David Allen who writes for The Inland Valley Daily Bulletin Sunday, Wednesday and Friday. That was all before the city of Riverside and businessman Duane Roberts rescued the hotel and made it a going concern again.
Over the last almost 40 years, Haskins has also done work on some 100's paintings and sculptures in the hotel's Spanish Art Gallery and other areas of the hotel and its facilities, repairing rips and holes, cleaning off dirt and dust, and designing the displaying of them all. "I've probably stayed at every type of room over the years. I love the Mission Inn so much," Haskins says, "that I got married 24 years ago and we spent our honeymoon here "Even though it's a workplace," he continues, "it's still got a lot of magic."
This last week, Haskins and his crew wound up the stabilization and preservation work (with superficial cleaning and light inpainting) on the 300 year old Japanese Buddha in the Ho-O-Khan Room and on the 250 year old Spanish Colonial alter and other items in St. Cecilia's Chapel at the Mission Inn, which he has been posting about on Facebook.
People know the Mission Inn for its fantasyland look evoking California missions and European castles. So why is there an area reminiscent of a pagoda, complete with an 8 1/2 ft tall Buddha?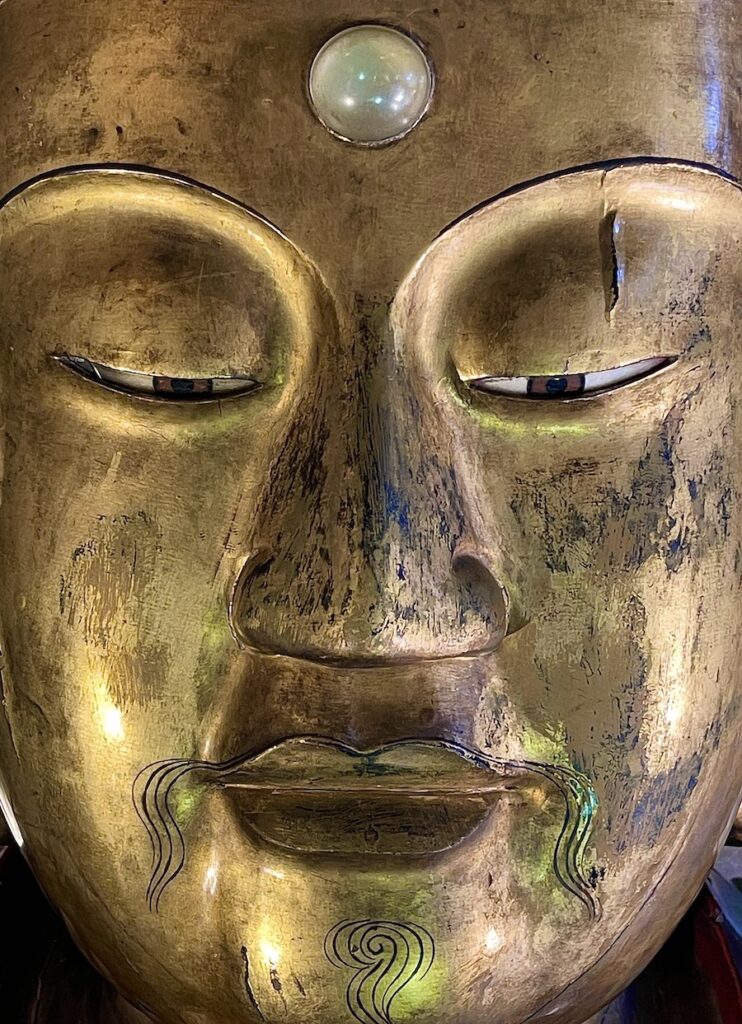 Similar to yellow journalist William Randolph Hearst, Frank Miller, founder of Riverside's iconic hotel, liked collecting art objects in his world travels. And those travels took him to Japan, where he became fascinated by the culture. He built the hotel's Ho-O-Kan Room in 1925, with imported lanterns, carvings and a Buddha that was salvaged from a fire in Japan. "There was a fire in a pagoda. The Buddha was saved and he bought it. It was basically an orphan. Its now been 100 years since the statue came to Riverside and that has been a whole other story.
Out in the wilds of Riverside over the decades, cultural respect and "good taste" haven't always been demonstrated. The Buddha has a small bit of pop culture immortality. In 1975's "The Wild Party," set in the 1920s and filmed over five weeks at the hotel, Raquel Welch sings a song titled "Singapore Sally" on a small stage in front of the Buddha. In her dance routine, she perches on its shoulder and sits in its lap. I know the movie is about Hollywood decadence, but you'd never see the iconography in one of the hotel's chapels being put to such kitschy, disrespectful use.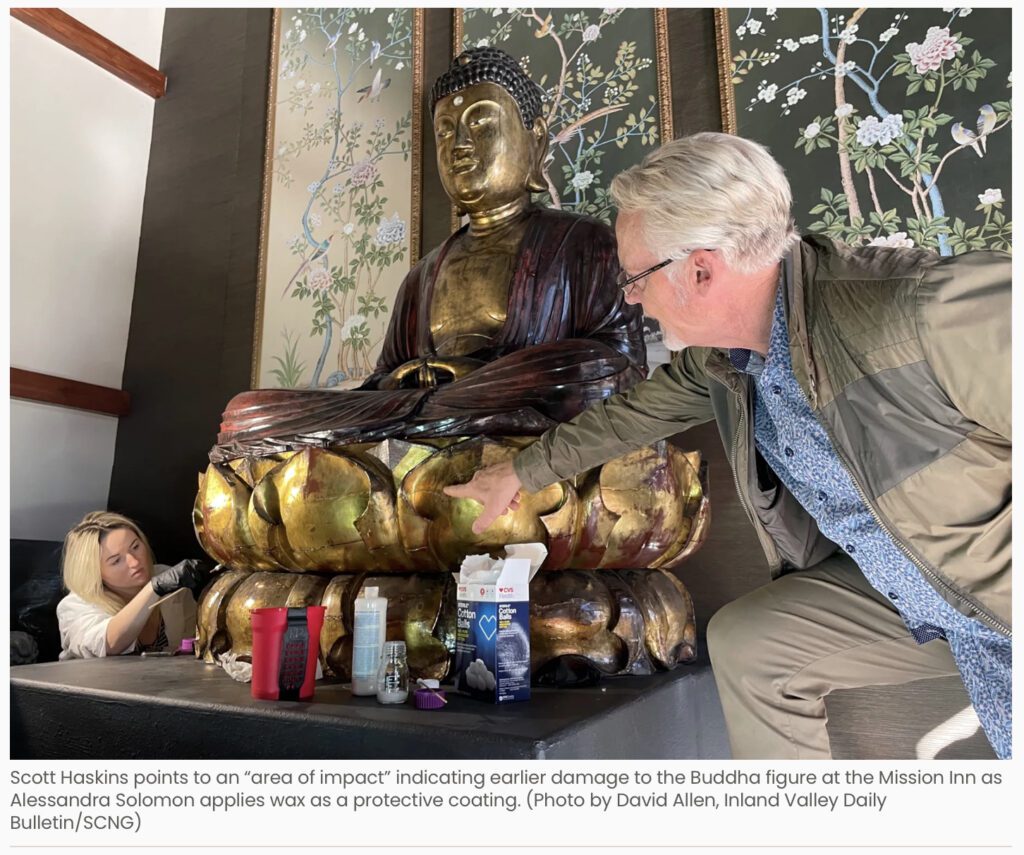 The Buddha, made of wood, lacquer and gilt leaf, sits on a platform against a wall in the Ho-O-Kan Room. Posed as if in meditation, seated atop a representation of a lotus leaf, the figure is estimated to be 300 years old, and it's showing its age, with cracks and small pieces flaking off. "Heat and humidity is the one-two punch that causes wood and paint layers to go crazy," Haskins says. Riverside, he notes, has no shortage of weather.
Alessandra Solomon, Denver Dillon, trained and experienced art conservation technicians along with Diana Haskins, Haskins' wife who has assisted in 10,000s of sq. ft of mural conservation projects,  have assisted in the on-site work applying deep penetrating adhesives to stabilize flaking and hard protective wax to the surface. The finished portions looked brighter than a week ago. Small areas that had lifted had been reattached. "We're not trying to make it look perfect. We just want to keep it from falling apart," Haskins explains. "We're not really restoring this religious artifact, we're preserving it."
If you are concerned about spiritual issues of preserving and restoring sacred art or devotional art (termed as "seed of merit" or "seed of liberation") please click through to this website for articles that address these issues: https://treasure-caretaker-training.networkforgood.com
Questions – Call Scott M. Haskins
805 564 3438
FACLOfficeManager@gmail.com
Facebook page: https://www.facebook.com/bestartdoc/
YouTube Channel: https://www.youtube.com/c/ScottMHaskins
This article was syndicated for USA national redistribution at ExpertClick.com. What does it mean that this article is " syndicated"? 
Its a bit of a coup to get an article syndicated, and its certainly prestigious, as additional "proof" that the info and the author are considered far and wide authoritative and an expert in the field. So, enjoy and trust our content!!
When something is published, usually by a news source, and is made available through different venues for redistribution then it is said to be syndicated. Publications that are syndicated are usually considered of value as being from an expert, educational, new worthy or valuable for wide popular interest. See syndication page at the renowned publicity site: https://www.expertclick.com/NRWire/Releasedetails.aspx?id=268772
This website's syndication included:
1) Included in the ExpertClick Press Room as a 'press release.' (different than a 'news release')
2) Included in the 'Speaker Bureau Platform Page.'
3) Shown on the front page of ExpertClick, in rotation with other most recent posts.
4) Shown in the 'News Release Results page.'
5) Included on optimized for searches on all my topics of expertise.
6) Shown via RSS linked from the Press Room. (A specific way news is actively distributed within the industry)
7) Shown in the full RSS feed from ExpertClick. (Another, different specific way news is actively distributed within the industry)
8) Syndicated to LexisNexis.com As of 2006, the company had the world's largest electronic database for legal and public-records related information, distributor of academic content and expert opinion.
This article has been syndicated at https://www.expertclick.com/NRWire/Releasedetails.aspx?id=268772