By  Scott M. Haskins, Fine Art Conservator
I invite you to come along with me on a recent trip to Seville, Spain. On this trip I was hoping to see and expecting to see the exquisite paintings of the Spanish Golden Age of Painting (1500's and 1600's and even the 1700's)… rooted in Sevilla. Infact, it could be called the Seville Golden Age of Painting because so many of the artists were from that city.
We loved our first visit to Sevilla but as we explored the city, I was continually aware and surprised to not find any of these quality Baroque paintings that Spain is famous for. In particular, I was surprised that in the spectacularly huge Gothic main cathedral there was only one very ho-hum Murillo displayed very poorly, nor in the Alcazar royal fortress residence was there anything to talk about, nor in the Archives of the Indies… nor in any other public buildings we visited! But, note please, all future visitors to Seville, the location of these 3 sites is AMAZING and was registered in 1987 by UNESCO as a "World Heritage Site."
So, not having found yet what I was anticipating, I was still hopeful to find the masterpieces I was looking for at the Seville Museum of Fine Arts. Located in the old converted convent (which is very nice and is laid out like a palace) you would think that the museum would be full of these world famous master's work… We wandered around and I was completely underwhelmed… although the architecture was nice, where was all the great art?!?!?!
At one point we opened, what I remember was an unassuming, unmarked door and unexpectedly entered directly into the central nave of a full sized chapel buried in the middle of the palace structure, completely unannounced by the outside architecture. This full sized church seemed, to me, to be camouflaged by the rest of the surrounding building! I was so surprised!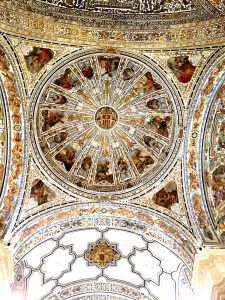 And then, I was immediately hit with a vision of beauty! It impressed me as being possibly the most beautiful exhibition of artwork that I have EVER seen!!! The architecture was stunning, the abundant lighting was perfect and evenly lit. The masters of Spain's Golden Age of Painting were represented here with the gorgeously framed artwork of religious subjects. There were choice works by artists such as El Greco, de Zuberan, Velazquez, Murillo and many others – these were but a few of the great 16th and 17th century masters whose genius set a standard of excellence for centuries. Their great religious works were perfect for this deconsecrated exhibition space and environment.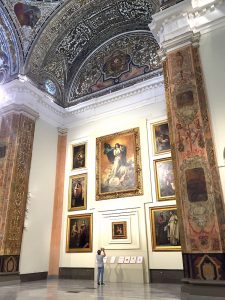 If you love fine art and are going to be in Seville, Spain, do yourself a favor and visit this unique, world class, spectacular exhibition space and soak in the Spanish Golden Age of Painting. If you are in the mood and aware of its special nature, you will be rewarded for your effort and your recollection of the exhibition in the future will enrich your memories. Take lots of pictures… put they won't come close to doing it justice or giving you the goose bumps on your arms, like when I walked in.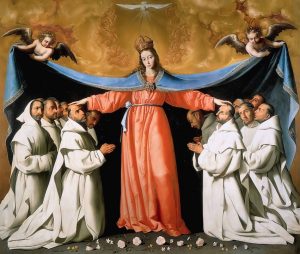 Contact us to discuss your painting restoration questions! Scott M. Haskins, Oriana Montemurro, Virginia Panizzon, Art Conservators 805 564 3438, faclartdoc@gmail.com
Below are other videos with Scott M. Haskins, Fine Art Conservator as he travels to special projects and locations. If you like these videos, please leave a comment below the video and give it a thumbs up, please.
Palazzolo, Iseo Lake, Italy – Rediscovering 1000 years of murals, Consultation Project: https://www.youtube.com/watch?v=ldQSxjAzSUA&index=5&list=PLLxFeD9MHd7TfXUSaSm4vOWWiminNvnf9&spfreload=10
Lonato, Italy Baroque Mural Conservation Project- Notes for Italian Ministry of Tourism from the area: https://www.youtube.com/watch?v=n1wgLnF3VMc&list=PLLxFeD9MHd7TfXUSaSm4vOWWiminNvnf9&index=16
Tintoretto Paintings Exhibit (Baroque Art) in Rome Italy – Walk Through with Art Conservator Scott Haskins: https://www.youtube.com/watch?v=HO9myPDaA3A&list=PLLxFeD9MHd7TfXUSaSm4vOWWiminNvnf9&index=12&spfreload=10
Tintoretto's (Baroque Artist) Neighborhood, Venice Italy – Walk Through with Art Conservator Scott Haskins:: https://www.youtube.com/watch?v=1OgZ1k-t-Ks&index=9&list=PLLxFeD9MHd7TfXUSaSm4vOWWiminNvnf9&spfreload=10
Walk through the National Gallery of Modern Art in Rome: https://www.youtube.com/watch?v=QF3QaJihNS8&index=10&list=PLLxFeD9MHd7TfXUSaSm4vOWWiminNvnf9&spfreload=10
Royal Carriages of Princesses, Queens, Kings and Popes in Rome, Italy – Discover behind the scenes info.: https://www.youtube.com/watch?v=b-hKGLzT_u0&index=11&list=PLLxFeD9MHd7TfXUSaSm4vOWWiminNvnf9&spfreload=10
Philadelphia Museum of Art – Walk through with Art Conservator Scott Haskins: https://www.youtube.com/watch?v=rFULHuqJ6kw&index=13&list=PLLxFeD9MHd7TfXUSaSm4vOWWiminNvnf9
Art Highlights Tour From Trip To Chicago 2017: https://www.youtube.com/watch?v=PvyAHq21QWc&index=14&list=PLLxFeD9MHd7TfXUSaSm4vOWWiminNvnf9&spfreload=10
LDS Church History Museum, Salt Lake City, Utah: https://www.youtube.com/watch?v=DrAntB8ELKU&index=3&list=PLLxFeD9MHd7TfXUSaSm4vOWWiminNvnf9&spfreload=10
Portuguese tile work – a visit to an avid collector in Los Angeles: https://www.youtube.com/watch?v=F2Yfgd2G3ok&list=PLLxFeD9MHd7TfXUSaSm4vOWWiminNvnf9&index=4&spfreload=10
#BaroqueArt, #SpainsGoldenAge, #BaroquePaintings, #ArtConservation, #PaintingConservation, #PaintingRestoration, #FineArtConservationLab, #SevilleMuseumOfFineArts,