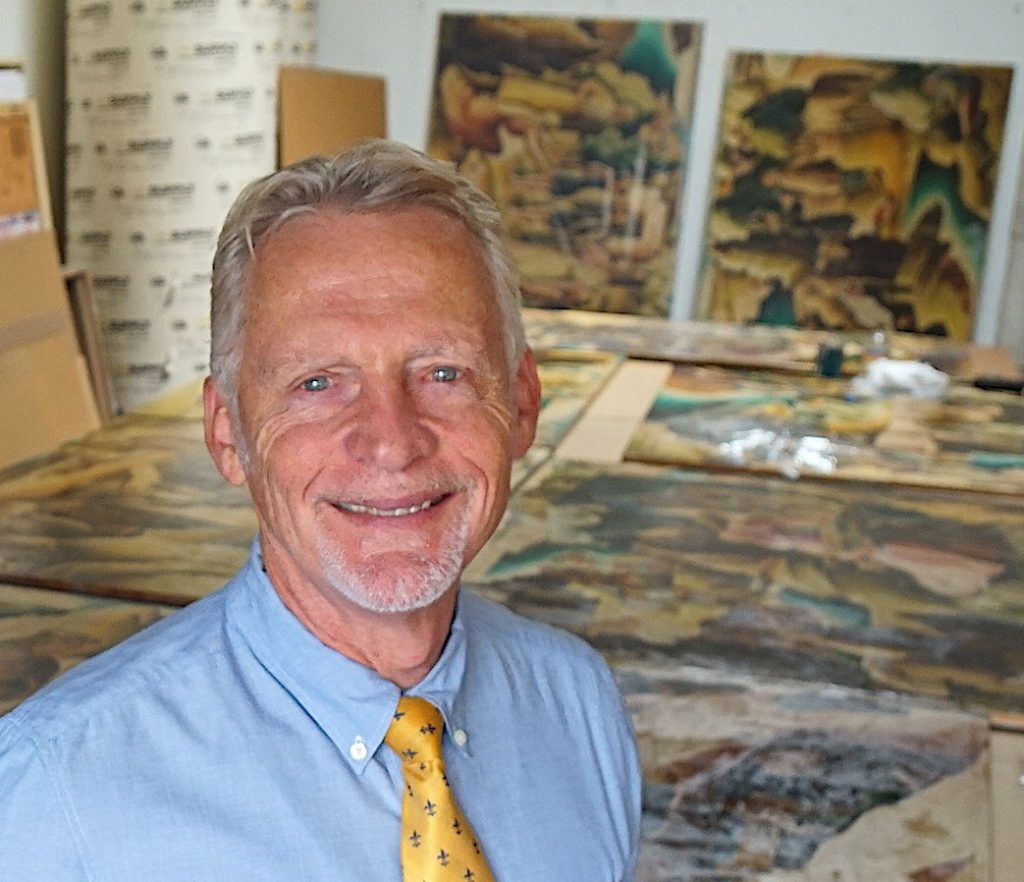 I've been doing mural conservation since 1975 and got my start in Italy. Since then, I have enjoyed working on wonderful historic and artistic murals in historic buildings and public places all over the United States and internationally. I love a good road trip and legislation about the transportation of toxic materials over the years has turned many of my travels into road trips in my car in order to transport all the supplies for these public art restoration projects.
My current road trip across the southern part of the western United States from the Pacific coast to Houston have brought to mind a couple of historic murals that I know intimately with wonderful, patriotic and humanistic themes:
Last night I stayed in El Paso, Texas where you can see Juarez, Mexico on the other side of the freeway. We recently worked on a mural painted by an Austrian prisoner of war (held on the military base) who loved the United States and painted at Ft. Bliss a mural of "One Nation Indivisible With Liberty and Justice For All."An ideal to be held in the heart of every generation. He obviously had compelling examples as a past conscript in the Nazi military and obviously did not take for granted personal freedom.
This was the artwork with the worst flaking paint I have ever seen in my career.
The mural preservation and art restoration project that has me traversing the US on Interstate 10 on this trip is public art painted by, perhaps, America's most noteworthy black artist and it too has a wonderful and compelling message. It is located and I'll be working in Houston, Texas.
The message of the mural proclaims the importance of the "Contribution of Negro Women to American Life and Education."It honors mothers in society and the foundational importance of values and love they provide. The mural is located at the Blue Trianagle Community Center in the 3rd Ward and was painted by John Biggers in 1953.
These are two wonderful messages celebrated uniquely in our country. Though not perfect, God bless America. God bless our citizens and our government to fight for liberty and justice for all. God bless the negro mothers, and mothers of all races, to be the foundation of our society in teaching values and love and making for strong families. God bless these artists who had the inspiration to document and promote our heritage and to give us a legacy to hold onto to and a hopeful future to aspire to.
If you felt this article was interesting please click on the thumbs up at the beginning of the page and subscribe for updates to this blog.
Stay tuned for the blog post on the very interesting preservation processes of rescuing this iconic National Treasure mural by John Biggers after it was eaten alive by a forest of mold as a result of a hurricane.
Questions: Scott M. Haskins, Virginia Panizzon, Oriana Montemurro Art Conservators. 805 564 3438 faclartdoc@gmail.com
Thank you to art conservator Julie Stephenson who collaborated on this project in Houston.
Subscribe and "friend" us on http://www.Facebook.com/bestartdoc
Also, of interest https://www.facebook.com/Mural-Art-Conservation-Restoration-176077192428392/
Subscribe to our channel on http://www.YouTube.com/bestartdoc