By Wilson Jackson, Guest Blogger

A valuable Depression Era oil-on-canvas-glued-to-a-wall mural called "The Horse Breakers" by renown artist Fletcher Martin, painted way back in 1939, is back in it's original community of Lamesa, TX after it was removed from a wall in a building slated for demolition and sent for restoration to a professional art conservation lab in Santa Barbara, California. Most people in Lamesa didn't even know about the notable painting, although its been present on the same wall where it was originally placed since 1939. I guess you had to be a real "ol' timer" to remember it.
But The Horse Breakers broke into the news when it was reported in several media outlets to have been taken away for mural restoration last September 2015. People were unaware that such a mural existed! This is mainly because the building where this mural was located has been vacant for more than the past two decades and it had not been in public view for the past 30 years. Back then, the building was a federal post office building, which was owned by the Lamesa Independent School District. But as the building was not utilized, this mural was hidden from public view. It was probably a good thing too, given the value.

Recently, there was a study to rehab the old federal building and the price tag was way more than the building is worth or could be justified. Therefore as the idea of demolition began to be discussed, a local resident named Randy Leonard took an interest in the mural located in the building in question, and along with other local businessmen, got in touch with the Weaver Foundation for granting funds to save the mural and undertake the mural conservation process.
Click here to see a short video of the painting restoration and more about the WPA artist, Fletcher Martin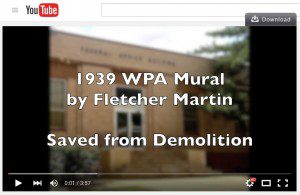 After the art restoration was completed, the WPA (Works Progress Administration) art was put up on the north wall of the Forest Community Park Center's main meeting area. The Horse Breakers will officially be unveiled in a formal ceremony which is planned for next month during the Original Chicken Fried Steak Festival to be conducted in Lamesa, TX.
The Horse Breakers was painted by Fletcher Martin, an artist during the Great Depression Era that painted murals in locations stretching from Southern California to New York City. He painted some very iconic images that reflect the Depression Era and the times leading up to WWII. It was originally financed as a Works Progress Administration (WPA) art contract, placed in the new US Post Office built in Lamesa back in 1939.

Along with the restored mural, more details about Fletcher Martin and the creation of the mural along with recognition of Weaver Foundation for the financial help towards the painting's restoration will be placed near the wall.
The Conservator of Fine Art and the owner of Fine Art Conservation Laboratories based in Santa Barbara, California, Scott M. Haskins, personally went to Lamesa several times to help plan the project, remove the mural and, this last time, to install the mural on the wall in the community center after it was shipped back from California.
Thanks to the efforts of Mr. Randy Leonard the mural is now restored and a piece of Lamesa's history and a valuable work of art has now been saved from being forgotten and damaged and will be appreciated for generations to come.
"Like" this page now and leave a comment, please! It helps this article and website show up in the search engines for other people to find answers to their questions.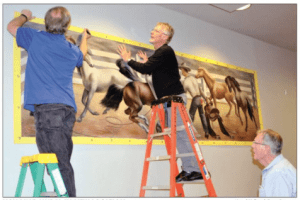 Seen in the photo are Mr. Scott M. Haskins, Mr. Richard Leonard and Mr. Randy Leonard discussing about the installation of the mural at the Forest Community Park Center in Lamesa, TX. Mr. Haskins has been working with small communities through out his 40 year career as an art conservator and mural restorer to help save and preserve murals. He has worked on similar projects in 8 different old WPA post offices in Pennsylvania, Atlanta Georgia, Alamagordo New Mexico, several in California and Utah, Eugene Oregon, Cedar Rapids Iowa, and, of note, on the monumental murals in Fair Park, Dallas Texas.
If you would like to know more about what you can do to protect and preserve your original family history items, collectibles and memorabilia click on this link for a free copy of Scott M. Haskins book Save Your Stuff – Collection Care Tips, 210 pages with 35 embedded how-to videos.
And CLICK HERE for FACL's YouTube channel – Subscribe!
See quick video on Discovering Hidden Signatures on Paintings! http://www.youtube.com/watch?v=kxOqa-Aa9Nk
Contact Info Scott M. Haskins 805 570 4140 mobile or 805 564 3438 office faclartdoc@gmail.com
More about FACL's background in mural restoration:
Capability statement: https://www.fineartconservationlab.com/mural/
Mural consultation statement: https://www.fineartconservationlab.com/consultations/
Mural conservation videos: https://www.youtube.com/playlist?list=PLE1FF71CC598A8E79
For general mural conservation capabilities videos:
https://www.youtube.com/watch?v=ld4l6EG8T-I&index=13&list=PLE1FF71CC598A8E79