Amedeo Modigliani is probably the most famous Italian artist of the 20th century and he was born today July 12th, 1884 in Livorno, close to Pisa. We've had a few "run in's" in my art conservation career related to his work which have added to the intrigue of our art conservation detective work over the decades…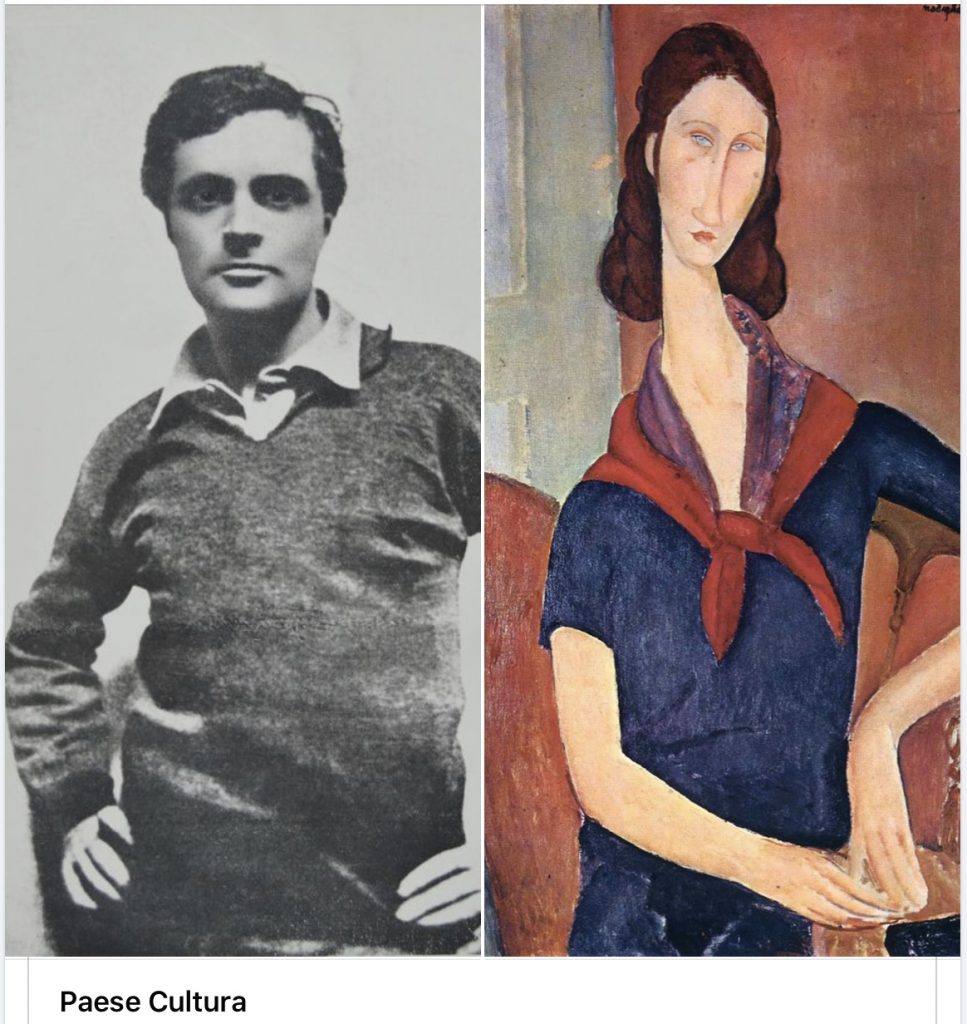 While growing up in Livorno, he developed a passion for painting from Gugliemo Micheli while still very young and was nurtured by his first teacher, maestro Giovanni Fattori, also from Livorno and one of the leaders of the internationally acclaimed plein-aire impressionists group known as the Macchiaioli.
But it was in Paris, where he went in 1906 (22 years old), that he expanded is sights and developed his characteristic style for which he became well known after his death, even internationally famous.
Neither critics nor the art market accepted Amadeo in his lifetime and in 1920 at 35 years old died without being appreciated artistically. Only other great artist's of his time appreciated his genius. Today his works sell for many $10 millions.
The most recent "adventure" I had with Modigliani's work was with a portrait that was inherited by the son in-law of one of the famous reality TV Kardiasian girls. Before it could be sold for what they hoped was $25 million (so they could buy a helicopter) it required, of course, that it be authenticated. I work with Modigliani expert Kenneth Wayne and here is a link for his authoritative book. Here's the story (but once you watch this don't forget to come back and read the other "adventure" that is written up below). Click here to see the video about the TV appearance of See Scott M. Haskins on Keeping Up With The Kardasians
Another Exciting Amadeo Modigliani Art Treasure Hunt Drama
Please do not publish. All rights reserved, Copyrighted 2000.
I can't believe it was so long ago, but in 1984 it was the centennial of the birth of Amadeo Modigliani, perhaps Italy's most famous artist of the 20th century. Italy was geared up for an all out celebration and PR campaign to tout the artist internationally… and within Italy it was a really big deal… lots of press.
One day, someone on the planning committee for this national hoopla gets the idea to follow up on a story that Amadeo, in his sculpture studio in Livorno (a town near Pisa), had thrown several carved heads into the canal behind his workshop in a fit of passion. The big idea? To dreg the canal and find the heads! It would be a spectacular find, lots of PR and they would find several unknown works by the master!
I was in Italy at the time, visiting the CNR research and analytical labs in Milano poking around the Last Supper pigment samples when this drama unfolded.
It was very exciting as the crane pulled the large scoop through the mud and guess what??!! In the process, up came four heads that were unmistakingly Modigliani! What a find! Italy went nuts. It was in all the papers, on TV, replayed a millions times.
Immediately, the committee went to five or six of the most famous art historians in Italy for confirmation that these newly found marble heads were by Modigliani. Of course, the experts had seen the heads come up out of the canal behind his studio on TV. Of course the experts were even willing to authenticate the new finds, they gave their bombastic opinions, grabbed some free publicity… all by phone.
Then they took the heads to the analytical labs for analysis to confirm the authentication and, of course, the scientists had also seen on TV the heads come out of the canal behind Modigliani's studio and blessed them as authentic with only a cursory look. The CNR lab I was visiting had also been consulted on this find and had given them two thumbs up with only a superficial look.
I think it may have been on the nationally famous host, Mike Buongiorno's TV talk show that they were discussing excitedly (everything was exciting on Mike Buongiorno's talk show!) the monumental find and taking call ins. In the middle of the show, on live national TV, they get a call in from two guys that claimed that they had made three of the heads with their Black and Decker power chisel, washed them in acid and had dumped them into the canal as a joke… and they had shot of video of them doing it to prove it!
Oh my gosh… talking about stirring up a hornet's nest! These guy's claim spread like wild fire over the media so when Mike Buongiorno brought these two guys on his TV show and they showed the video of every step they went through including dumping the heads into the canal, ALL of Italy was watching.
You never saw so much scrambling, accusations, humming and hawing going on among art experts! The Italian art historians and analytical labs were the laughing stalk of the international art community… which is exactly why the forgers said they had done their deed; to embarrass the pompous art scholars.
But wait! That still left one other head that was probably authentic! Well, a day or so after the fire storm died down and the two forgers we not arrested, Mike Buongiorno received another phone call, while on live TV. A second party was claiming to have made the fourth head and had a video to prove it. Turns out that someone else had the same idea but was working totally independent.
The next day, in the national newspaper, The Repubblica, the following delicious ad was run by Black and Decker
The moral of the story was underlined for me during the heated discussions at the CNR labs while I was there: If you are an expert and people depend on your expertise, ALWAYS check things out and apply your knowledge. Don't ever assume or take other people's (expert's) word for it. Check out the details and give an informed decision worthy of your expertise and reputation.
I thought this ad was hilarious. I've got it framed in my art conservation lab to remind me to always check things out for myself when I'm asked my opinion.
So, you can imagine that I took seriously the request to look over an inherited work of art, a Modigliani hopeful, for the Kardasian family, who wanted to put the whole process on their TV program, "Keeping Up With The Kardasians." The entertaining video clip from that episode can be found at the bottom of the list of links on this page: https://www.fineartconservationlab.com/media-room/
Here are a few more art authentication thoughts that may entertain you: https://www.fineartconservationlab.com/research-and-authentication/new-twists-on-authenticating-artwork/
Artnet magazine lead off its well written expose' on difficulties in the Modigliani market and the issues with authenticating a Modigliani: http://news.artnet.com/people/kardashians-dreams-dashed-by-fake-modigliani-62526
Scott M. Haskins
Fine Art Conservator
Please do not publish. All rights reserved, Copyrighted 2020.