Recognized as a national expert in mural conservation, CNN and the New Jersey Herald call Scott M. Haskins to review details (fact check) of the article and quote him…
National News   http://www.njherald.com/article/20180616/AP/306169936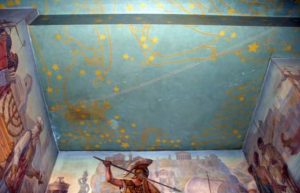 This Aug. 5, 2015 photo provided by Frank da Cruz shows a mural painted in the 1930s by Alfred Floegel on the walls and ceiling of the third-floor hallway at DeWitt Clinton High School in the Bronx borough of New York. New York City education officials aren't saying who decided to paint over the ceiling murals depicting the constellations in the night sky, but advocates for the preservation of New Deal art say whoever covered them with bright blue paint should have known better. The mural was one of thousands of artworks around the country funded by President Franklin Delano Roosevelt's Works Progress Administration (WPA). (Frank da Cruz via AP)The Associated Press
By KAREN MATTHEWS
Posted: Jun. 16, 2018 8:00 am Updated: Jun. 16, 2018 11:28 am
NEW YORK (AP) — A mural of constellations in the night sky adorned a third-floor ceiling at DeWitt Clinton High School for more than 75 years, one of thousands of artworks in New York City and around the country supported by WPA New Deal programs to employ artists and beautify public spaces.
But Scorpio, Taurus and the rest are now hidden under bright blue paint, slathered on during a repair project, and preservationists say the painting-over of the mural "Constellations" by German-born artist Alfred Floegel was a travesty.
"That was an amazing act of vandalism that they had no right to do," said Gray Brechin, the founder of a project called the Living New Deal that catalogs public works funded by the Franklin Delano Roosevelt administration.
The mural cover-up was first reported in the Daily News, which said it happened last November. Doug Cohen, a spokesman for the New York City Department of Education, said the mural was painted over during roof repairs at the 89-year-old Bronx school. He said officials are "exploring ways to restore this historic artwork."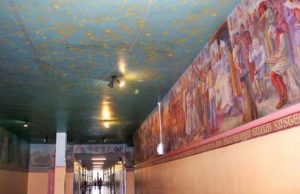 This undated photo provided by Frank da Cruz shows DeWitt Clinton High School in the Bronx borough of New York where inside, on the walls and celing of the third-floor hallway the artist Alfred Floegel painted murals in the 1930s funded by President Franklin Delano Roosevelt's Works Progress Administration (WPA). New York City education officials aren't saying who decided to paint over the ceiling murals depicting the constellations in the night sky, but advocates for the preservation of New Deal art say whoever covered them with bright blue paint should have known better. (Frank da Cruz via AP)
The Associated Press
One art restorer said it would be possible, though expensive, to remove the blue paint from "Constellations."
"I would think that it could be done not only safely, it could look perfect," said Scott Haskins of Santa Barbara, California-based Fine Art Conservation Laboratories. Haskins said "Constellations" is not the first historic school mural to be painted over. "Every once in a while you get a dingbat principal that gets a roller out and tells maintenance to give it a fresh coat of paint," he said. "I've seen it happen all over the country."
There have been several cases of WPA murals that were painted over and later restored. Seven murals at New Mexico Highlands University depicting different fields of knowledge were covered with white paint sometime in the 1960s. They were restored in 2011 after the New Mexico New Deal Preservation Association hired an art conservator to uncover them.
Cedar Rapids murals were painted over in the 1950s amid controversy over images depicting justice in what was then a federal courthouse. The murals were restored, then covered up again in the 1960s, then restored again between 2011 and 2013.
Brechin and others at the Living New Deal project say the loss of the DeWitt Clinton mural, whether temporary or permanent, shows how the legacy of the Works Progress Administration (WPA) and other New Deal public art initiatives has been forgotten.
"It was a renaissance the likes of which we haven't seen before or since," said Brechin, a visiting scholar the University of California, Berkeley's department of geography. "Roosevelt and Eleanor Roosevelt and the people around them believed that all Americans deserved the right to art."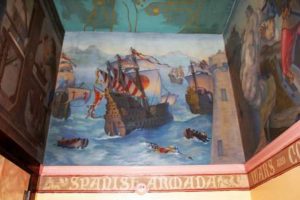 The Living New Deal database includes hundreds of murals at schools, post offices and other government buildings painted between 1934 and 1943, many illustrating scenes from U.S. or world history.
There are a number of New Deal murals at New York City public schools, where few people besides students and staff ever see them.
Ernest Fiene's monumental "History of the Needlecraft Industry" at the High School of Fashion Industries in Chelsea memorializes the Triangle Shirtwaist fire that killed 146 workers in 1911.
The Brooklyn High School of the Arts houses Monty Lewis' double fresco "The Cotton Industry in Contemporary America."
"Constellations" isn't or wasn't the only mural at DeWitt Clinton. "The History of the World," also by Floegel, depicts scenes from the Ice Age through the 1930s in 194 feet of wall panels. The DeWitt Clinton photos on the Living New Deal website were shot by researcher Frank da Cruz, who also maintains his own website documenting the New Deal's legacy in New York. Da Cruz said Floegel, who died in 1976, took care to get all the stars in the right place in "Constellations." The mural "must have been just amazing" when it was new but had been damaged by leaks when he photographed it in 2015, he said. "It was in bad condition but obviously they didn't realize that it had a great deal of historical significance," da Cruz said. "What it needed was to be repaired and not painted over."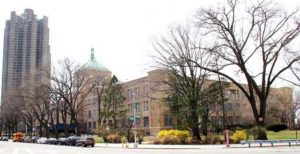 FACL has cleaned overpaint off of many WPA murals. Here is an example project in Cedar Rapids Iowa that the reporter quoted about. Give it a thumbs up! Leave a comment. Subscribe to the YouTube channel: https://www.youtube.com/watch?v=e4tnVN0WJIE