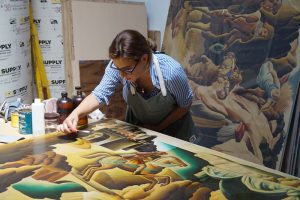 After a meeting at the national annual conference for the American Institute for Conservation (AIC) in Chicago and a visit in Madrid and Toledo, Spain, renown painting conservator Julia Betancor was invited to come to our lab in Santa Barbara, CA to collaborate on several projects. Of interest to her were our organization and services for responding to the disasters for the preservation, cleaning of art related items. She has been previously involved with such projects in Toledo and Madrid. Here is a quick video about one of her projects:
Ms. Betancor brought her experience to our facility to "talk shop" and assist us in an interesting mural project we are under contract for with a community in the LA Area.
Of particular interest are always the headaches of the clean up of artwork, and its restoration, after it previously underwent inept and "generous" restoration efforts in the past. For instance, the WPA mural panels were practically repainted 30 years earlier… which makes their professional and high quality restoration now MUCH more problematic. Resolving these types of problems in the best interest of the artwork and the client is a special problem solving exercise. On a more publicized note, Leonardo Da Vinci's Salvador Mundi that recently sold for $480 million was exactly that type of restoration matter.
FACL's disaster response team is headed by Mr. Andrew Jacobs and he is assisted by art conservators Scott M. Haskins, Oriana Montemurro and Virginia Panizzon. You may get ahold of any of them with questions at 805 564 3438 or faclartdoc@gmail.com
Here is a testimonial by Julia Betancor during her 2 month+ "working vacation" in our Santa Barbara location.
Here is our YouTube channel's playlist of testimonials: https://www.youtube.com/playlist?list=PL41D80C1C65FF2CE7
Here is our mural capabilities statement: https://www.fineartconservationlab.com/mural/
Here are more short videos on the disaster response services offered for art related items: https://www.youtube.com/watch?v=6Umg_5trfe8&list=PLLxFeD9MHd7Sr3TsXQnCla-XirSkZt46H