This video is about the installation process of the Buck Winn murals entitled "The History of Ranching in Texas" at the Alkek Library at Texas State University.
Fine Art Conservation Laboratories was contracted to resurrect the murals from the dead, preserve them for future generations, undertake quality restoration treatments on them to represent well their original fame and authorship by perhaps Texas' most famous artist of the 1940's, 50's and 60's, Buck Winn and to represent the commitment to preserving the heritage and legacy of Texas by the Wittliff Collection, The Alkek Library and Texas State University.
Buck Winn painted these murals in 1950, and they were immediately famous. They survived a demolition, got lost… and then found in a horrible storage situation, were donated to the university and then underwent a 9 year process of preparation to finally come home to the really great venue to be part of the newly renovated Alkek Library. The installation is super interesting and this article shares this unique process with you.
Crews of workers with the contractor and volunteers from the library were required to handle the 3 – 30 ft sections of mural in a safe and efficient manner, lifting it and then positioning it on the massive suspension wall which hangs from the ceiling.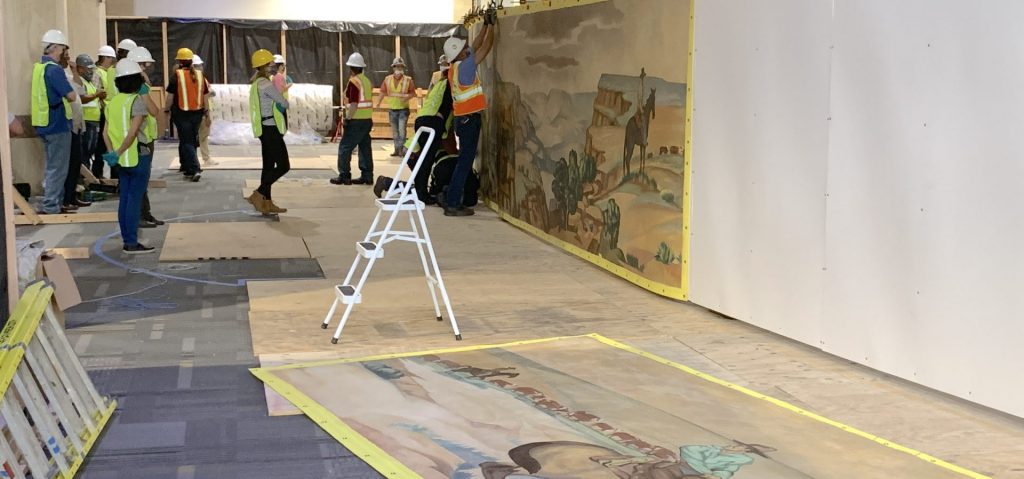 Once in place and positioned, the holes were drilled to bolt the backing of the mural to the wall. Instead of being glued to the wall, it was designed to be removable in the event of a disaster (in the interest of its preservation at all times in the future). A custom frame surround of the mural hides the bolts.
Here is the interesting short video of the installation process which involved lots of people, contractors… and the oversight of the art conservator (me)!
Covered by the media and celebrated by the University, this has been a very exciting event and component of the famous Wittliff Collection and the Alkek Library. Special warmhearted, enthusiastic thanks to all the donors and support from the community and the University.
Other links of interest
A historical review of the project by Dr. David Coleman

Video and article about the restoration of the mural:
https://www.fineartconservationlab.com/murals/the-art-restoration-of-texass-most-famous-lost-public-art-by-the-most-famous-texan-artist-you-never-heard-of/
Background and historical info on mural: http://www.thewittliffcollections.txstate.edu/support/giving/buckwinn.html

Mural capability statement of mural conservation: https://www.FineArtConservationLab.com/mural
#ScottMHaskins #artconservation #artrestoration #FineArtConservationLaboratories #historicpreservation #muralconservation #Muralrestoration #OrianaMontemurro #paintingconservation #paintingrestoration #publicart #restoredmural #ScottMHaskins #VirginiaPanizzon #AlkekLibrary #TexasStateUniversity #TheWittliffCollections #BuckWinn #MuralInstallation #HistoricMuralRestoration #DavidColeman #DianeStevenett #JulieStephenson #EmilineTwitchell #DanielleMasters