We have just finished the painting restoration of the realistic mural entitled Jim Morphesis Monument, painting by Kent Twitchell in 1984. It is part of a group of 11 murals that were painted along the downtown LA freeways to celebrate the 1984 Olympics and deeded to the City of LA as public art to build pride and community spirit. Here's the short video of the very interesting steps to restore it:
[yfA_EoYlL0Q]
http://www.indiegogo.com/jimmorphesismonument Click here to donate to help keep graffiti off the mural.
One of the gratifying aspects of this project was the successful cooperation between The Mural Conservancy of Los Angeles, the original artist, Caltrans, Public Works, the art conservation community and the professional conservation/restoration services of FACL, Inc. Here are the team members: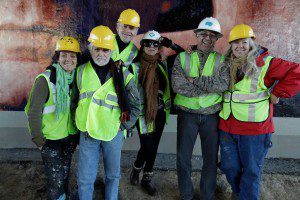 Virginia Panizzon (FACL), Kent Twitchell(Artist), Scott Haskins (FACL), Isabel Rojas-Williams (MCLA), Vincent Moreno (Caltrans), Diane Stevenett (FACL)
For more info about testing and graffiti removal go to www.savefreewaymurals.com
This video shows very interesting art restoration – painting conservation steps to recover and reclaim this landmark mural from the 1984 Olympics located in downtown Los Angeles.
This was the 1st of 11 Olympic murals to be reclaimed from graffiti and from Caltans' gray paint. All murals are scheduled for overpaint removal, cleaning and restoration in collaboration with the artists. The goal is to return to Los Angeles this high quality public art gifted in 1984.
The funds required for the mural restoration were provided by private donations and The Mural Conservancy of Los Angeles. Generous cooperation from Caltrans was much appreciated.
Art conservation treatment questions? Call Scott Haskins 213 620 9125
Follow us also on Facebook at http://www.facebook.com/pages/Save-Freeway-Murals-Los-Angeles/306554516039121