Paintings Exhibition
May 6, 2023 thru May 31, 2023
Opening Reception – Meet the Artist
May 6, 2023 and May 7th, 2023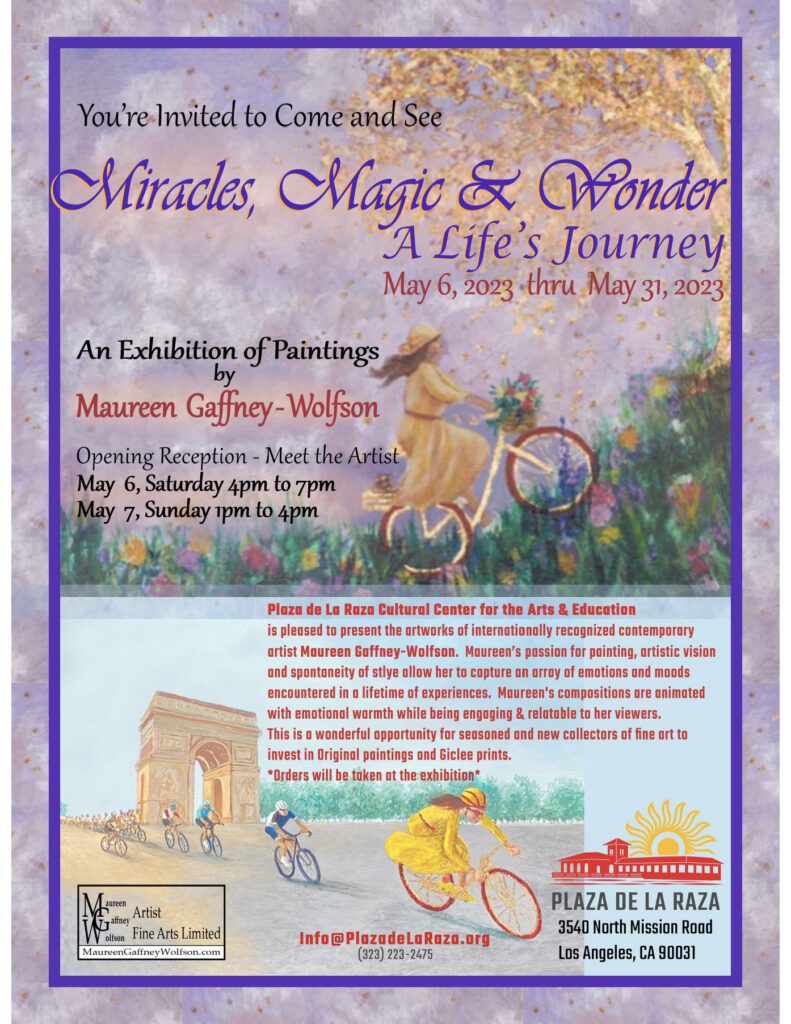 Maureen Gaffney-Wolfson
Internationally recognized American artist Maureen Gaffney-Wolfson has been painting for over 50 years. Her paintings have been exhibited and collected nationally and throughout the world. Maureen studied at the Art Students League In New York and completed her art degree at Pierce College In Los Angeles. During her formative years, her understanding of art was shaped by the styles and methods found In the periods of art encompassing the European Renaissances through Post-Impressionism. She was Influenced by the great artists Rembrandt, Chagall, Picasso, Dall and Parrish with one of her mentors being the painter and teacher David Laffel. She has come to real­ize that throughout her artistic career she's repeatedly found Inspiration and delight In the works of Van Gogh with his use of color, texture and movement.
As a contemporary painter, she's experienced at working through complexities of the design layout of her canvases and using multiple painting techniques to complement her compositions. She studied the centuries-old rule of the Golden Ratio formulated for two-dimensional Imagery. She has used this principle in many of her paintings to achieve balance and harmony In her works.
Through the qualities and application of paint, she likes to find ways to attract, captivate and even dazzle her viewers, so Maureen favors Imagined nature through structured themes of country­side scenery, gardens and floral Imagery. These compositions drive her to more fully engage In the use of vibrant color and energetic texture to produce a fascinating visual experience. Primarily an oil painter, Maureen for the past several years has challenged herself to Incorporate mixed media Into her works. This has led her to Intensifying her creativeness by Incorporating metal-leaf media Into her paintings. This application Is most prominent In her latest series of paintings of the girl on a bike entitled "The Journey of Life." She intuitively captures the spirited painting. With Maureen's history In show-biz as a performer of song and dance, one can't help but wonder If the lyrical execution of her works Is suggestive of the artist's own vivacious approach to her life.
As a contemporary artist, Maureen naturally has a diverse scope of themes In her depictions. This Includes themes that are autobiographical, Imaginative, historical, societal, religious, and pastoral. In portraiture, she believes that It Is vital to correctly render the gaze of her subject. She believes that through her subject's eyes much Is revealed from which the viewer can begin to Interrelate to the two-dimensional portrayal of a person. Maureen's works elicit strong emotional responses from viewers as seen by her set of paintings entitled "The Irish Martyrs." This commission was Inspired by historical events and Christian experiences. The paintings were exhibited at a centennial celebration In Ireland In 2017. The controversy that emanated from the exhibit was due to both the sensitivity of the topic and to Maureen's artistic viewpoint In generating paintings that were designed to memorialize fallen heroes. Her unique visualization stimulated the community's long-held memories and beliefs of their local history. Maureen's has a re­markable talent and proficiency for sensitively evoking the feelings of all of life's moments, even those of Injustice, hardship and sorrow.
One of Maureen's strengths is that she truly connects with her audience. In what she envisions, she exposes the mood of her subject In an Intuitive and poetic manner that Is united with a sense of timelessness. Moving onward In her experience as a professional artist, Maureen Is driven to Incorporate the presence of an emotional authenticity In her works. Through the quiet drama contained within her paintings Maureen splendidly captures the poignancy and joy of life. Maureen Is a woman of many talents. She Is an artist and author. She was an entertainer, a model, singer, and fashion designer and lived In New York City, Tucson, and Los Angeles. She has traveled to Ireland, England, France, Italy, Spain, Greece, Hungary, Austria, and Czechoslovakia. Living and working In Los Angeles County for nearly 60 years, she presently resides In Calabasas with her loving husband Steven and her dog Ethan – her number one fan – Maureen and Steve are proud to be part of the Los Angeles community. For many years they've enjoyed engaging in philanthropic endeavors with local cultural organizations especially those working for the benefit of young people.
Thanks to Fine Art Conservation Laboratories for their assistance in preparing the collection for this exhibition! Their professionalism and excellent quality work took much of the stress and worry about someone else handling all the art. These are our go-to guys, forsake!!
@MaureenWolfson @PlazaDeLaRaza @MaureenGaffneyWolfson @MiraclesMagicWonder