I've just arrived in Chicago for the week of the 2017 annual meeting of the American Institute for the Conservation of Historic and Artistic Works (AIC). See the video Art Walk-About tour from this visit to Chicago at the end of this page. I've been a participating, active member since 1978. I'm responsible for the sub-group meeting of the art conservators in private practice.
As a member of AIC, my private painting conservation business supports and practices the professional Code of Ethics and Standards of Practice as we protect, preserve and restore paintings and other fine art.
Between 1990 – 93 I was elected Vice Chairperson then Program Chairperson for the AIC sub-group Conservators in Private Practice (CIPP) which promotes business issues in private conservation practices. In 2002 I was asked to serve again on the board. then in 2013-1017 I served again as Chair. I'm proud of my service with this group.
Other Professional Affiliations:
Since 1978 Associate Member, International Institute for Conservation (IIC)
Since 1978 Member, Western Association for Art Conservation (WAAC): In 1984 – 85 I served on the Board of Directors, then in 1982 – 83 Vice President, then in 1983 – 84 President.
Other areas of professional service have included the  Shroud of Turin Research Project, Consultant and Participant and as a grant proposal reviewer Institute of Museum and Library Services (U.S. Gov't)
Special Awards
2015   Heritage Award for State of Idaho, Minerva Teichert Murals, Montepelier, ID Click here
2005 Preservation Dallas, award for professional preservation from the City of Dallas, Texas for art mural conservation services rendered at Fair Park, Dallas Texas Click here
2003 Historic Preservation Award from the State of Texas for professional mural conservation services rendered at Fair Park, Dallas Texas Click here
October 2, 2003: National Trust for Historic Preservation Award , National Preservation Award which is the highest award for professional preservation from the United States Government for services rendered to the Fair Park, Dallas Texas Click here
1978: UNESCO delegate from the United States (vetted) to attend an international 3 month workshop in Venice, Italy for architectural conservation (murals). Award based on language skills, ability to contribute and recommendations from colleagues. Each UNESCO country chose 2 delegates to attend.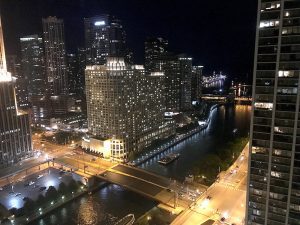 Downtown Chicago from my hotel window.
Scott M. Haskins
805 570 4140