This blog post has been syndicated at ExpertClick.com. What does it mean that this article is " syndicated"? See end of article for explanation.
"Marching through Time" is a mural that needed some help to keep on marching as it was flaking so badly that many had lost hope. But the original mural artist Glen Hill found art and mural conservator Scott M. Haskins who knew exactly how to deal with the problems in order to help it to continue to march through several more decades.
The free-standing 17-by-100 feet mural located at Centennial Park across from Porterville City Hall was unveiled 12 years ago. The mural depicts the town's now 100-year high school marching band history, and the city's first four band directors — Frank Howard, Bill Robbins, Frank "Buck" Shaffer and Dale Anderson in the settings of the national attention they achieved in their competitions.
Twelve years ago, due to misguidance – they used materials that diminished the mural by accelerating the aging.  "This mural has only been here 10 to 12 years but the paint and resin layers are peeling as if it was painted 50 years ago. Its condition is a real mess."
Haskins, Chief Art Conservator at Fine Art Conservation Laboratories, FACL, in Santa Barbara was contracted to oversee the restoration of the mural after the Porterville City Council approved the restoration and repainting on Sept 20. On that day, the Council also approved cannabis dispensary revenue in the city to help fund the restoration. Haskins was hired to preserve and stabilize the flaking paint layers so that the original artist, Glen Hill, could do the touch up and repainting with the expectation that this restoration would be good long term. In addition, after Hill has completed the pictorial restoration, Haskins will return to apply a protective coating that has been chosen by the mural maintenance dept of the Dept. of Cultural Affairs in Los Angeles to protect public art against graffiti. The "anti-graffiti" that is applied makes it possible to remove the graffiti without damaging the paint of the mural, Haskins said, with the varnish coming from a mural guard company in Costa Mesa.
Haskins has worked all over the United States conserving fine art. Two weeks ago, he worked on a mural on the United Nations in New York. He has also done major mural restoration projects in Dallas, Salt Lake City, and next week will be working on WPA – Works Progress Administration – projects in Los Angeles."We are the only professional art preservation services for painting conservation in Las Vegas and Salt Lake City… so, we get around" he said.
Haskins spent Tuesday and Wednesday working on the first phase of the mural conservation— stopping and fixing the deterioration of the mural. During our visit on Wednesday, he looked through his cell phone and pointed out photos he had taken as he worked Tuesday on areas with severe peeling, and on areas where previous touch-ups didn't match. "It looked awful," he said, adding that the paint itself had turned "chalky" and was rubbing off.
Haskins also talked about hydrolysis being a problem— the chemical breakdown of a oils in the paint due to reaction with water and sun. "The main thing is stopping the flaking and delamination. That is the most important as it seeps into smaller crevices and we get stabilization."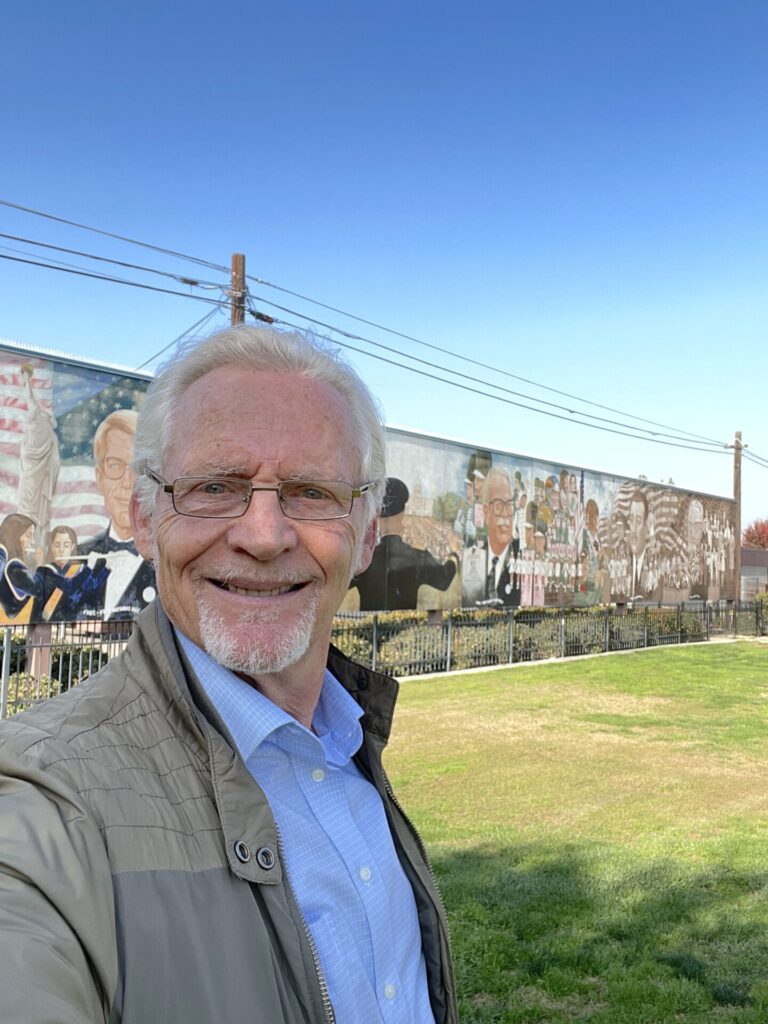 The second phase includes the return of artist Glen Hill to the mural for touch-ups. Haskins discussed the valuable collaboration, "We stabilize it, then Hill makes it look great, aesthetically, and then we return to make sure the public art is protected (as much as possible)," Haskins said. "In the end, you get a mural potentially here for decades and looking fantastic."
Helping Haskins in the restoration is an area high school sophomore, Christian Rogers from Elenore Roosevelt High School in Exeter. 'A good worker' who has helped his father on buildings and construction sites, Haskins said.
Rogers helped Haskins complete the upper half of the mural on Wednesday. As he painted on the solution, Rogers talked of how it "seeps into the picture so the color becomes brighter."
Denise Marchant, a founding member of the Porterville mural committee who has worked to bring the art of murals depicting local history to Porterville, called the project dear to her and the Porterville community. She's credited with the tenacity to pull all the right people, the experts and arrangements together.
"The mural committee is so excited that the restorative work on the "Marching Through Time Band Mura"l is underway. It is amazing to see what the professionals are able to do with the right materials to bring it back to life," Marchant said on Wednesday. "This is a three-phase process that will take multiple months to complete, so we do have to be patient to see the final result. I am so thankful that the community, and especially the City Council, have seen the importance of supporting the renovation of this historical mural that has become a focal point for downtown."

Marching Through Time by Glen Hill, 2008, after it restoration in 2023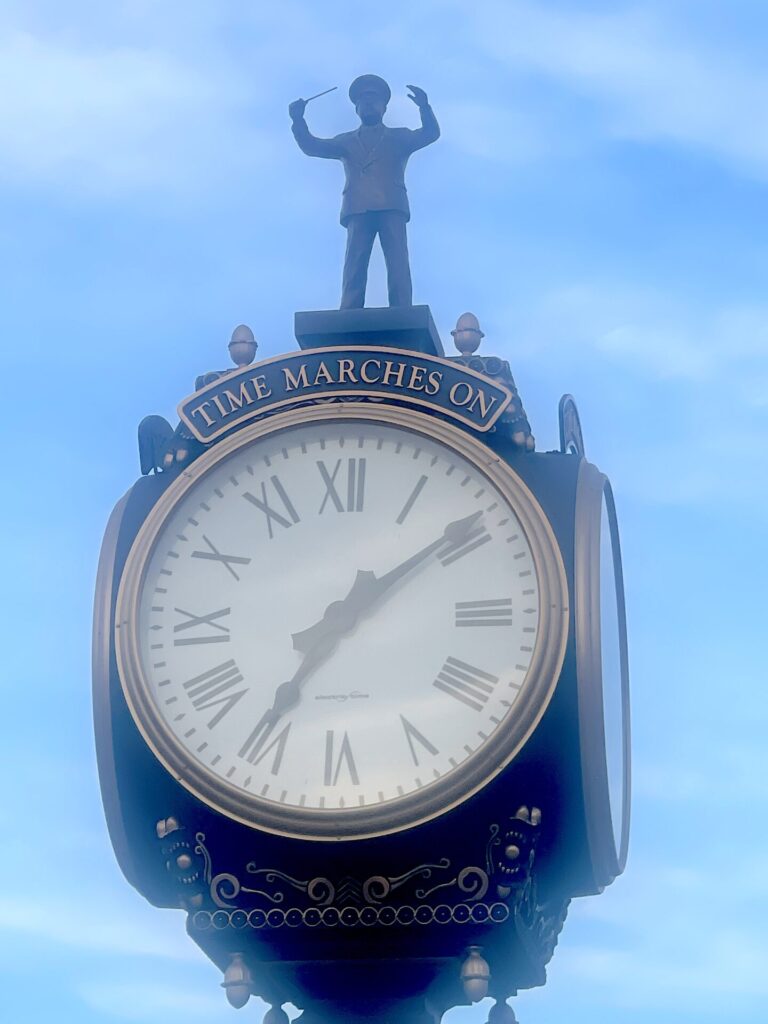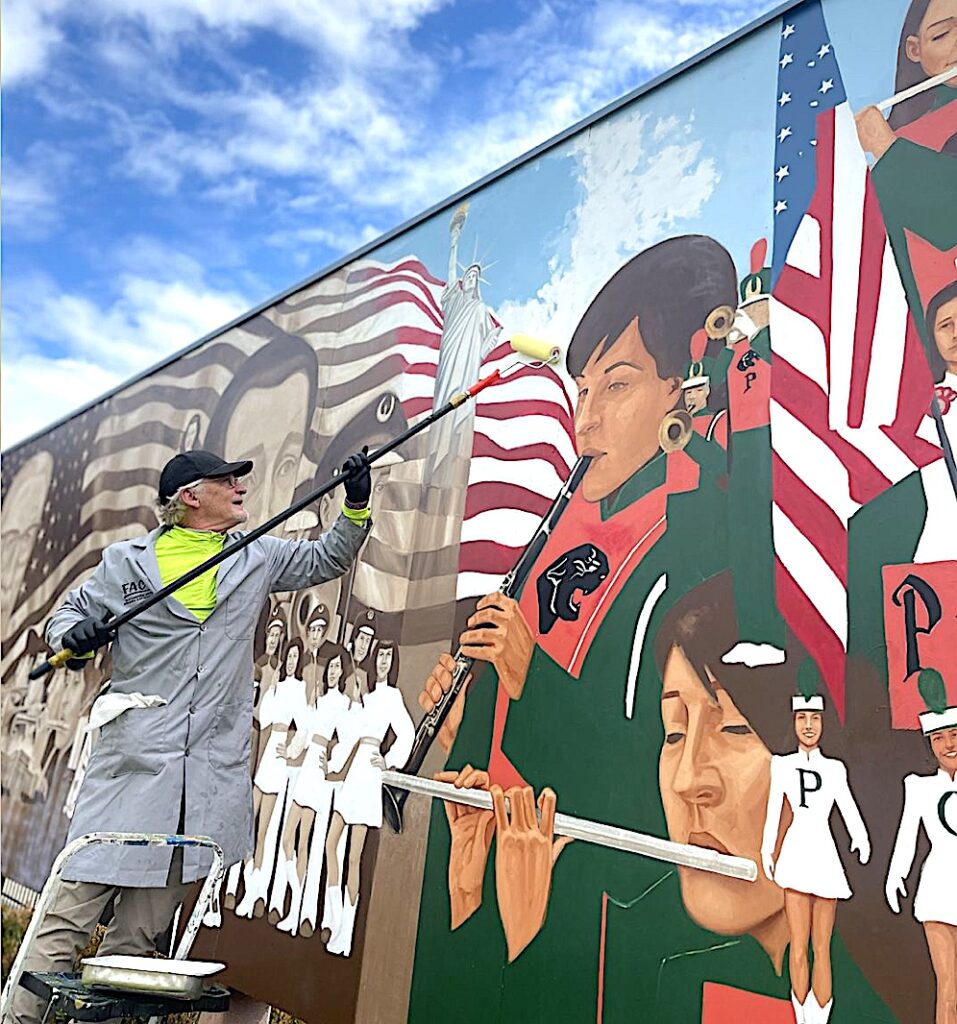 Scott M. Haskins, Art Conservator, applying the final varnish and anti graffiti layer to the "Marching Through Time" mural in Porterville, CA
In the photo you can see that I'm doing everything I can to protect the red, white and blue and symbol of our freedoms for future generations to remember and defend! Postponed because of rain a month ago, today and yesterday I am in Porterville California. (past Bakersfield, and kind of by Fresno), to put the final touches and protection on the mural "Marching Through Time." It's a city maintenance project and we worked with the artist to make the 100 foot mural look at the best. This final work of applying a protective varnish as one of three phases: first, we had to preserve it by stopping flaking. Then the artist came to do touchup, and finally we are here to protect it for the future. Applause for the city of Porterville for maintaining its public art as part of taking care of their city. This work has a social conscience.
@PublicArtMaintenance @ScottMHaskins @ChristianRogers @MuralRestoration @ArtConservation @MuralConservation @Porterville @MarchingBand @ArtRestoration @GlenHill
Questions, call Scott M. Haskins 805 564 3438 faclartdoc@gmail.com
For questions about varnishing murals and anti-graffiti protection layers, see these three videos may be of interest:
Why Protect A Mural With Varnish If There Is No Danger Of Graffiti? https://www.youtube.com/watch?v=S5Yr9trali0 … and
How a hard varnish on murals can minimize maintenance of public art : https://www.youtube.com/watch?v=_zZtQm4rAa8 …
MuralGuard varnish for easier removal of graffiti: https://www.youtube.com/watch?v=43OXBEUTibc
This blog post has been syndicated at ExpertClick.com. What does it mean that this article is " syndicated"? 
Its a bit of a coup to get an article syndicated, and its certainly prestigious, as additional "proof" that the info and the author are considered far and wide authoritative and an expert in the field. So, enjoy and trust our content!! This article was syndicated for USA national redistribution.
When something is published, usually by a news source, and is made available through different venues for redistribution then it is said to be syndicated. Publications that are syndicated are usually considered of value as being from an expert, educational, new worthy or valuable for wide popular interest. See syndication page at the renowned publicity site: https://www.expertclick.com/NRWire/Releasedetails.aspx?id=280124
This website's syndication included:
1) Included in the ExpertClick Press Room as a 'press release.' (different than a 'news release')
2) Included in the 'Speaker Bureau Platform Page.'
3) Shown on the front page of ExpertClick, in rotation with other most recent posts.
4) Shown in the 'News Release Results page.'
5) Included on optimized for searches on all my topics of expertise.
6) Shown via RSS linked from the Press Room. (A specific way news is actively distributed within the industry)
7) Shown in the full RSS feed from ExpertClick. (Another, different specific way news is actively distributed within the industry)
8) Syndicated to LexisNexis.com As of 2006, the company had the world's largest electronic database for legal and public-records related information, distributor of academic content and expert opinion.
This article has been syndicated at https://www.expertclick.com/NRWire/Releasedetails.aspx?id=280124