This blog post has been syndicated at ExpertClick.com. What does it mean to be syndicated? See end of article for explanation.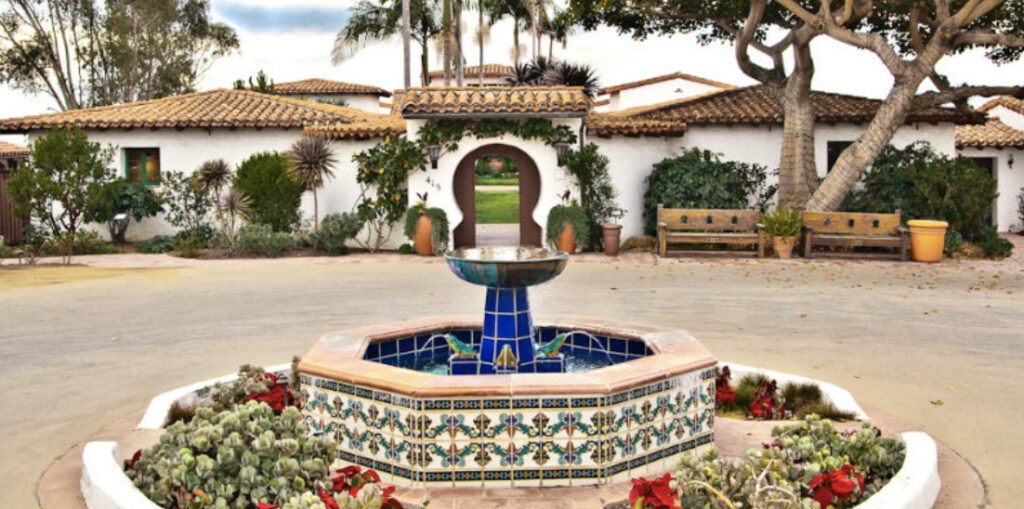 I was at the historical home and event center, Casa Romantica last week, in San Clemente, Orange County,  CA. As part of our mural restoration efforts, I was the featured speaker at an evening event to a responsive group about the adventures of doing art conservation internationally and nationally. We also discussed what people can do at home to take care of their stuff. We had a very warm and responsive group as I gave a talk and showed photos about travel, adventures, interesting stories and projects in our business of Fine Art Conservation. They laughed at all my jokes and nobody fell asleep!
Casa Romantica Cultural Center and Gardens is an award-winning center for the arts and historic landmark in South Orange County. They provide a rich selection of performances, exhibitions, lectures, workshops & tours year-round to people of all ages. As south Orange County's major cultural institution, Casa Romantica has developed a reputation for wide-ranging cultural programming that brings international talent to San Clemente.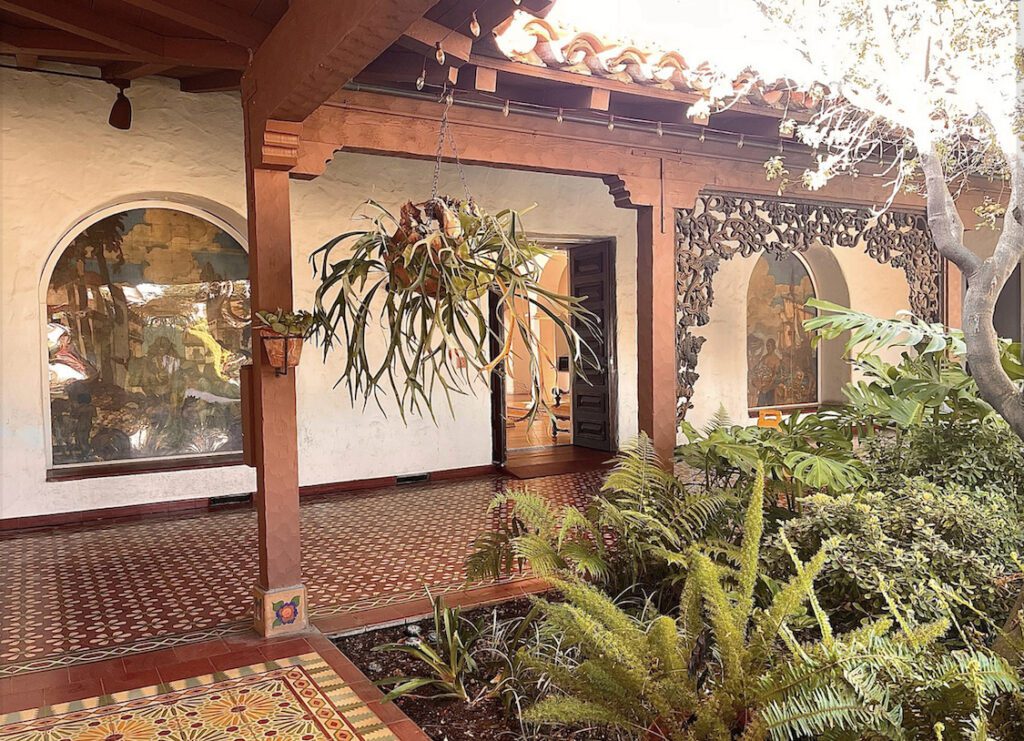 Casa Romantica's bluff-top campus is the former home of Ole Hanson, the founder of San Clemente. The historic landmark is open daily for self-guided and docent-led tours of the home, permanent exhibits, and 2.5 acres of lush coastal gardens. Casa Romantica was designed by noted architect Carl Lindbom. Situated on 5 acres, it was developed in the Spanish Colonial Revival style which was popularized in the 1920s. It was built in 1927 as the family home of the Hansons. Ole Hanson was an ambitious and enterprising individual who rose from humble beginnings in Wisconsin to become a lawyer, a grocer, the mayor of Seattle (1918-19), and a land developer. When financier Hamilton Cotton purchased 2,000 acres of land then known as the Rancho Boca de la Playa in 1923, he recruited Hanson to plan a 'Spanish Village By The Sea.' The resort-style community he developed was characterized by its striking Spanish Colonial-revival architecture, with his own blufftop mansion as the cornerstone model. Even from the beginning, Ole Hanson's home functioned as a cultural and civic resource. From the gracious design of the property to the exotic gardens, carefully appointed furnishings, and frequent visits of notable persons, Casa Romantica became a unique and treasured destination.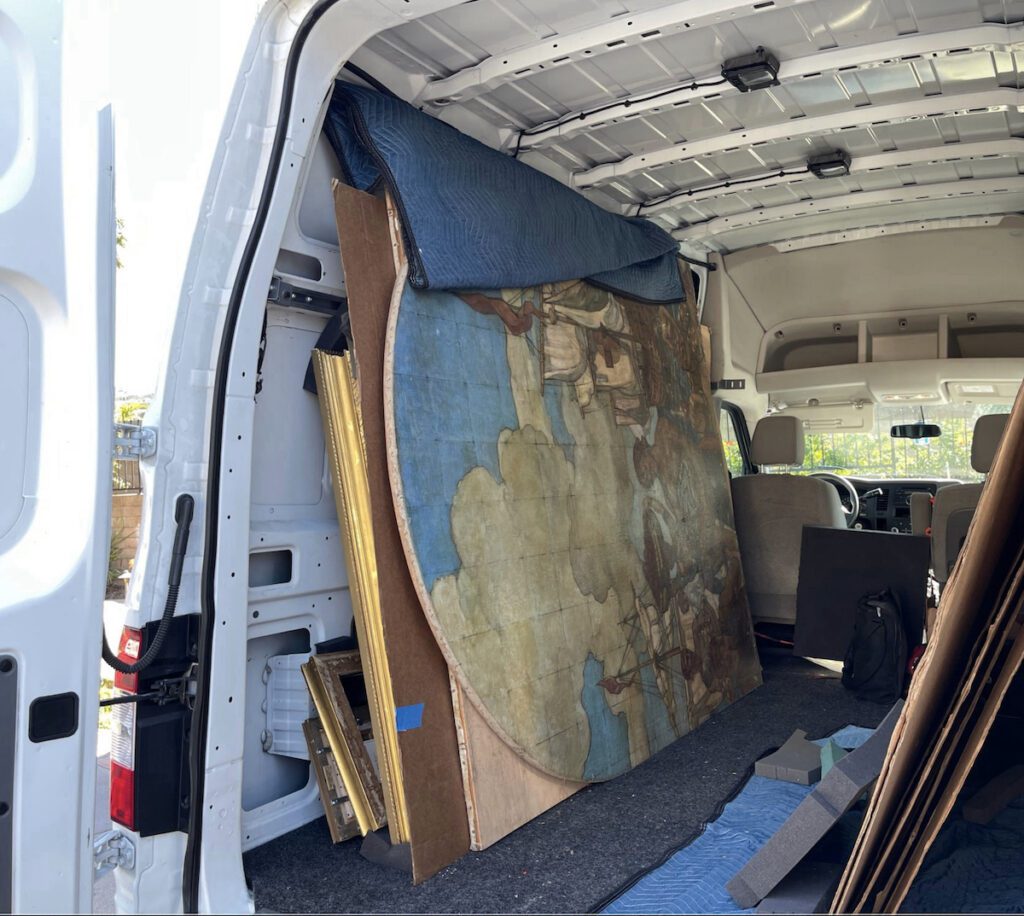 The next morning after my presentation, Facilities deinstalled the two murals, that were fit into two niches, very professionally and safely. We loaded them into our transport vehicle and I brought them to our lab for painting conservation treatments. More on this later!!
Questions? Call Scott M. Haskins our Virginia Panizzon at 805 564 3438 or faclofficemanager@gmail.com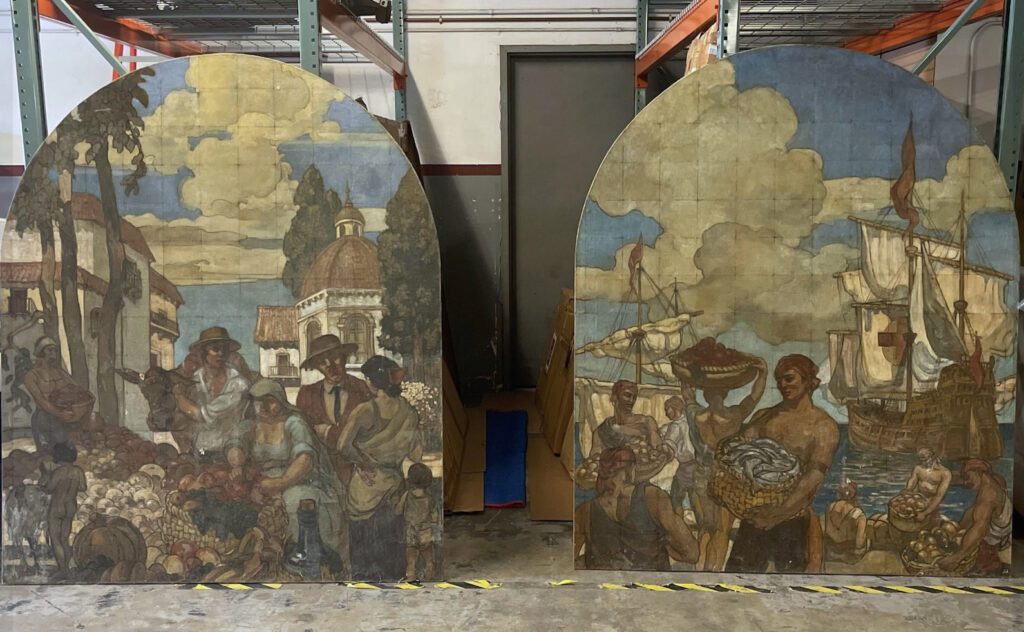 Its a bit of a coup to get an article syndicated, and its certainly prestigious, as additional "proof" that the info and the author are considered far and wide authoritative and an expert in the field. So, enjoy and trust our content!! This article was syndicated for USA national redistribution.
When something is published, usually by a news source, and is made available through different venues for redistribution then it is said to be syndicated. Publications that are syndicated are usually considered of value as being from an expert, educational, new worthy or valuable for wide popular interest. See syndication page at the renowned publicity site: https://www.expertclick.com/NRWire/Releasedetails.aspx?id=267995
This website's syndication included:
1) Included in the ExpertClick Press Room as a 'press release.' (different than a 'news release')
2) Included in the 'Speaker Bureau Platform Page.'
3) Shown on the front page of ExpertClick, in rotation with other most recent posts.
4) Shown in the 'News Release Results page.'
5) Included on optimized for searches on all my topics of expertise.
6) Shown via RSS linked from the Press Room. (A specific way news is actively distributed within the industry)
7) Shown in the full RSS feed from ExpertClick. (Another, different specific way news is actively distributed within the industry)
8) Syndicated to LexisNexis.com As of 2006, the company had the world's largest electronic database for legal and public-records related information, distributor of academic content and expert opinion.
This article has been syndicated at https://www.expertclick.com/NRWire/Releasedetails.aspx?id=267995